Crank It Up! Big Sound, Big Picture
When this Long Island homeowner was planning his home theater, his main criteria was that he wanted big sound and a big picture to make him shake in his seat. So Electronics Design Group (EDG) began its theater design with just these broad strokes. Fortunately, the homeowner was game for whatever it took to achieve his home theater dream.
EDG's theater design for this residence replicates the type of sound systems you'd normally find in a traditional movie theater, with Klipsch Pro Cinema speakers and subwoofers built into the wall and placed directly behind the screen. In fact, Hamptonscapes Builders needed to move up the front wall to accommodate the depth of the cabinets. Each of the three KPT-325 LCR speakers sports a 15-inch woofer, and two KPT-418-SW 18-inch subwoofers were added to the array, guaranteeing the homeowner plenty of high-powered bass energy and chest-pounding punch. Five Crown amplifiers, one for each of the three main speakers and two subs, deliver a massive 300 watts. In this 7.2-channel system, 200-watt Crown amps drive the surround and back surrounds.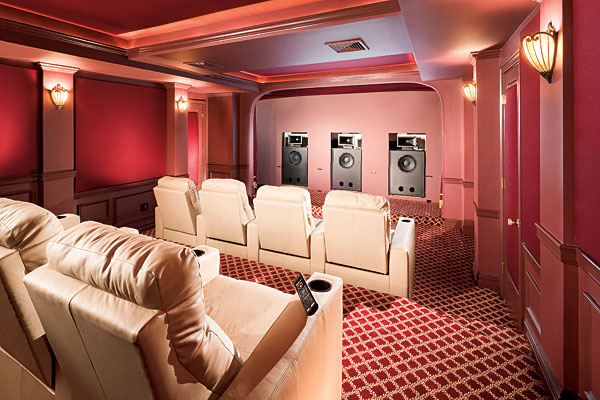 The surround speakers were also built into the walls and covered with acoustically transparent fabric that allows sound to pass freely through it. The doors are padded with acoustic panels, which keeps the rest of the house—and neighborhood—isolated from the intense volumes that come from the theater.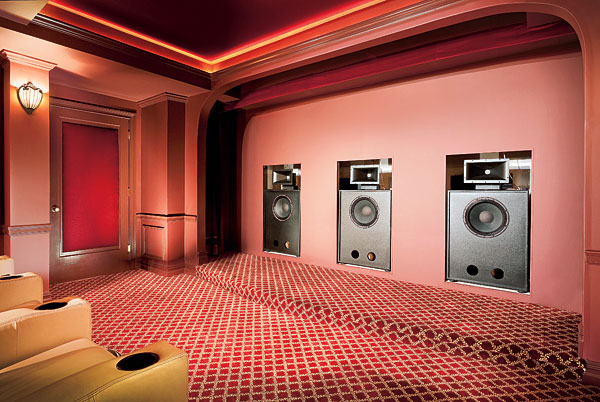 To match the big sound, EDG installed the largest possible screen for the size of the room. They chose a Draper 148-inch model with a 2.35:1 aspect ratio and coupled it with an Epson PowerLite Pro Z8000WUNL LCD projector. An LG Blu-ray player also offers Netflix streaming in addition to other video apps. Apple TV gives the homeowner access to his extensive iTunes library.
A Control4 system handles the theater's A/V control and lighting. A systems integrator created scenes for the homeowner to make operation as simple as a single button press. The Watch Movie button turns on all the amps, projector, and source components in the proper sequence and cranks the volume to a pre-designated setting. The lighting scene slowly fades the lights to black before the movie begins and then slowly fades the lights up at the end of the movie, re-creating the commercial theater experience.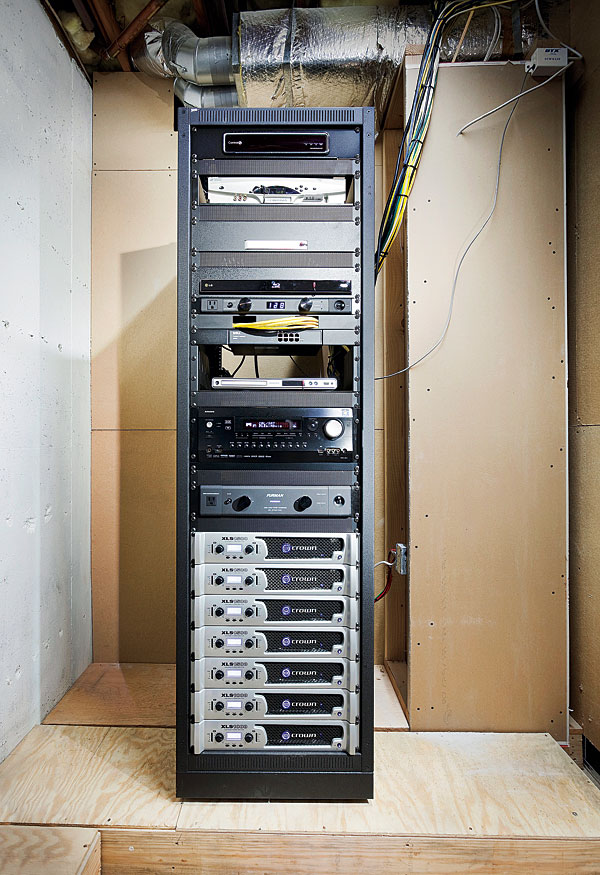 All of the equipment resides in a utility closet off to the left of the screen. The HVAC system cools down the amps, which are prone to extremely high temperatures, preventing overheating or premature shutdown. To top it off, two rows of four VIP Cinema seats with motorized reclining mechanisms provide family and friends complete comfort during screenings.
"This turned into a great project for us," says David Devanna, a sales consultant for EDG. "We were initially called in only as consultants. However, after the homeowner saw our renderings, he became so confident in EDG, he decided to have us handle the installation, too."
Electronics Design Group
(732) 650-9800
edgonline.com
thearchitectsedge.com