Como Audio Solo & Duetto Wireless Music Systems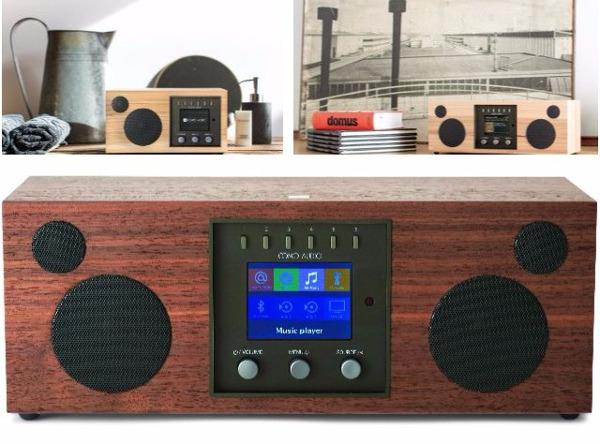 PRICE
$299 (Solo), $399 (Duetto)
AT A GLANCE
Plus
Versatile
Solid build quality
Streaming via Bluetooth and Wi-Fi
Impressive sound
Intuitive app plus traditional remote
Minus
Wish it was battery-powered

THE VERDICT
Como Audio's Solo and Duetto look good, sound great, and are loaded with features.
Don't be fooled by the clock-radio appearance of the Solo or Duetto. Yes, there is a clock with dual alarms and, yes, there is an FM radio—but these extras barely scratch the surface of what these mini marvels can do. You'll be hard-pressed to find a compact music system that's as versatile or sounds as good as the Duetto or Solo from Como Audio.
Never heard of Como Audio? The Boston-based company was launched last summer by Tom DeVesto, who has deep roots in consumer audio as co-founder of Tivoli Audio (2000) and Cambridge SoundWorks (1988), both started with hi-fi pioneer/legend Henry Kloss. (Kloss founded Acoustic Research with Edgar Villchur in 1954 and Advent in 1967.) Before Cambridge SoundWorks, DeVesto held senior positions at Advent and Kloss Video. I've met Tom many times over the years and have always been impressed by his knowledge and dedication to the craft. Como Audio carries on in that tradition.
The first clue that you're about to experience audio goodness is the furniture-grade fit and finish of the Duetto and its Solo sidekick (flawless walnut veneer in the case of my evaluation units). Construction is top-notch, with a cabinet made of half-inch-thick MDF and metal control knobs that inspire confidence.
The Duetto is a classic two-way speaker system with a 0.75-inch soft-dome tweeter and 3-inch woofer on either side, each protected by its own metal grille. The Solo is essentially half a Duetto with one tweeter and one woofer but, functionally, it's nearly identical to its big brother. Want stereo? You can link two Solos and set one for left-channel duty, the other for right.
Little Box, Big Ambitions
In keeping with Como's upscale design theme, the control panel is made of metal and simple in design, with six small preset buttons above the display and three knobs below it: one for power/volume, one for scrolling through tracks/stations and menus, and one to select a source. The presets are independent so you can set them up for direct access to favorite Internet radio and FM stations or any source. (I loved being able to switch instantaneously between the BBC, local news radio, and my online music library.) Initial setup for the Duetto or Solo is a snap. Turn on the unit, and a setup wizard guides you through a few basic steps, such as setting date and time (automatically updated over the internet) and connecting to your Wi-Fi network.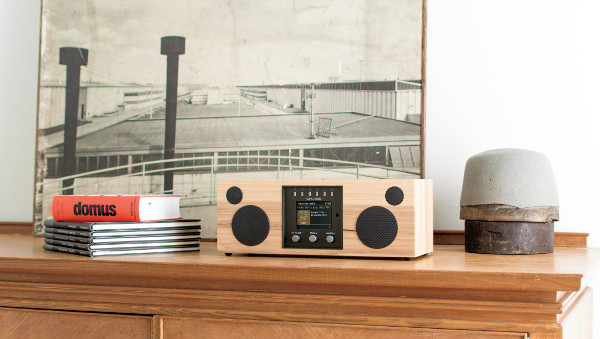 Push the Source button, and the fun begins as eight icons populate the display window: Internet Radio (for access to thousands of stations from around the world), Spotify (Premium subscribers only), My Music (for streaming from a DLNA server or PC over your Wi-Fi network), FM Radio, Bluetooth (for direct streaming from Bluetooth devices), Aux 1, Aux 1, and Optical. The hardwire digital inputs, which include a USB port around back, all support hi-res audio up to 192-kHz/24 bit.
You have three control options for the Duetto and Solo: Push buttons and turn knobs on the front panel, use the supplied remote control, or use the Como Control app. In addition to providing an intuitive way to operate an individual system, the app makes it easy to link multiple Duettos and Solos in a Wi-Fi-based multiroom system. You can create groups, or zones, with one system acting as a server for up to four "client" systems. In my case, I linked the Duetto in my office to the Solo, which I had put in a bedroom upstairs. Any source I selected on the Duetto would play in both rooms, and I could control the volume of each system independently or revert to master volume. Or, I could select one or the other from a drop-down menu and switch to a different source.
A Musical Adventure
I began my musical exploration with Internet Radio and quickly got lost perusing dozens of stations—from Afghanistan to Guam, Estonia to Guyana, Montserrat to Vatican…you get the idea. You can search by Location (organized in 10 regions, including Asia, Central America, Middle East, Oceania), Genre (40 categories from Alternative to World Tropical), Popular Stations (more than 80—from BBC Radio to Polskie Radio Trojka), and New Stations (hundreds!).
When you select a region, you get a list of countries. Pick a country, and stations are organized by genre or you can select All Stations for a complete list. You can also search for local stations, HD Radio stations on the internet, Podcasts, and even create a list of favorites along the way (separate from those six presets). Using the app is the most efficient way to explore all the nooks and crannies—you can do it from the front panel, but it's tedious.
With more than 20,000 stations at my disposal, I was fascinated by the range of programming and spent hours "traveling" thousands of miles. The weirdest station I encountered was Musique Macabre out of Pittsburgh—perfect if you dig "Horror and Halloween music all the time, all year round." Sound quality was shockingly good whether I was listening to Radio Swiss Pop (worth checking out) or one of the dozens of other stations I dropped in on. Even the traditional music playing on Radio Tshiondo out of Congo (Africa) was clean, clear, and full-bodied.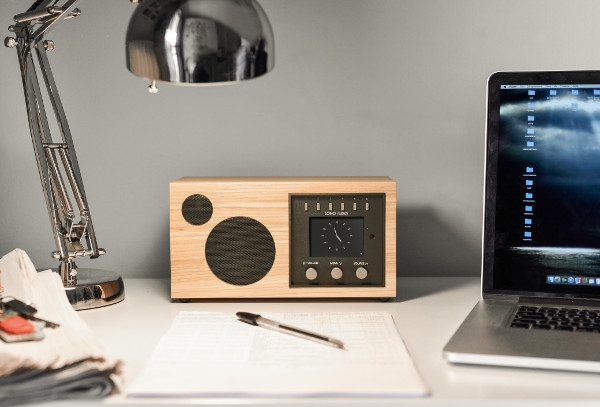 The breadth and depth of music I heard from around the world was a stark reminder of just how awful terrestrial radio can be—not necessarily in terms of reception but for music (at least in the New York metropolitan area). Still, FM is a welcome addition to the Duetto and Solo, providing an avenue for local news and music (as long as you don't mind tight, repetitive playlists). I was able to pull in most of my go-to stations (yep…I'm of that generation). If a station is on the fringe, you can extend the telescoping antenna and move it around in hopes of improving reception.
Having a dedicated Spotify mode is a nice touch—but only if you subscribe to Spotify Premium. OK, so I couldn't access my free Spotify account directly through the Duetto or Solo, but I was able to select Bluetooth (on either system) and stream Spotify from my iPad or Samsung Galaxy 5 phone. Between Spotify, Pandora, and Amazon Music, I canvassed a half-dozen music genres and was consistently impressed by the sound quality of both systems. If I felt like sharing a song, I could tap the Group icon in the app to link the systems.
Saving the best for last, I loaded an album's worth of country pop demo recordings onto my PC and selected My Music so I could stream them to the Duetto and Solo. I was very familiar with the songs—which feature my buddy Neil Miranda and Nashville session players—having listened to them on my (old but awesome) Infinity Kappa 8.1 towers. The lead vocals and harmonies sounded rich and full, and the recording's many intricacies were intact, especially the subtle interplay between acoustic, electric, and pedal steel guitars.
As you'd expect, the Duetto was louder and delivered a bigger sound stage with considerably more bass, while the Solo sounded more confined, if not a tad boxy. Sticking with the theme of musicians I know—in this case, Micah Sheveloff —I played a series of pristine studio tracks via USB. I was blown away by how big the little Duetto sounded. The vocals and piano accompaniment were remarkably lifelike against smooth bass lines, punctuated by crisp cymbals and tasteful guitar flourishes. Impressive. Tom DeVesto started Como Audio with the goal of "simplifying and beautifying music streaming." He has succeeded handily on both fronts. Well done, Tom.