The Clash
The first eight discs span the band's core studio output (sans, of course, Cut the Crap), charting their aural growth from angry punks to experimental cross-genre innovators. Take the full journey, and you'll unearth the not-so-secret ingredients to their success: the unsung guitar wizardry of Les Paul–wielding Mick Jones, the pure reggae foundation of bassist Paul Simonon, the neo-soul and jazz chops of drummer Topper Headon, and the raw power and melodic gifts of the late singer/guitarist Joe Strummer (to whom Green Day's Billie Joe Armstrong owes a tremendous debt).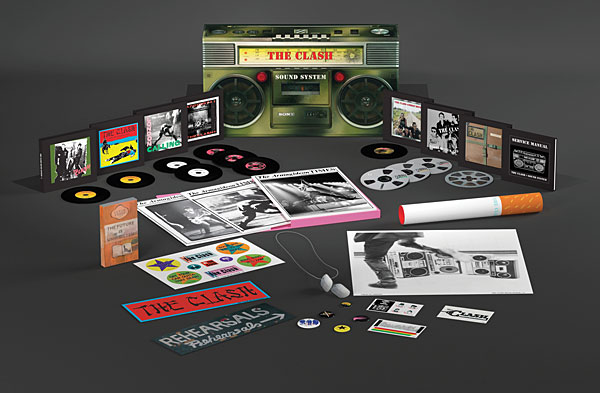 Remastered by the three surviving bandmembers and engineer Tim Young, the official album tracks crackle with renewed vibrancy. "Garageland" barrels forward with wide-panned lead guitar, down-the-middle harmonica blasts, and (yes) harmony vocals, from 1977's The Clash (Disc 1). Feedback plays off Headon's militant drum attack on "Tommy Gun," from 1978's Give 'Em Enough Rope (Disc 2). Simonon's throbbing bass line, Strummer's throaty howl, and Jones' channel- surfing backwards guitar solo set the burning table for the title track to 1979's London Calling (Disc 3). Handclap echo, a bass-loop bed, and Strummer's proto-improvised rap anchor "The Magnificent Seven" from 1980's sprawling Sandinista! (Disc 5). And a practically jaunty piano-based melody and jet-fighter death-ray effects fuel "Rock the Casbah" from 1982's chart-busting Combat Rock (Disc 8).
The next three discs house equally substantive extras. "(White Man) in Hammersmith Palais" (Disc 9/Extras 1) pushed the band out of breakneck punk and right into the slower-tempo, upbeat rhythms of ska. "This Is Radio Clash" (Disc 10/Extras 2) remains a pioneering mixture of dub reggae and rap, while the extended version of "Straight to Hell" features the clack-clack-clacking percussion that's been sampled far and wide.
The final bonus (Disc 11/Extras 3) contains demos and live tracks. As for the DVD (Disc 12), while video quality varies, the content remains palpable, especially the incendiary performances culled from Clash on Broadway.
Do The Clash Still Matter? Sound System is a box set for the ages, so the answer is simple, Boyo: Forevermore.
CD
Studio: Epic/Legacy
Audio Format: PCM Stereo 44.1-kHz/16-bit
Number of Tracks: 143 on 11 CDs, plus 1 DVD
Length: 7:58:18 (CDs); 1:23:15 (DVD)
Producers: Mickey Foote, Sandy Pearlman, Guy Stevens, Mick Jones, Mikey Dread, The Clash
Engineers: Tim Young, The Clash
Punk. Rock. Reggae. Hip-hop. Ska. Dub. Soul. Jazz. Rockabilly. No, this isn't a listing of all the sections in one of the only remaining cool record stores left standing; this is the breadth of the genre-bending legacy of The Clash. And the sonic scope of Sound System is set to prove The Clash may very well be The Only Band That (Still) Matters.