Cambridge Audio Minx Air 200 Wireless Speaker System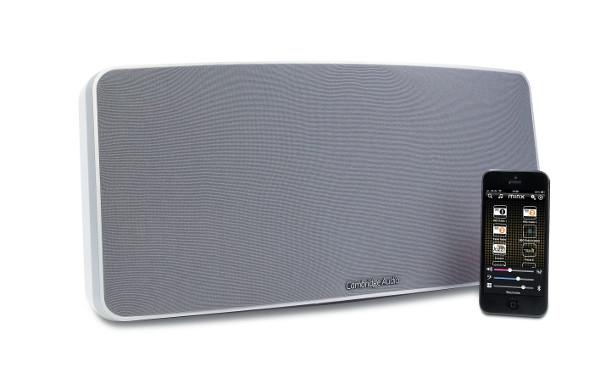 PRICE
$599
AT A GLANCE
Plus
AirPlay and Bluetooth
Excellent build quality and sound
Carrying handle
Minus
None!
THE VERDICT
The Minx Air 200 is a well built and great sounding compact system that supports wireless streaming from many mobile devices.
So long, Apple 30-pin docking connector. You were a prodigiously creative little jack while you lasted. You gave birth to whole new categories of iPod/iPhone accessory docks and docking systems. You even muscled your way into A/V receivers, initially with add-on docks, then with iOS-capable USB jacks, your Apple-ness embedded into the receiver's silicon brain. But now you're on the run. Apple's skinny Lightning connector has made you instantly obsolete, and you'll linger only as long as the legacy devices you serve. In fact, even Lightning, your designated successor, is practically DOA thanks to another transformative change.
The compact systems you inspired, and the AVRs that accommodated you, are now using AirPlay and Bluetooth to cut your cord. Products like Cambridge Audio's Minx Air 200 are establishing a new norm. We no longer dock our iOS and Android devices to get music out of them. The music just leaps through the air from device to system. Thanks for the good times, my 30-pin friend, but we just don't need you anymore.
The Minx Air 200 comes in a user-friendly form factor. Grab the built-in handle, and its surprisingly hefty 11-pound weight is easy to move to wherever it's welcome. But this is far more than a minimalist boombox. It's loaded with exotic driver technology, digital amplification, DSP magic—and wireless versatility. By incorporating both Apple AirPlay and Bluetooth, it accommodates Apple, Android, and other devices without dock or dongle. Through the home network connection AirPlay requires, it also supports Internet radio.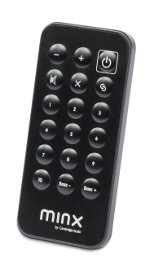 More than 18 inches wide, the Air Minx 200 has a convex curve across the front and tilts its sleekly badgeless fabric grille slightly upward. Behind the grille are a pair of 2.25-inch BMR drivers and a 6.5-inch cone woofer (which Cambridge calls a subwoofer) with the bass port hidden within the handle. The woofer distinguishes the Minx Air 200 ($599) from the smaller Minx Air 100 ($449), which has two larger BMRs but no woofer, and the much smaller Minx Go ($149), which runs on battery power for up to 10 hours.
The two BMR drivers, or Balanced Mode Radiators, give this product an unusual edge. This flat diaphragm is a composite sandwich, with paper skins covering a honeycomb paper core. The BMR combines the piston movement of conventional cone drivers at lower frequencies with complex bending behavior at higher frequencies, which causes the area of radiation to effectively become progressively smaller with increasing frequency. This allows both broad dispersion and wide frequency response, firmed up at the bottom by the cone woofer.
On the back panel are an embossed Cambridge Audio logo and a few connectivity options. The power cable is a must. Unlike the Minx Go, the Air 200 and Air 100 are not battery powered, so technically they are not fully wireless. An Ethernet jack supplements the external-antenna-less Wi-Fi, providing the network connection on which AirPlay and Internet radio depend. When you're not within network range for AirPlay, there's always Bluetooth. There are two stereo analog inputs: one set of RCA jacks for connection to audio components and a mini-jack for connection of any non-wireless mobile device. A small dial adjusts the bass level, so you can tweak the Minx Air 200 for the boundary effects of different distances from the wall.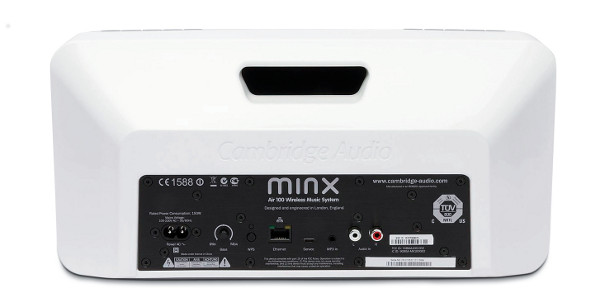 On top of the unit are two rows of five rubbery buttons each. The ones at left are Internet radio station presets. On the right are power, volume up/down, an "X" button that shifts among wireless and wired inputs, and a Bluetooth pairing button. The small card-sized remote repeats these commands, expanding the Internet radio station presets to 10, and offering bass up/down buttons, so you needn't grope around behind the unit looking for the bass dial.
A simple app for iOS or Android devices enables you to set up Internet radio stations, search them, select them, or filter them by bitrate. The app also controls volume, bass, DSP audio-enhancing presets, and power-down default. If you want to play music, it returns you to the Apple music app.
Setup is reasonably easy. Bluetooth pairing requires the usual button pushing on the Minx Air 200 and the source device. Wi-Fi setup requires a computer (because the Minx Air has no onscreen menu of its own). Type a numeric IP address into a browser, select device, type password, and you're in. Then you press the AirPlay logo on the iOS device and select the Minx Air from the drop-down list. Note that the Wi-Fi connection is 802.11 b/g/n with WEP, WPA, or WPA2 encryption. The Bluetooth versions supported include basic SBC as well as two higher-quality lossless codecs: AAC for Apple devices and apt-X for others.