California Dreamin'
When homeowners in Rancho Palos Verdes, California, hired Custom LA to replace the existing home theater in their 6,500-square-foot home, they wanted an advanced system capable of delivering jaw-dropping audio and video performance but it had to be dead simple to operate and capable of controlling AV systems in two other areas of the sprawling home.
The pros at Hollywood-based custom installation firm wasted no time building a 7.2.4 Dolby Atmos system with 11 Triad Gold series speakers and dual 12-inch Silver series subwoofers around Sony's $60,000 VPL-VW5000ES 4K laser projector with a Stewart Filmscreen LuminEsse screen and high-performance Datasat RS20i surround sound processor. To ensure peak performance from the topnotch gear, Custom LA asked one of the industry's top projector calibrators, Dolby field applications engineer Helmut Kaczmarek, to calibrate the video and Datasat's Mike Skrzat, who has calibrated systems for the Oscars and numerous celebrities, to calibrate the audio.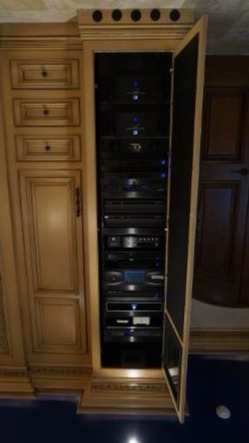 "For control, we specify RTI solutions for all our installations," said Mark Schafer, owner of Custom LA. "They have the advanced features to handle projects of any complexity, and programming them couldn't be easier. Furthermore, modules and additional processors can be added to easily extend control to different areas. That capability was especially important in this project, which required control in the home theater, family room, and master bedroom."
The home theater's video sources — including a Kaleidescape Strato 4K Movie Player, a Panasonic DMP-UB900 Ultra HD Blu-ray player, an Apple TV, and a DirecTV Genie HD DVR — are passed through a Lumagen Radiance Pro video processor. Audio is powered by ATI AT4000 series amplifiers and Triad subwoofer amplifiers. Music sources include an older Mark Levinson No.390 CD player and a Sonos Connect system; lighting is controlled through a Lutron RadioRA 2 system. All components are controlled with RTI's XP-8s control processor using IP, two-way RS-232, IR, or 12-V triggering.
RTI's sleek T1-B+ handheld remote control — there are actually three — allows the homeowner to initiate any home theater activity and turn the system on and off with the touch of a button. In addition, an Alexa Voice driver from myDevices gives them the ability to control the system without touching anything at all. With voice commands, the homeowner can simply walk into the theater and say "Alexa, turn on HBO" or "Alexa, turn on movie lighting." Alexa can even be used to switch between the calibrated projector settings for 4K high dynamic range (HDR) and standard dynamic range HD content. Taking things a step further, the remote's companion mode automatically syncs to the correct activity page whenever a voice command is issued.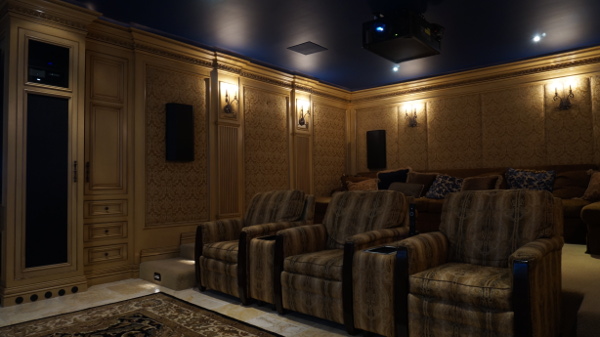 In the family room, which hosts a five-channel Dolby Digital system with Triad Bronze series speakers, Custom LA used an RTI PCM-4 port control module to expand the capabilities of the XP-8s, providing IR and IP control over components including a Samsung 55-inch HDTV, Samsung UBD-K8500 UHD Blu-ray player, Marantz SR5011 AV receiver, DirecTV Genie Mini, and Apple TV. In the master bedroom, RTI's XP-3 control processor provides IR and IP control over a Samsung 49-inch HDTV, Sherwood surround receiver, and DirecTV Genie Mini. In both spaces, the homeowners interact with the system using a T1-B+ handheld controller but future plans call for adding Alexa voice control.
When all was said and done the total ticket for the project was $175,000, which includes the theater, family room, and master bedroom.
"When I went into the theater for the first time, just to experience the Dolby Atmos demo disc, I was completely blown away," Schafer said. "It's hard to explain how good sound can be when it's coming through the right equipment, and it was amazing to see the projector — with its 5000 lumens and incredible color volume — playing 4K HDR content. The homeowner couldn't be happier with their home theater and the ease of control they have over this sophisticated equipment, especially the Alexa voice control. It's an amazing capability that we can't wait to incorporate throughout the rest of the installation."