Apple Unveils Apple TV 4K with Live Sports & More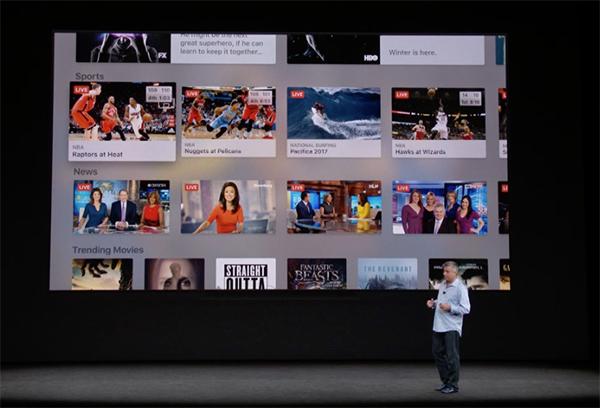 Apple opened its Special Event on Tuesday with the official unveiling of the fifth generation Apple TV 4K before going on to announce the new
iPhone X
. The company also announced plans to take advantage of existing services as 4K content is increasingly available as well as provide 4K content of its own.
As the Apple TV 4K name implies, Apple is finally joining Roku, Amazon Fire TV, and NVIDIA Shield in offering 4K and high dynamic range (HDR) video capabilities — both HDR10 and Dolby Vision. The advancement is made possible through an upgraded processor: the same A10x Fusion chip used in the iPad Pro, which doubles the CPU performance and quadruples the graphics performance of the previous Apple TV. Like its predecessor, audio capabilities of the new model include Dolby Digital Plus 7.1 sound.
The faster chip is said to improve the gaming experience (if you really want to use its awkward remote to play games) and, with the addition of HDR, moody scenes of HDR-encoded games will be rendered with details visible in the darkest corners of the gaming world.
Despite its inner improvements, the outer size and design of the Apple TV remains unchanged from the current generation model.
In addition to the hardware announcement, senior VP Eddy Cue revealed that new content will be available in the iTunes store and through new TV apps. The iTunes store will carry 4K/Ultra HD (UHD) movies and videos for the same price as the HD versions and, in a generous gesture, any HD video titles you currently own will be automatically be upgraded to 4K when that version becomes available.
Cue said the 4K offerings will include content from Netflix and mentioned in an off-handed remark that Amazon Prime 4K will be added later this year. This is big news because Amazon Video has been absent from Apple TV.
Sports fans who stream games will be happy to learn that live sports is coming to Apple TV's TV app. The content will appear as an aggregation of games available through from streaming apps from the NBA and MLB. The app displays a grid of live games with time remaining and current score (which can be turned off in preferences) and you can turn on notifications to receive a pop up when a game is about to start or a team has scored. You can also designate your favorite team so the upcoming game appears at the top of the Up Next feature in the app. A dedicated sports app is also in the works.
The Apple TV 4K will be available for pre-order starting Friday, September 15 with delivery set for September 22. Pricing has been increased to $179 for the 32 GB model and $199 for 64 GB version.