Best Subwoofers, Home Theater Speakers of 2021-22 Page 4
More Home Theater Speaker Systems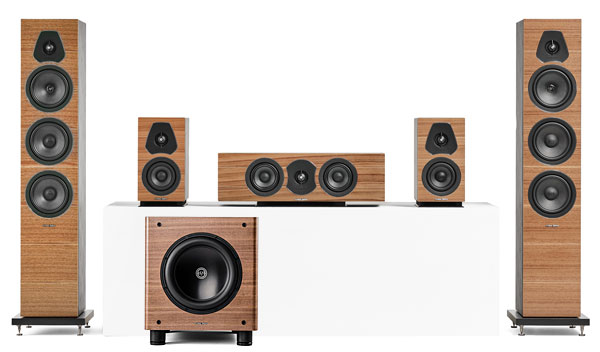 Sonus faber Lumina Surround Speaker System: $5,296 (as tested)
Italy's Sonus faber is known as a creator of rarefied speakers, like the $120,000 limited-edition
Aida
, but that doesn't mean all of its speakers are beyond the reach of typical budgets. The $5,300 home theater setup we put together is anchored by a pair of Lumina III towers — stylish for sure with a leather-wrapped top and sides but not full-on exotic — and includes a Lumina CI center speaker, a Gravis II subwoofer (there's no sub in the Lumina line), and two Lumina bookshelf speakers that list for $899 a pair.
Whether you're listening to music or taking in some Hollywood action, the Lumina system pays rich dividends. With just the towers and sub playing, music was beautifully balanced and superbly detailed without any hint of harshness or exaggeration. "I found the Lumina IIIs, supported by the Gravis II, to be rewardingly neutral," observed reviewer Tom Norton. "Nothing appeared to be overemphasized or underplayed."
Putting dynamic range to the test with Ford v Ferrari, a demo-quality Ultra HD Blu-ray that chronicles Ford's quest to beat Italy's Ferrari at Le Mans '66, Norton remained impressed. Whether it was the roar and growl of engines or the screeching of twisted metal as cars spun out of control, "the overall sound was exceptionally dynamic, well-balanced, and not overly bright, even in the most challenging scenes." The ominous sounds of battle in 2019's Midway offered a similarly engaging experience that showcased the Gravis II sub's ability to keep up with the mayhem without obvious distortion. If you have five grand to spend and are looking to upgrade to something special, you owe it to yourself to give Sonus faber's Lumina speakers an audition.
AT A GLANCE
Plus
Crisp detail and open-sounding midrange
Immersive 5.1 performance
Stylish and affordable
Minus
Cl center speaker has limited off-axis response
Full Review Here (posted 4/28/21)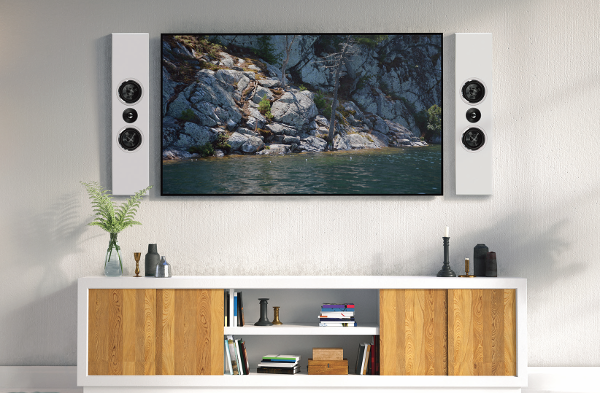 PSB PWM-1 On-Wall Surround Speaker System: $6,293 (as tested)
PSB namesake Paul Barton has been building excellent speakers for almost 50 years and shows no signs of letting up. His latest creation is a line of slim on-wall speakers for enthusiasts who want great sound from a setup that doesn't commandeer the room it occupies. In our case, that room was a 12 x 15-foot space we outfitted with five PSB PWM1 speakers — the smallest of three models, all rectangular and designed to hug the wall — plus a PSB CustomSound CSIR Sub/CS 500W amp combo (shown below). The PWM1s were arranged in a standard home theater layout (front left, center, right plus two rear surrounds) that occupied no floor space whatsoever. With a depth of less than 5 inches, the svelte CSIR sub with its 10-inch woofer turned out to be a perfect match for the PWM1 speakers — you can mount it on the wall or place it upright using a supplied pedestal (which is how we used it).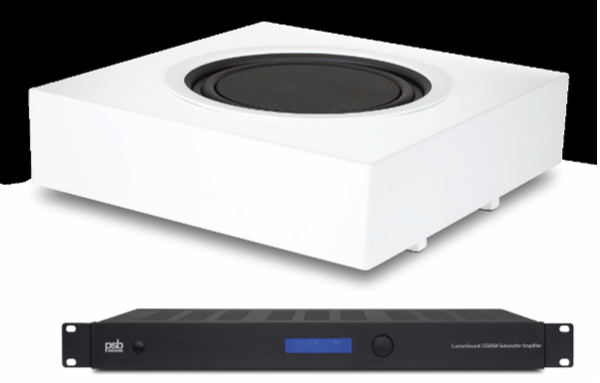 Tests conducted by reviewer Michael Trei demonstrated that even a midline AV receiver can drive this low-profile setup to realistic cinema-sound levels without strain, though a top-line AVR was able to deliver a more authoritative experience. For a little butt-kicking surround action, Trei fired up Mission: Impossible — Ghost Protocol and enjoyed a "truly seamless sensation of envelopment" with coherent dialogue and a surprising degree of impact from such a small subwoofer. The system also handled music expertly, conveying the richness of Holly Cole's sultry voice on "Little Boy Blue" from 1995's Temptation. "With his latest speaker series, the renowned PSB designer has struck a perfect balance between profile and performance, whether you're listening to music or watching a movie. (Editor's note: Since the original review, the price of the CSIR subwoofer has increased from $1,099 to $1,199, raising the system price from $6,193 to $6,293.}
AT A GLANCE
Plus
Dynamic sound for on-wall speakers
Versatile installation options
Solid build quality
Minus
Sub pricey compared with standalone units
Full Review Here (posted 3/24/21)
Home Theater Soundbars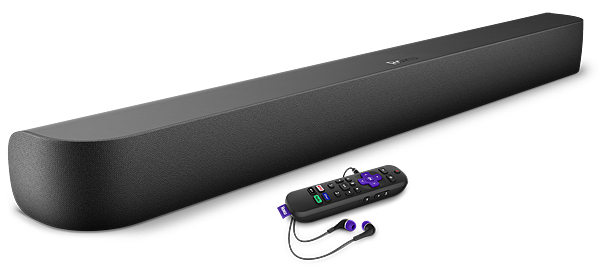 Roku Streambar Pro: $180 ($510 with surround speakers and subwoofer)
The new Streambar Pro will run circles around the tin-can speakers built into your TV while offering something you won't find in other soundbars: a built-in Roku media player that puts a whole host of TV and music streaming options at your fingertips. The bar is a bigger, better version of 2020's Streambar featuring four 2.5-inch drivers in a slender 32-inch enclosure (its predecessor crammed four 2-inchers into a cabinet only 14 inches wide) and a handful of audio settings, including one that automatically levels out the volume of TV commercials and another that engages virtual surround sound. Setup is a simple matter of connecting one cable (HDMI-ARC or optical digital) and the system supports 4K/HDR10 video. Roku provides a voice-enabled remote control with a headphone jack for private listening (earbuds included) and dedicated buttons for Netflix, Disney+, Apple TV+, and Hulu. You also have the option of streaming music via Bluetooth or Apple's AirPlay.
Reviewer Michael Antonoff marveled at the sound quality from this unassuming soundbar: "The first 12 minutes of Star Wars: The Rise of Skywalker streamed over Disney+ were enough to sell me on the merits of the Streambar Pro. Sound seemed to mimic the direction of moving objects as a spaceship or asteroids hurtled across the screen complete with rumble…Its expansive cinema-like sound makes you forget you're sitting at home instead of in a theater." And that's without a standalone subwoofer and separate surround speakers, both of which you can add for an extra $320 (Roku's wireless subwoofer is $180 and a pair of wireless surround speakers is $150).
AT A GLANCE
Plus
Room-filling sound
Enhances dialogue
Built-in Roku streaming interface
Minus
Subwoofer and surround speakers not included
Full Review Here (posted 7/28/21)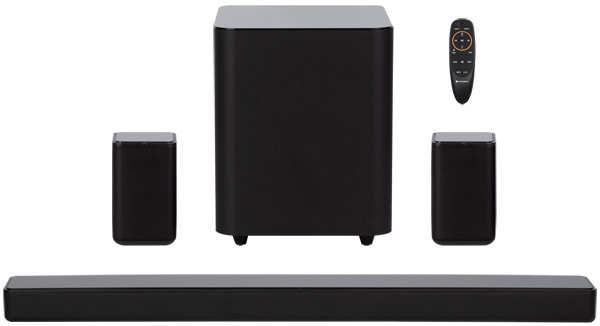 Monoprice SB-500 5.1 Soundbar System: $300
The Monoprice SB-500 soundbar system is an amazing bargain. For $300 you get a three-channel soundbar, wireless subwoofer, and a pair of rear surround speakers, which elevate performance to a true Dolby Digital 5.1 surround-sound experience. Setup is easy: The subwoofer and surround speakers connect automatically to the soundbar when the system is powered up but the surrounds aren't fully wireless — you have to run a cable between them and plug the right speaker into a power outlet. A fully featured remote with buttons for navigation, bass/treble, and Music/Movie modes is included and the soundbar supports convenient Bluetooth streaming. The 39-inch-wide bar houses front left/center/right driver complements and provides a generous selection of inputs: three 4K/HDR-ready HDMI ports, one of which is ARC-enabled, optical and coaxial digital inputs, an auxiliary analog input, and a USB port.
Putting the system through its paces with movies and music, reviewer Leslie Shapiro reveled in the "impressive dynamics…and level of ambient detail" she heard while watching Jolt on Amazon Prime. Music was satisfying, though not quite as full-bodied as movies. Even so, Shapiro concluded the SB-500 is a steal for the price. Hard to disagree. (Editor's note: Since the original review, Monoprice has increased the price from $280 to $300, though the system is on sale for $275 as of this writing.)
AT A GLANCE
Plus
Includes wireless subwoofer and surround speakers
Good clarity with movie dialogue
Low price
Minus
Bright LED display
Cable required for surrounds
Music playback can sound thin
Full Review Here (posted 10/19/21)