Best Subwoofers, Home Theater Speakers of 2021-22 Page 6
More Stereo Speakers with Home Theater Potential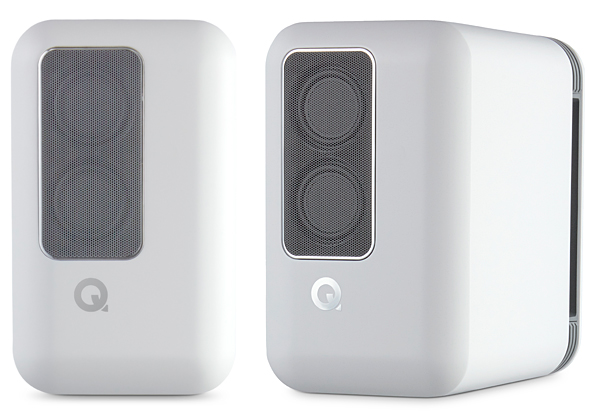 Q Acoustics Q Active 200 Loudspeaker Review: $1,999
The décor-friendly Q Active 200 wireless speaker system from England's Q Acoustics is a new entrant in the bustling "just add music" category. But it is far from ordinary — and I'm not talking about its distinctive, space-age looks. In addition to receiving 24-bit/96kHz resolution music wirelessly over a 5GHz link from the supplied hub, each speaker uses a pair of unconventional full-range drivers to produce sound reviewer Daniel Kumin described as "impressively neutral and accurate." An evolution of the "distributed model drivers" NXT introduced almost two decades ago, Q Acoustics' Balanced Mode Radiator (BMR) drivers use a conventional voice coil to produce sound but vibrate like a ribbon (or planar-magnetic) driver instead of moving in and out like a traditional speaker cone.
The dual 2.25-inch BMR drivers excel at creating a spatial stereo effect and are supported by a conventional (and unseen) 4.5-inch cone woofer that fires through a port in the back of the speaker. The woofer kicks in at the unusually low crossover frequency of 150Hz to keep it focused on reproducing deep bass, and each speaker has its own built-in 100-watt power amplifier. Besides delivering hi-res signals to each speaker, the hub is Roon Ready and supports wireless streaming via AirPlay 2, Chromecast, and Spotify in addition to handling UPnP streaming over Wi-Fi or wired Ethernet and providing optical digital, HDMI, and analog stereo inputs. The sonic payoff is a deep, spacious, and diffuse soundstage with a stereo effect that remains strong well off-axis. "I could sit 30 degrees off-center and still hear generous spread to the 'off-side' speaker," Kumin wrote. "It was not full-width stereo, of course, but most conventional direct-radiators collapse almost entirely into the near-side speaker under the same conditions." (Editor's note: Crutchfield is offering the system for $1,499/pair as of this writing.)
AT A GLANCE
Plus
Accurate response and tonal balance
Spacious imaging with impressive off-axis performance
Unique looks and fine finish
Minus
Peak level may fall short for very large rooms
Ergonomics of physical controls and indicators
Full Review Here (posted 12/22/21)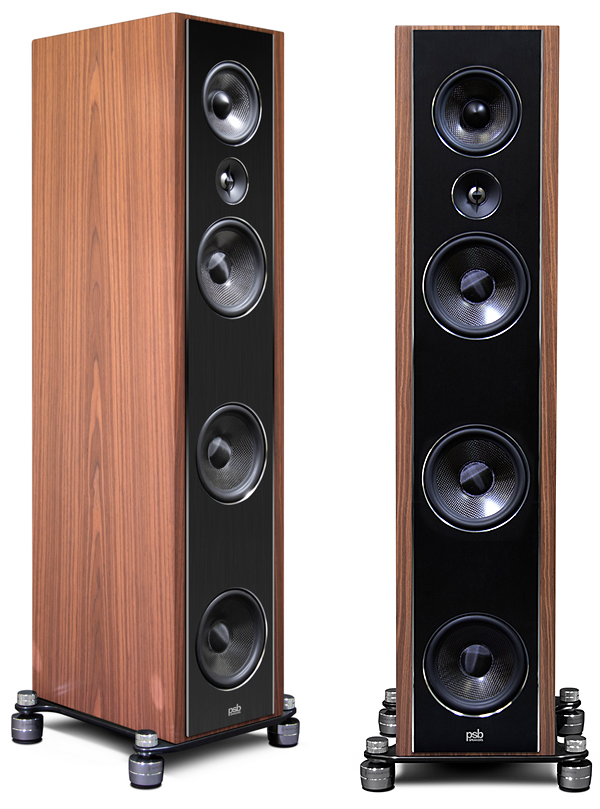 PSB Synchrony T600 Loudspeaker: $7,999/pair
With almost 50 years of experience under his belt, Paul S. Barton is one of the most respected authorities on loudspeaker design, so when he unveils a new model the audio community pays attention. And when he announces a new flagship, audiophile ears really perk up, as they did this in the spring of 2021 when Canada's PSB Speakers — the namesake brand Barton founded in 1972 — announced the return of its long discontinued Synchrony series. The hard-edged T600 is a "transitional" three-way design featuring three 6.5-inch carbon-fiber cone woofers, each housed in its own ported chamber and operating with a different high-pass cutoff. At the top of the impeccably built cabinet, a 1-inch titanium-dome tweeter sits below a 5.25-inch carbon-fiber midrange that crosses over to the woofer below it.
We can say with certainty that fans of PSB's top models will not be disappointed with Barton's efforts. Running the T600s full range with no subwoofer support, reviewer Tom Norton listened to a broad selection of test tracks carefully chosen to reveal the speakers' sonic capabilities. He characterized the overall presentation as consistently superb with "astonishing" bass that extended powerfully down to 30Hz. "The rolling bass in Bela Fleck's 'Flight of the Cosmic Hippo' was clean and deep"…and close-miked a cappella vocals from the King's Singers were "consistently gripping." This revamped version of the company's flagship rewards listeners with clear, dynamic sound and deep-reaching bass, proving once again that Barton is one of the best speaker designers around.
AT A GLANCE
Plus
Open, detailed sound
Powerful bass
Excellent build quality
Minus
Somewhat pricey
Matching Synchrony center speaker not yet available
Full Review Here (posted 7/14/21)
To browse all Sound & Vision-recommended AV gear, broken out by category, visit our Top Picks page.
Click here for Sound & Vision's for 2021 Top Picks of the Year.