Best Subwoofers, Home Theater Speakers of 2021-22 Page 2
More Subwoofers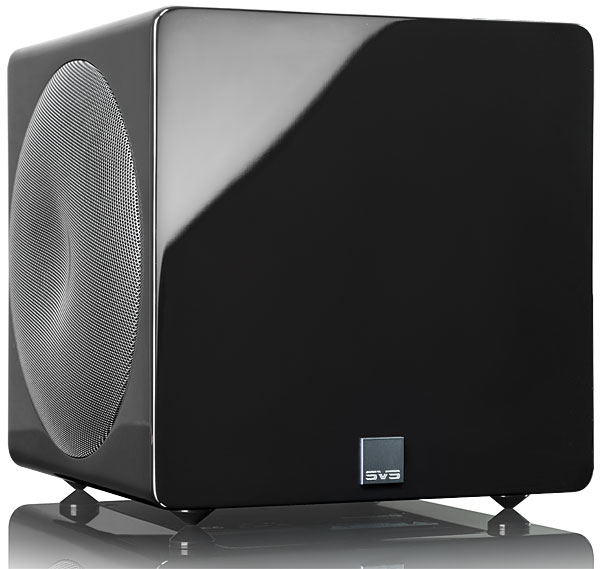 SVS 3000 Micro Subwoofer: $900
Ohio's SVS has been building quality subwoofers for more than 20 years but somehow never got around to making one of those super-compact subwoofers that leaves you scratching your head — until now. The new 3000 Micro packs an 800-watt (RMS) amplifier, digital signal processing, and two opposing 8-inch woofers into a remarkably small cube that's not quite 12 inches square. As you might imagine, these are no ordinary woofers. Rather, each 8-incher is a custom driver built to do one thing: deliver deep bass at high levels from a tiny cabinet. Adding to the allure of this mini marvel is SVS's excellent app, which provides instant access to a generous helping of features, including low-pass frequency/slope controls, a three-band parametric equalizer with adjustable "Q" (bandwidth), and room-gain compensation with a selectable high-pass filter.
Running through his arsenal of bass torture tracks, reviewer Dan Kumin was thoroughly impressed with the 3000 Micro's ability to play low and loud, including its ability to clearly render the strong, down-sliding electric-bass notes in Bela Fleck's "Flight of the Cosmic Hippo." "At levels I'd call 'solidly loud demo' (roughly 83dB SPL on average) the 3000 Micro matched my everyday [SVS PC-12-Plus tubular] subwoofer perfectly." Kumin also pitted the little brute against KEF's KC62, a Top Pick winning mini-sub that costs almost twice as much, and "heard nothing to distinguish the two…at loud-but-not-too-loud levels." Plumbing the depths further, Kumin cued up the "Flight to LAPD" scene from Bladerunner 2049 featuring a Hans Zimmer score that dips well below 20Hz and was, once again, captivated by the 3000 Micro's ability to deliver deep, accurate bass at satisfying levels. (Editor's note: Since the original review, SVS has increased the price of the 3000 Micro from $800 to $900.)
AT A GLANCE
Plus
Highly compact form factor
Notable extension and output for size
Excellent control app
Minus
No auto-EQ/correction
Full Review Here (posted 6/30/21)
KEF KC62 Subwoofer: $1,500
In a grand departure from the typical black-cube subwoofer, England's KEF and companies like Bluesound (whose Pulse Sub+ is also featured in this post) have made a conscious effort to bring style to a speaker category that routinely gets shortchanged in the looks department. And, in the case of KEF's KC62, the beauty is anything but skin deep, extending to the heart of its extruded-aluminum cabinet where you find a "force-cancelling" (back-to-back) double-woofer that joins two outward-facing drivers in a common magnet structure. KEF calls the clever design Uni-Core and its goal is to coax deep bass from a (roughly) 11-inch cube with the help of "smart" digital processing, current sensing feedback that limits output on the fly to squelch audible distortion, and a Class D amplifier that delivers 500 watts to
each
driver. Guess what? It works.
Listening tests confirmed the KC62's ability to deliver solid bass that was smooth and clean down to 25 Hz at levels that were loud, though not earthshaking, making it ideally suited for smaller spaces and moderate listening levels. When hitched with a pair of small monitors, the KEF had no difficulty in "keeping up," wrote audio guru/reviewer Dan Kumin. "Deep bass stayed solid, dynamic, and undistorted, and the next octave displayed zero boom, thud, or unseemly whooshing." When called to support a larger tower-based speaker system, the sub revealed rich orchestral bass on Prokofiev's "Dance of the Knights" (Romeo & Juliet) at moderately loud levels, leaving Kumin impressed that a "breadbox-size subwoofer can produce actual 25Hz-and-lower content at musically useful levels. The KC62 will match the performance of a well-engineered 12-inch sub in every important parameter except peak dynamics and level."
AT A GLANCE
Plus
Incredible extension from incredibly small design
Highly flexible controls and features
Wireless option
Elegant finish
Minus
Limited peak output
Pricey
Full Review Here (posted 2/24/21)
Definitive Technology Descend DN-15 Subwoofer: $1,799
Resident bass guru David Vaughn couldn't wait to get his hands on the flagship model in Definitive Technology's Descend series of subwoofers, the hulking DN15. Though he has sat through many trade-show demos of Def Tech speakers over the years, he has never owned one and never considered the brand top-of-mind when it comes to subwoofers. That all changed once he moved the DN15 into his home theater, an act that took some doing because, at 24 inches square, this is one big box. It has to be to accommodate its 15-inch driver, two 15-inch passive radiators, and 500-watt amplifier. The enclosure also houses a 56-bit digital processor featuring three custom EQ modes — one of which boosts output in the 17-23Hz region — and an eight-position intelligent phase control along with the usual volume, EQ, and crossover controls. There's no app but you do get a compact remote that provides access to everything you need.
The DN15 proved to be a real crowd-pleaser with movies, especially those with soundtracks that dip below 20Hz and rattle the windows such as Pacific Rim and The Haunting. One of the truly awe-inspiring scenes was in 13 Hours: The Secrets Soldiers of Benghazi when the sniper's rifle unloads a .50 caliber round during the embassy attack. Vaughn's take: "The rifle was loud, sharp, and impactful — just like it's supposed to be." Staying on the military theme, Vaughn cued up the "soften them up" scene from the Hacksaw Ridge to see how low the sub could go and concluded: "The DN15 was able to keep pace with the rapid fire and never sounded strained or overmatched." If you crave kick-ass bass, you owe it to yourself to check out the DN15, but you'll have to first make sure you have room for it.
AT A GLANCE
Plus
Powerful output
Intelligent Phase Control allows for precise alignment with main speakers
Useful remote control
Minus
Large size makes optimal placement difficult
No custom EQ options
Full Review Here (posted 2/16/22)
Home Theater Speaker Systems
Monolith By Monoprice Encore T6 Speaker System: $1,410 (as tested)
The hits just keep coming from Monoprice, the one-time accessory company that has evolved into a full-on maker of quality A/V gear. The five-piece T6 speaker system delivers a remarkably high level of performance for the remarkably reasonable price of $1,400, which gets you two sizable tower speakers, a center-channel speaker, and a pair of two-way surround speakers — all tonally matched. We were so impressed with the system that we named it our
Top Value Pick of the Year
for 2021.
Whether listening to music on SACD or watching movies on Blu-ray, reviewer Dan Kumin was impressed, even captivated by what he heard. He went so far as to describe a multichannel recording of the San Francisco Symphony performing Aaron Copland's "Symphony for Organ" as "thrillingly real" and deemed the tower speakers capable of producing respectable bass and playing lower than similar sized towers he has recent experience with. For movies or even live sports, Kumin marveled at the system's "highly cohesive front stage" and "wonderfully enveloping" sound.
While he missed having a dedicated subwoofer to reproduce the lowest of lows for "real cinematic impact," Kumin remained impressed with the T6 towers' ability to render the bus/train crash scene in the remastered version of 1993's The Fugitive with satisfying impact: "I suspect they'll come close enough to keep a significant segment of listeners happy." Performance-minded shoppers who are on a budget can hardly go wrong with the T6 ensemble, especially when you consider Monoprice's 30-day money-back guarantee. (Editor's note: As of this writing, Monoprice is offering a 15% bundle discount with free shipping, which lowers the system price to $1,198.)
AT A GLANCE
Plus
Very accurate, natural tonal balance
Impressive bass extension
Remarkable center-channel off-axis consistency and timbral match with towers
Minus
Towers are sensitive to placement
Some non-linearities at loudest playback levels
Generic looks (grilles-on)
Full Review Here (posted 1/12/22)