Best Speakers of 2021 (So Far)
Is your sound system as good as it can be or, more to the point, as good as you want it to be? If not, it's a great time to make tweaks and upgrades you thought about but didn't quite get to during pandemic lockdown. (Yep, we all have projects that somehow never got finished…with no good excuse, at least in my case.) You'll enhance your enjoyment of music and movies and help stimulate a national economy still reeling from a recession of historic proportions. And if you happen to have a little extra stimulus money, well…
To get the most bang for your buck, start by assessing your speakers. Is the sound realistic and involving or does music you know and love lack dimension or sound shrill and boomy? Same for soundtracks. When the lights go down, does the sound pull you into the story and keep you at the edge of your seat? The best speaker setups create an atmosphere that fools (or scares!) you into feeling you-are-there. Godzilla's footfalls are visceral…and positively terrifying.
With the midpoint of 2021 only weeks away, we thought it was the perfect time to highlight the dozen speakers that have received S&V Top Picks blessings so far this year. The lineup includes compact speakers that sound amazing for their size, four subwoofers — including one that can be had for $179 — a water-resistant speaker you can take anywhere, and five home-theater speaker systems, including a killer Dolby Atmos setup and a suite of low-profile speakers designed to hug the wall. As always, we like to think there's a little something for everyone, especially if you're thinking about upgrading to a new set of speakers.
Home Theater Speaker Systems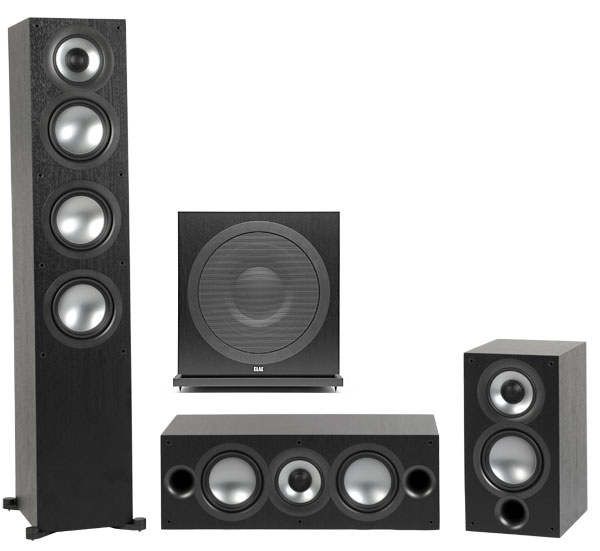 Elac Uni-Fi 2.0 Surround Speaker System: $3,000 (as tested)
Elac's plainly styled Uni-Fi 2.0 speakers may not be much to look at but the experience they deliver with movies and music is anything but pedestrian. In reprising the excellent
Uni-Fi Series of speakers we reviewed in 2016
, designer Andrew Jones has revisited the original line and made several improvements. All models in the revamped line have been updated with a new concentric driver featuring a 1-inch soft dome, a beefed-up 5.25-inch woofer, and a receiver-friendly 6-ohm impedance (the original was 4 ohms).
The Uni-Fi Series doesn't offer a subwoofer so the tower-based 5.1 home theater suite we put together included Elac's highly capable SUB3030 subwoofer, which may well be unique for its total lack of physical controls. There's not even a power button! Setup is handled entirely through Elac's companion app, which provides the usual complement of controls plus four EQ presets and a parametric EQ with eight memory slots for storing custom settings.
It didn't take reviewer Al Griffin long to conclude that Elac's updates translated into impressive sound quality, conveying the chaotic soundtrack of District 9 with precision, clarity, and a heightened sense of drama. The sonic thrills continued with Requiem for a Dream's dynamic soundtrack but didn't stop there. The adventurous 5.1 remix of Roxy Music's Avalon (1982) created a sense of full immersion with "well-balanced sound that was detailed but not overly bright" and powerful at the low end. Listening to a variety of music on Elac's UF52 towers alone, Griffin marveled at the speakers' ability to convey a "clean, lively presentation that never once sounded aggressive" with instruments spread across a wide soundstage.
AT A GLANCE
Plus
Clean, well-balanced sound
Consistent off-axis performance
Subwoofer control app with auto-EQ
Excellent value
Minus
Basic looks
Available only in black
Full Review Here (posted 2/3/21)
Polk Audio Reserve Surround Speaker System: $3,195
The Reserve speaker series is a more affordable follow-up to Polk's flagship Legend series, the apex of which is represented by the L800 towers that earned a well-deserved
Top Pick
designation in 2019. Though the outward design of the new series is comparatively understated, the four models chosen for the Atmos-capable 5.2.0 home theater setup we reviewed use the same Pinnacle Ring Radiator tweeters and Turbine cone drivers developed for the Legend series. The R600 towers that anchored the system also feature an upgraded version of Polk's Power Port, which uses a proprietary filter to eliminate unwanted noise.
The upshot of these technical features, which represent nearly five decades of refinement, is crisp near-full-range performance from a streamlined speaker system that relies on the towers for bass duties instead of bringing a separate subwoofer into the fold. Even without a dedicated subwoofer, reviewer Al Griffin characterized the bass impact with movies such as Tenet as thoroughly satisfying." Griffin was also impressed with the system's ability to convey dialogue clearly while creating an immersive sound bubble with a believable sense of height when he cued up the Atmos soundtrack of 2014's Godzilla on Ultra HD Blu-ray.
The R600 towers were equally capable with music, exhibiting a revealing quality with impressive dynamics and imaging that extended well beyond the physical boundaries of the speakers. Would the addition of a subwoofer produce deeper bass and a more dynamic presentation with action movies? Sure, but in medium-sized rooms most people will be more than satisfied with the system as is.
AT A GLANCE
Plus
Crisp, near full-range performance
R900 height module delivers immersive sound
Impressive build quality for the price
Excellent value
Minus
Revealing sound can be slightly bright with some sources
Full Review Here (posted 5/5/21)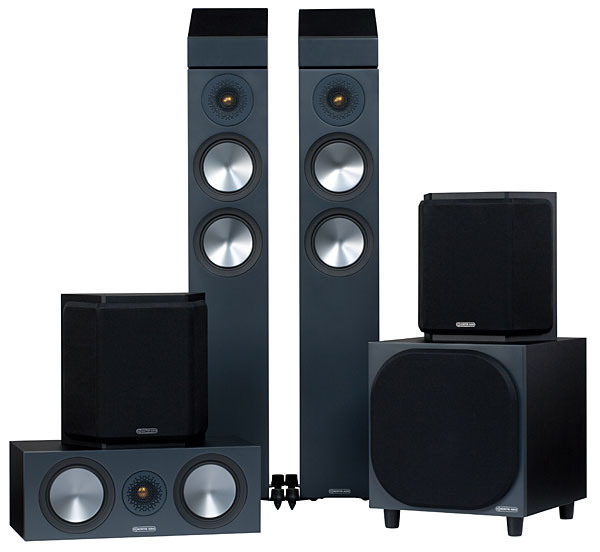 Monitor Audio Bronze 200 Surround Speaker System: $4,010 (as tested)
England's Monitor Audio has spent more than four decades building and refining high-quality speakers, while becoming a leader in metal-dome driver technology. The entry-level Bronze Series, now in its sixth generation, stands as a great example of the value and quality the brand is known for. Fifteen years later, the line is still going strong as evidenced by the remarkably full and detailed sound delivered by the 5.4.2 surround system we put together — a setup comprising a pair of Bronze 200 towers outfitted with Dolby Atmos-enabled Bronze AMS height modules plus two additional AMS speakers for the rear of the room, a Bronze 150 center speaker, a pair of wedge-shaped Bronze FX surround speakers, featuring selectable bipole or dipole operation, and two Bronze W10 subwoofers.
Monitor's longstanding focus and dedication paid off with music and movies. Jean Guillou's organ transcription of Pictures at an Exhibition (Dorian Recordings) was a standout for reviewer Tom Norton with the 200 tower/W10 subwoofer duo handling the recording's deep organ notes with ease — and helping the W10 earn Top Pick status on its own. Likewise, he described the lively soundtrack of Blade Runner 2049 as "consistently involving with no sense of strain" and characterized the opening musical crescendo in Oblivion stunning: "As Jack fired up his bubble-copter, and later as he circled the ruined stadium just before landing, the performance of the two small Bronze subwoofers was gripping."
AT A GLANCE
Plus
Affordable price
Detailed overall sound
Good envelopment with Atmos soundtracks
Minus
Towers have limited deep bass
Ordinary cosmetics
Full Review Here (posted 1/20/21)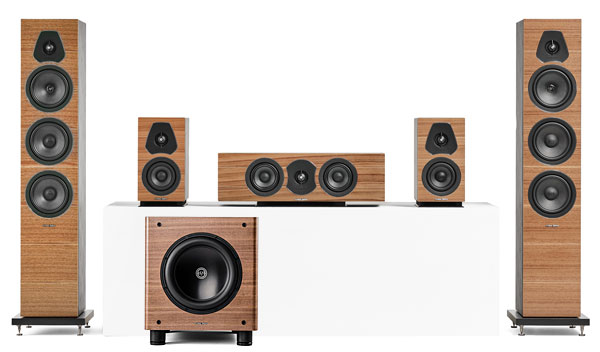 Sonus faber Lumina Surround Speaker System: $5,296 (as tested)
Italy's Sonus faber is known as a creator of rarefied speakers, like the $120,000 limited-edition
Aida
, but that doesn't mean all of its speakers are beyond the reach of typical budgets. The $5,300 home theater setup we put together is anchored by a pair of Lumina III towers — stylish for sure with a leather-wrapped top and sides but not full-on exotic — and includes a Lumina CI center speaker, a Gravis II subwoofer (there's no sub in the Lumina line), and a pair of Lumina bookshelf speakers that list for $899 a pair.
Whether you're listening to music or taking in some Hollywood action, the Lumina system pays rich dividends. With just the towers and sub playing, music was beautifully balanced and superbly detailed without any hint of harshness or exaggeration. "I found the Lumina IIIs, supported by the Gravis II, to be rewardingly neutral," observed reviewer Tom Norton. "Nothing appeared to be overemphasized or underplayed."
Putting dynamic range to the test with Ford v Ferrari, a demo-quality Ultra HD Blu-ray that chronicles Ford's quest to beat Italy's Ferrari at Le Mans '66, Norton remained impressed. Whether it was the roar and growl of engines or the screeching of twisted metal as cars spun out of control, "the overall sound was exceptionally dynamic, well-balanced, and not overly bright, even in the most challenging scenes." The ominous sounds of battle in 2019's Midway offered a similarly engaging experience that showcased the Gravis II sub's ability to keep up with the mayhem without obvious distortion. If you have five grand to spend and are looking to upgrade to something special, you owe it to yourself to give Sonus faber's Lumina speakers an audition.
AT A GLANCE
Plus
Crisp detail and open-sounding midrange
Immersive 5.1 performance
Stylish and affordable
Minus
Cl center speaker has limited off-axis response
Full Review Here (posted 4/28/21)