Best Speakers of 2021 (So Far) Page 2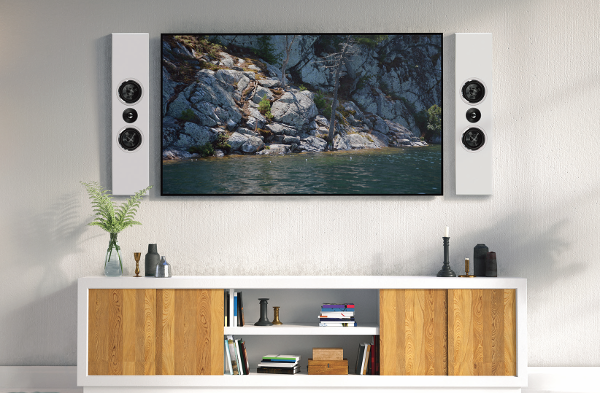 PSB PWM-1 On-Wall Surround Speaker System: $6,193 (as tested)
PSB namesake Paul Barton has been building excellent speakers for almost 50 years and shows no signs of letting up. His latest creation is a line of slim on-wall speakers for enthusiasts who want great sound from a setup that doesn't commandeer the room it occupies. In our case, that room was a 12 x 15-foot space we outfitted with five PSB PWM1 speakers — the smallest of three models, all rectangular and designed to hug the wall — plus a PSB CustomSound CSIR Sub/CS 500W amp combo (shown below). The PWM1s were arranged in a standard home theater layout (front left, center, right plus two rear surrounds) that occupied no floor space whatsoever. With a depth of less than 5 inches, the svelte CSIR sub with its 10-inch woofer turned out to be a perfect match for the PWM1 speakers — you can mount it on the wall or place it upright using a supplied pedestal (which is how we used it).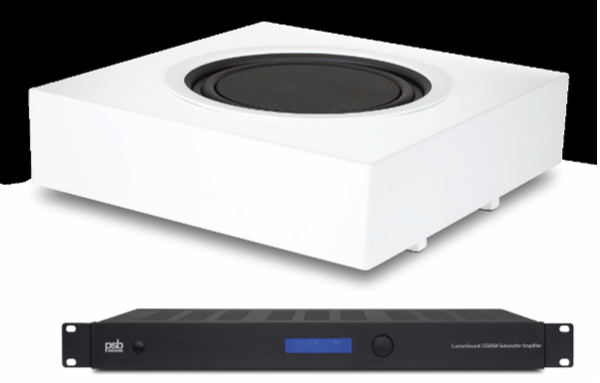 Tests conducted by reviewer Michael Trei demonstrated that even a midline AV receiver can drive this low-profile setup to realistic cinema-sound levels without strain, though a top-line AVR was able to deliver a more authoritative experience. For a little butt-kicking surround action, Trei fired up Mission: Impossible — Ghost Protocol and enjoyed a "truly seamless sensation of envelopment" with coherent dialogue and a surprising degree of impact from such a small subwoofer. The system also handled music expertly, conveying the richness of Holly Cole's sultry voice on "Little Boy Blue" from 1995's Temptation. With his latest speaker series, the renowned PSB designer has struck a perfect balance between profile and performance, whether you're listening to music or watching a movie.
AT A GLANCE
Plus
Dynamic sound for on-wall speakers
Versatile installation options
Solid build quality
Minus
Sub pricey compared with standalone units
Full Review Here (posted 3/24/21)
Stereo Speakers
Sonos Roam Portable Wireless Speaker: $169
The company that invented the wireless multiroom speaker a decade-and-a-half ago is finally starting to hit stride in the popular battery-powered portable category, which it inexplicably ignored for years. Roam is a smaller, lower-priced follow-up to 2019's excellent
Move
and it has a heck of a lot going for it.
For starters, it's ultra-compact and carries an IP67 rating, meaning it's immune to dust and water — you can submerge it in 3 feet of water for up to 30 minutes without consequence. On top of that, it boasts up to 10 hours of playtime with a fully charged battery, supports Bluetooth streaming, connects with other Sonos speakers in and around your home via Wi-Fi, and is equipped with the highly effective Trueplay auto-calibration system that adjusts EQ on the fly to adapt the sound to any environment.
But wait, there's more: Roam doubles as a smart device that supports Google Assistant and Amazon's Alexa voice platform when operating via Wi-Fi and is controlled via the Sonos app, which provides access to Tidal, Qobuz, Spotify, Apple Music, and dozens of other streaming services. Best of all, the speaker sounds amazing for its size and can be linked to a second Roam for a true stereo experience. Reviewer/recording engineer Leslie Shapiro called it one of the best sounding portables she's ever heard. If portability and sound quality are important to you, the Sonos Roam is an outstanding choice.
AT A GLANCE
Plus
Rich, warm, sound
Impressive bass
Streaming via Bluetooth, Wi-Fi, and AirPlay 2
Water/dust-proof
Minus
Lacks treble clarity at high volumes
Pricey for a portable speaker
Full Review Here (posted 4/21/21)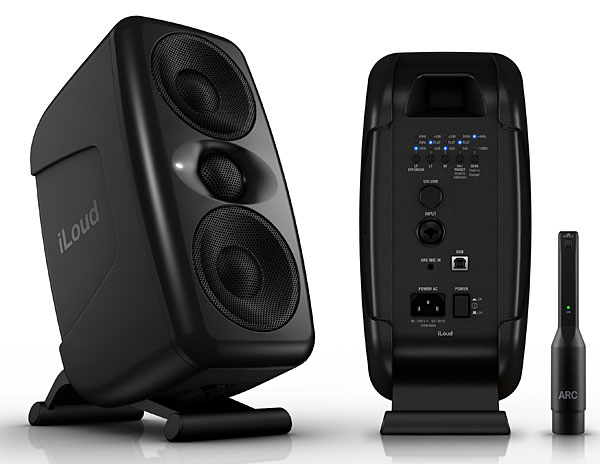 IK Multimedia iLoud MTM Desktop Speaker System: $700/pair
Over the past year we've all spent an inordinate amount of time gazing at screens — from TVs (main and secondary) to phones and tablets to your trusty laptop/computer monitor. Except for that big-screen TV, it's safe to say that sound was (is?) seriously lacking in those other viewing experiences, which brings us to the iLoud MTM desktop speakers from Italy's IK Multimedia (I had never heard of them either). At 11 inches tall, the monitors are quite a bit larger than your garden-variety PC speakers and miles ahead in terms of sound quality, with each woofer-tweeter-woofer complement drawing on 100 watts of power to create an amazing near-field listening experience.
On its own, the driver configuration goes a long way toward improving sound by minimizing potentially destructive reflections from the desktop and other nearby surfaces. Add to that stands that can be adjusted to tilt each speaker between 0 and 20 degrees. But IK doesn't stop there, equipping the speakers with a DSP-controlled crossover, dynamic-range management, and a number of EQ settings for tailoring the sound to your liking. The system even provides automatic room correction via a supplied measurement microphone in what I would think is an exceedingly rare (non-existent?) feature for this category of speakers.
Running the output of his iMac through an outboard digital-to-analog converter, veteran audio reviewer Dan Kumin described the MTMs as "extraordinarily accurate" speakers capable of astonishing bass extension and output. "On my desktop, the IKs sounded clean, dynamic, and free of colorations or distortions, even at the lower frequencies where you'd expect 3.5-inch woofers to consider filing complaints." He also found that the not-so-little speakers do well with "far-field" listening, meaning they would be a welcome addition in a small room. If your post-pandemic desktop audio setup is in need of an upgrade, put the iLoud MTM speakers on your short list.
AT A GLANCE
Plus
Superbly accurate tonal balance
Remarkable bass extension
Highly adaptable onboard EQ options
Onboard auto room correction
Minus
Finite output may not suit far-field listening
No auto on/off
No built-in sub integration option
Full Review Here (posted 3/31/21)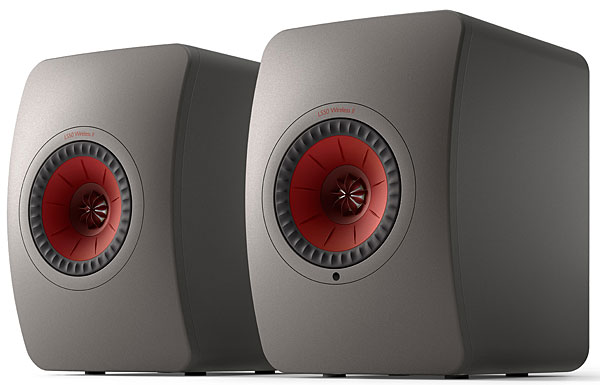 KEF LS50 Wireless II Powered Speakers: $2,500/pair
Wireless speakers with integrated virtual assistants and onboard streaming are everywhere these days but how many of them deliver an all-in-one streaming solution
and
true audiophile sound? Not many. Which is why you might want to check out KEF's LS50 Wireless II, an update of the LS50 Wireless speaker the venerable British brand introduced a few years ago. Though the new version looks almost identical to its predecessor, it features several innovations designed to incrementally improve sound quality, including the use of a newly developed "disc" that absorbs unwanted "backwave" sound from KEF's signature Uni-Q concentric driver, which in this case positions a 1-inch tweeter in the throat of a 5.25-inch woofer (where the dustcap is in a conventional woofer). The arrangement, now in its 12th generation, is designed to promote the smooth, controlled directivity and even off-axis response.
In a nutshell, the LS50 Wireless II is a Roon Ready hi-res wireless streaming system that plays MQA music files and supports streaming via Chromecast, Apple's AirPlay 2 platform, and KEF's intuitive Connect app, which puts Qobuz, Tidal, Spotify, Amazon Music, and a half dozen other streaming services at your fingertips. All this from two compact speakers that provide a full complement of digital and analog hardwire connections along with onboard digital processing and amplification (100 watts of Class AB power for each tweeter and 280 watts of Class D power each woofer).
Getting back to that audiophile sound, reviewer Dan Kumin was blown away by the sonic capabilities of these little speakers — especially their ability to produce respectable bass and faithfully reproduce an intimate Chandos recording of a string quartet performing the works of 19th-century composer Anton Fesca as streamed via Qobuz. Singling out cellist Yves Sandoz, he wrote, "I've heard a lot of top-shelf cello in real life, and this, via the KEFs, is quite simply what it sounds like." The veteran audio reviewer remained impressed as he expanded his listening to other musical genres: "Tonally, the LS50 Wireless IIs nailed my ideals of coloration-free, timbrally honest reproduction, with impressive spatial and dynamic qualities even in my 3,000-cubic-foot studio."
AT A GLANCE
Plus
Serious all-in-one streaming solution
Remarkable tonal and dynamic range
Excellent ergonomics and app
Roon Ready Certified
Minus
High volume level slightly reduces resolution
Full Review Here (posted 5/12/21)