Elac Uni-Fi UB5 Speaker System Review

PRICE
$2,047 as reviewed
AT A GLANCE
Plus
Concentric mid/tweeter
Pinpoint imaging
App-driven, room- correcting sub
Minus
Extra power required
App required for sub control
THE VERDICT
Speaker designer extraordinaire Andrew Jones continues his work for German manufacturer Elac with some of the best monitor-class speakers we've ever heard plus a provocative, app-driven sub.
There are a lot of ways to put together a home theater system. Small speakers—or, as I call them, monitors—are among the best foundations for a multipurpose room that isn't cavernous in size. The audio industry used to pump out so many potentially interesting passive monitors (not to mention towers) that we could barely review a fraction of them. But with the increasing emphasis today on soundbars and powered lifestyle speakers at the lower end of the market, it's becoming increasingly hard to put together small-speaker configurations for surround sound. So it's both a pleasure and a relief to add a new entry from the German manufacturer Elac, which has hired the eminent British speaker designer Andrew Jones to craft new lines of passive speakers, such as the Uni-Fi series, which includes the UB5 monitor reviewed here.
From Turntables to Speakers
Elac, or Electroacustic GmbH, was born in 1926 in the German city of Kiel, up north between Hamburg and the Danish border. Elac introduced their first phonograph in 1948. In 1984, as the CD made its debut, they turned their attention from turntables to loudspeakers, later introducing the Jet folded planar magnetic tweeter in 1993. Elac's products include eight full series of passive speakers, a line of active speakers with planar tweeters, a couple of satellite/subwoofer sets, a Dolby Atmos–enabled add-on elevation module, a super-tweeter add-on, in-walls, inceilings, and a music server. Jones is concentrating his attention on new models for the existing Debut series (see review at soundandvision.com), and on Uni-Fi, a brand-new line consisting of the UF5 tower ($999/pair), UB5 monitor ($499/pair), and UC5 center ($349). Reviewed here along with the UB5 (one pair for the front left and right channels, another pair for the surrounds) are the UC5 center and a Debut subwoofer, the S12EQ ($700). All three Uni-Fi models use a concentric driver array, with the tweeter placed in the center of the midrange. Jones has had a longtime fascination with concentric/coaxial drivers since his days with KEF. The key advantage is that the two drivers cover their combined frequency range as if they were a single point source. According to Elac, their concentric drivers afford uniform directivity, flat frequency response, strong power handling, and enhanced imaging both on and off axis.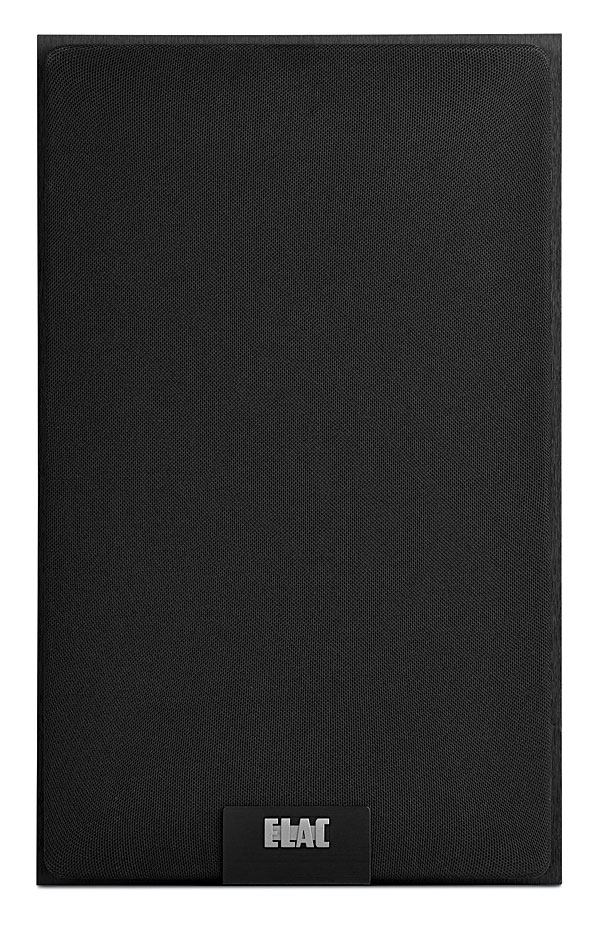 The Uni-Fi speakers are three-way designs using combinations of the same driver types—1-inch soft dome tweeter with concentric 4-inch aluminum-cone midrange and 5.25-inch aluminum-cone woofer— in rear-ported enclosures with custom-designed binding posts. The UB5 monitor squeezes all three into an enclosure just a little more than a foot high. The UC5 has two woofers flanking the mid/tweeter array in a longer enclosure that can serve as either a center or an LCR speaker. The floorstanding UF5, not reviewed here, uses triple woofers in a 38-inch-tall enclosure. All Uni-Fi speakers have the same rated sensitivity of 85 decibels, which is on the low side of what's usually claimed nowadays, at least for a home theater system. Nominal impedance is rated at 4 ohms and minimum impedance at 3.4 ohms. You wouldn't want to hear a cheap receiver clipping through these high-resolution speakers, so think step-up model. The more power, the better.
Don't be miffed by the S12EQ subwoofer's near-total lack of back-panel connectivity. You don't need anything more than the single RCA input because this sub is too hip for dials and toggles. It takes orders from the Elac Subwoofer App, available for Android or iOS. The app requires a compatible portable device to communicate with the sub via Bluetooth 4.0 low-energy profile, but doesn't require a typical Bluetooth pairing procedure. Its Auto EQ tailors the sub's bass response to the room.
Auto EQ is a two-step process: First, place the mobile device within a foot of the sub so the app can perform the microphone calibration. Then retreat to the listening position, where the app measures the response in the room, spitting out the results for each of its 15 bands of EQ, culminating in a chart that represents in-room response and the needed compensation. You can then apply the room correction or redo the process. Auto EQ is switchable, so you can A/B it or just shut it off if you don't like it. I don't know your room as well as you do, but I'm betting you'll like room correction for the sub, especially if your room suffers from bass bloat at the preferred seating position.
If you don't trust Auto EQ, a Parametric Equalizer function lets you manually set center frequency, bandwidth, and gain for a single frequency. The app gives you a pretty good idea of where that problematic frequency might be. There are also listening mode presets: Besides normal, you can select music (with a little low-bass emphasis), cinema (which boosts what Elac refers to as "the dramatic frequencies around 50 hertz"), or night (which reduces maximum volume). A delay function compensates for the sub being placed near the listening position and may help it to blend with the rest of the system. Traditional sub adjustments include low pass, phase, and auto on/off. The latter adjusts the auto-on threshold from 1 to 10 millivolts, depending on the surround processor.
Please note that I received two samples of the sub. The first one couldn't run Auto EQ—then later did so. The second sample ran it on the first try. Both severed the connection between sub and app whenever the Blu-ray player was paused for a few minutes, which required a tap on the app to rediscover the sub. However, the sub didn't stop playing or lose its settings; it just stopped recognizing the app. As long as the volume and other settings were appropriate, this wasn't a problem in practice.