Best Gear of the Year (So Far in 2020)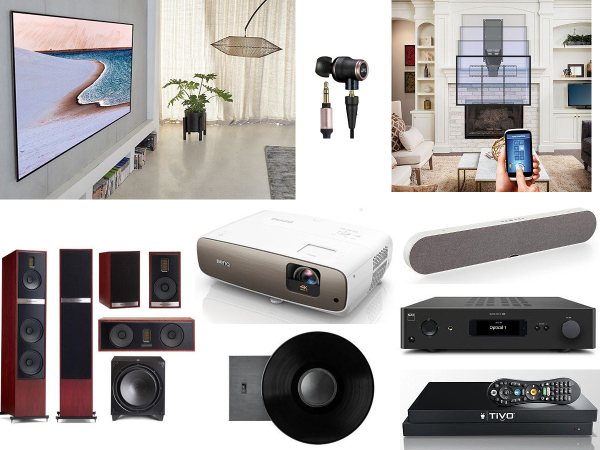 Home entertainment in all of its many forms has remained a constant during this time of great uncertainty, providing a welcome distraction from a pandemic that continues to command attention around the world. In the spirit of providing an escape from the unrelenting parade of COVID-19 statistics and prognostications, we offer a summary of Top Pick-worthy products we have reviewed so far in 2020 — any of which could be a valuable addition to your AV setup. It's an eclectic mix for sure, running the gamut from $300 earbuds made of wood and a like-priced vacuum-based record cleaning system to an assortment of speakers, ranging from a $1,000 soundbar to an $8,000 home theater speaker system with several great options in-between. Enjoy, and drop us a line to let us know how you're coping.
TV/Video
BenQ Cineprime HT3550 4K DLP Projector: $1,499
Projectors that bring the movie-theater experience home have been coveted by videophiles for years but they can be crazy expensive. If price has been holding you back from making the move into video projection, today might be your lucky day. BenQ's HT3550 uses rapid pixel shifting to achieve a "4K" image with vivid color and excellent detail that you'd be hard pressed to distinguish from a true Ultra HD image — and it does so at a price that makes it a slam dunk for our Top Value designation. As reviewer Al Griffin put it, "Getting a cinema-size, high-quality image in your home is now easier than ever." If that 65-inch screen is starting to look small, you owe it to yourself to check out the HT3550.
AT A GLANCE
Plus
Extended color
Good brightness
Great value
Minus
Contrast could be better
Difficult to access HDR adjustment
Vizio PX75-G1 P-Series Quantum X LCD Ultra HDTV: $2,200 ($1,900 on vizio.com)
Great performance at a reasonable price is what you can expect from Vizio's PX75-G1. Fire up a 4K movie, and its huge 75-inch screen presents 4K images of exceptional quality while accommodating four high dynamic range (HDR) formats: Dolby Vision, HDR10, HDR10+, and HLG (Hybrid Log-Gamma). Though not a fan of Vizio's remote control and on-screen interface, veteran TV reviewer Tom Norton delighted in the set's impeccable HDR performance while watching
Oblivion
: "Lightning strikes looked frighteningly real and a nighttime nuclear explosion seen from a distance revealed more detail than I've ever noticed in the dozens of times I've watched this movie on other sets." Good news: The TV is now available for $1,900 on vizio.com.  
AT A GLANCE
Plus
Handles all HDR formats, including HDR10+
Exceptional performance
Affordable price
Minus
Limited off-center viewing
Poor remote control
Slow and cluttered menu
LG OLED65GXPUA OLED Ultra HDTV: $3,500
LG's mid-line 65GXPUA OLED TV delivers a dazzling 4K picture and is loaded with features that will delight movie buffs and gamers. It has built-in Google Assistant and Amazon Alexa voice control, supports three high-dynamic range formats — HDR10, Dolby Vision, and HLG — and includes an auto low latency mode (ALLM) for gaming and a Dynamic Tone Mapping control that optimizes HDR10 performance by adding dynamic metadata. The set also boasts the new
Filmmaker picture mode
introduced last summer and an HDR Effect setting that convincingly simulates HDR from standard (non-HDR) sources. Not one to mince words, reviewer Tom Norton was captivated by the set's ability to convey vibrant (though not overdone) color and rich detail.
Guardians of the Galaxy No.2
, one of his go-to test discs, "never looked better than it did on the 65GX."
AT A GLANCE
Plus
Rich, accurate color
Wide viewing angle
Outstanding HDR performance
Minus
Remote control difficult to use
Table-mount legs an optional accessory
Stewart Filmscreen StudioTek 130 G4 Projection Screen: $1,484 (material only, as tested)
Unless a screen is motorized and descends majestically from the ceiling on command, it's all but forgotten despite the crucial role it plays in video projection. Choose the right screen and it will enhance projector performance. Pick the wrong one and, well… you get the picture. The fourth generation of Stewart Filmscreen's popular StudioTek line, the ST130 G4 is designed to preserve the fine detail and contrast of 4K/high dynamic range (HDR) sources — a claim reviewer Kris Deering verified using a series of carefully chosen video clips. "I was actually stunned with how well the new material performed…and downright smitten with the extra brightness." If you're looking for a reference-caliber screen that provides a bump in brightness without artifacts, the ST130 G4 deserves serious consideration.
AT A GLANCE
Plus
Excellent image uniformity
Dramatic reduction in artifacts over previous generation
Exceptional build quality and ease of installation
Minus
Minor artifacts on images with vertical camera motion