BenQ Cineprime HT3550 4K DLP Projector
PRICE
$1,499
AT A GLANCE
Plus
Extended color
Good brightness
Great value
Minus
Contrast could be better
Difficult to access HDR adjustment
THE VERDICT
BenQ's budget 4K DLP projector delivers solid overall video performance at a very affordable price.
[Editor's note: BenQ raised the price of the HT3550 to $1,699 after this review was originally written. According to the company, the price increase is due to "tariffs."]
As you might expect, low-cost projectors are much more common than premium models. Survey the market, and you'll find loads of options in the under-$3,000 range, while projectors priced above $10,000 are rare birds, indeed. Even so, affordable models are by no means basic: a look at the under-$1,500 range will turn up plenty of projectors with features such as 4K and HDR10 support—BenQ's CinePrime $1,499 HT3550, for example.
What lies in store for the discriminating home theater-phile when they venture beneath that $1,500 price threshold? You mainly forego projectors with display chips featuring true 3,840 x 2,160 (or higher) resolution like those available from JVC and Sony. DLP models like the HT3550 combine a lower-resolution chip (BenQ uses the latest 0.47-inch DLP XPR offering from Texas Instruments) with a rapid pixel-shifting process that effectively achieves Ultra HD onscreen resolution. And while that might sound like a workaround, it's hard to argue with the results, since even fussy viewers would be hard-pressed to distinguish a pixel-shifted Ultra HD image from one generated by a discrete 3,840 x 2,160-pixel display chip when watching movies or TV.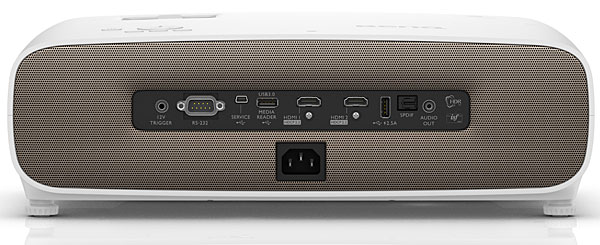 Another reality of the under- $1,500 projector range is that models lack many amenities provided by higher-end models that help simplify installation such as a zoom lens with a substantial range, along with powered focus, zoom, and lens shift controls. This essentially means you have to work harder when initially installing the projector, and your placement options are more limited as well.
Installation limitations aside, it's been my experience that even under-$1,500 models like the HT3550 can deliver an impressive big-screen experience. Along with its 4K/HDR10 display capability, BenQ's features list includes support for the HLG high dynamic range format and 95 percent coverage of DCI-P3 color space. The projector uses a six-segment (RGBRGB) color wheel and is spec'd for 2,000 lumens bright- ness, with its 245-watt lamp rated to last 4,000 hours in Normal and 10,000 hours in Eco brightness mode. It also supports 3D viewing, with optional glasses available from BenQ for $59.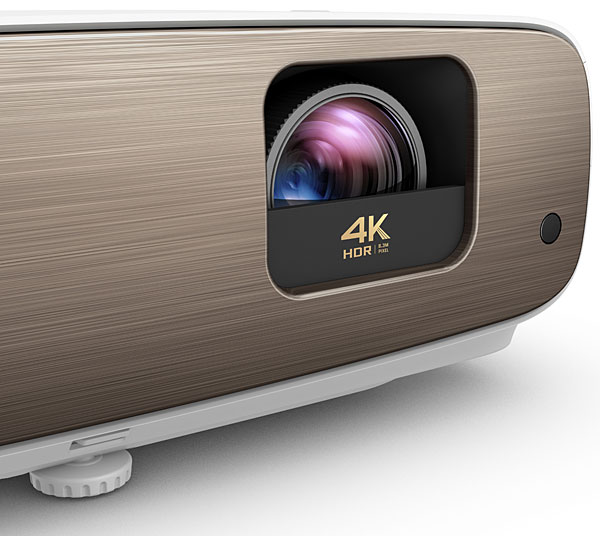 The HT3550's design is a notable step-up from other affordable projectors, the majority of which are basic-looking white boxes. Its sleek, low-profile case sports a silver-toned front panel. Control buttons are located on the top, along with a slide-down door that reveals dials to manually adjust the projector's 1.3x zoom lens, as well as image focus and vertical lens shift (+10%). Inputs on the rear panel include a pair of HDMI 2.0b ports, one USB type-A port for attaching a drive loaded with media and a second that supplies 5V/2.5A power to a Roku or other streaming stick. An RS-232C port and 12-volt trigger output round out the connectivity options.

BenQ's full-size remote control has a backlit keypad—always a welcome feature on a projector remote. Large arrow keys up top make it easy to navigate menus. A set of smaller buttons at the bottom half provide direct access to setup features like picture modes and basic picture settings (Brightness, Contrast, Sharpness, etc.), along with more advanced adjustments like Color Temperature/ Color Management, Dynamic Iris, Gamma, and the projector's CinemaMaster sub-menu. There's also a button labeled "HDR" that lets you turn HDR auto-detect on or off, though this would be infinitely more useful if it instead let you make on the fly adjustments to the projector's HDR Brightness setting (more on that in a bit).
Setup
Projectors in my home theater typically sit on a high shelf-mount at the rear of the room 14 feet away from a 92-inch diagonal, 1.1 gain Stewart Filmscreen Cima screen. But due to the modest range of the HT3550's zoom lens, I instead found it necessary to install the BenQ on a low table at an 8-foot distance from the screen. The projector's manual controls allowed me to easily dial in image size and focus, while its vertical lens shift adjustment and adjustable feet helped to precisely position the onscreen image.
Out of the box, the HT3550's Cinema picture mode offered satisfying image quality, with mostly accurate grayscale tracking and Rec.709 color, though calibration resulted in near-perfect performance on both fronts (see Test Bench). Settings for all of the projector's picture presets can be adjusted and stored, and there's also a User preset that can be custom- named, plus ISF Day and Night presets that a video calibration pro can use to store fixed and locked adjustments.