BenQ Cineprime HT3550 4K DLP Projector Page 2
For HD/standard dynamic range viewing, I selected the projector's Normal Light mode and High Dynamic Iris setting. The former provided a sufficiently bright image— approximately 29 footlamberts (ft-L)—in my dark theater room, while the latter generated reasonably good contrast for a DLP projector at 1,370:1. Native contrast (Dynamic Iris off) was a mere 422:1, making use of the Dynamic Iris a necessity for dark room movie viewing. Gamma was left at the default 2:2 setting, and I also made a point of boosting the Pixel Enhancer 4K adjustment in the CinemaMaster submenu to the 5 setting to maximize detail in upconverted standard high-def images.
With HDR set to Auto in the HT3550's Display menu, Ultra HD/high dynamic range sources are automatically detected and the projector switches to its HDR10 picture mode. After adjustment, the projector hit BenQ's specified 95 percent DCI-P3 color space coverage in HDR10 mode when I had both the Wide Color Gamut and BrilliantColor settings switched on. Turning BrilliantColor off resulted in even more extended color space measurements, but I preferred the visual results I got with that BrilliantColor on.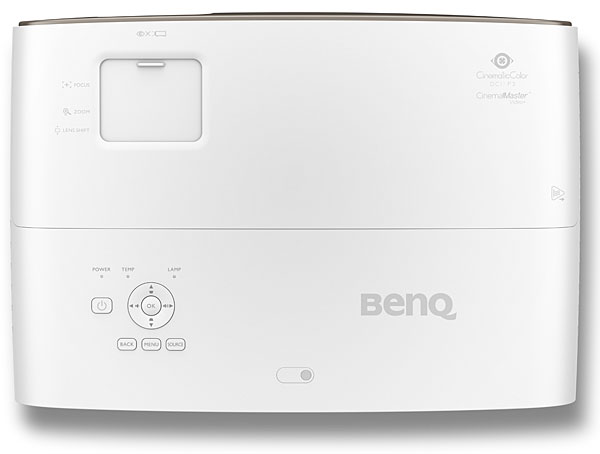 The HT3550 provides variable HDR Brightness settings to adjust the tone map of HDR images for an overall brighter or darker presentation. If you've spent any amount of time watching Ultra HD movies with high dynamic range, either on disc or via streamed sources, you'll know how important this adjustment can be. Unfortunately, whereas some other projectors I've tested make that adjustment easily accessible from the remote control, BenQ embeds it deep in the Advanced submenu of the Picture setup menu.
HD/SDR Performance
I started out my viewing evaluation of the HT3550 watching regular HD programs like the animated Bojack Horseman streamed from Netflix, along with various nature docs on YouTube. With the room lighting dimmed, these programs had a clean and relatively punchy look, showing good detail and robust color. Switching over to dark room viewing and more challenging fare on Blu-ray, I next watched the 2019 horror film Midsommar. The actors' skin tones had a very natural look and there was a wide range of green hues visible in the rural landscape where the action takes place. In a scene where the community members select a May Queen, the bundles of flowers that comprise her costume came across as notably vibrant and varied. I did note slight "pumping" from the projector's dynamic iris on this movie when that feature set to High, though the same effect disappeared when switched to Low.
Watching another Blu-ray, the Criterion edition of Terence Malick's The Tree of Life, the BenQ effectively rendered the film's natural lighting, and images upconverted by the projector displayed excellent detail and were free of noise. Comparing the projector's upconverted 4K image with the 4K output of my reference Oppo UDP-203 Ultra HD Blu-ray player, the Oppo ultimately delivered a slightly smoother- looking image, though the differences were difficult to spot. Checking our usual batch of high-definition video processing test patterns, the BenQ yielded uneven results, failing both the 2:3 and 2:2 deinterlacing tests.
Ultra HD/HDR Performance
Moving on to Ultra HD Blu-ray, I watched the scene from Passengers where the stranded-in-space travelers explore the outside area of their immense ship. While shadows in this scene lacked the level of depth and detail I've seen on other, more expensive, projectors, the BenQ managed a decent level of visual punch when I selected its +1 HDR Brightness setting (see note above in Setup about ergonomic challenges of having to dig into the projector's menus to access this adjustment), which allowed for details of the ship's surface to emerge from the gloom, and for starfields to pop against the black background.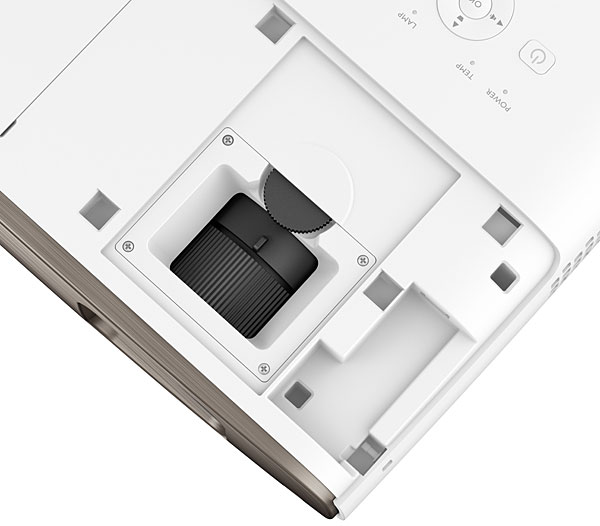 Checking out another disc, John Wick: Chapter 3 — Parabellum, this action film's amazing motorcycle chase scene looked suitably vivid after I switched HDR Brightness back to its default 0 setting. Structural details of the bridge that the bikes zip across came through clearly, and the now more balanced-looking image allowed for the cartoon colors of the urban environment to jump forth in a lurid manner.
An even better example of the BenQ's performance came when I watched John Wick 3 's final, extended fight scene. The glow of the bottom-lit display cases in the Continental Hotel came across powerfully in this sequence, and there was plenty of highlight detail visible in the reflective glass surfaces scattered throughout the room. Blacks also looked solid, and I noted a satisfying level of detail in the dark clothing worn by John Wick and his would-be assassins.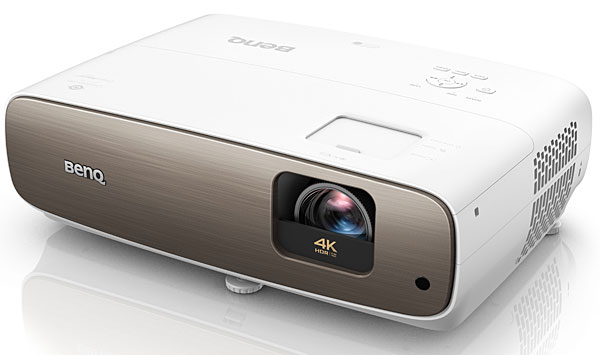 Conclusion
With 4K/HDR-compatible projectors like BenQ's HT3550 selling for $1,500 or even less, getting a cinema-size, high- quality image in your home theater is now easier than ever. Are there any compromises to contend with at that price point? The last projector I tested, Epson's $3,000 Home Cinema 5050UB LCD model, delivered a notably better brightness and contrast than the BenQ, and its generous setup features—including a 16-step HDR adjustment that can be accessed directly from the remote control—give it a strong edge when it comes to performance and ergonomics. But at half the Epson's price, the BenQ's image, with its excellent detail, vivid color, and mostly solid rendering of shadows, was surprisingly watchable.
Buying a projector is hardly a casual purchase, especially if you plan to pair it with a screen and mount it on your ceiling with the expectation of years of happy movie- and TV-viewing. While there are other 4K/HDR projector options that offer better performance than the HT3550, I think you'd be hard- pressed to find one that does so at an under-$1,500 price. If your home theater projector budget maxes out at that amount, BenQ's HT3550 should be at the top of your list of models to check out.