ATSC 3.0 'NextGen TV' Gears Up for U.S. Launch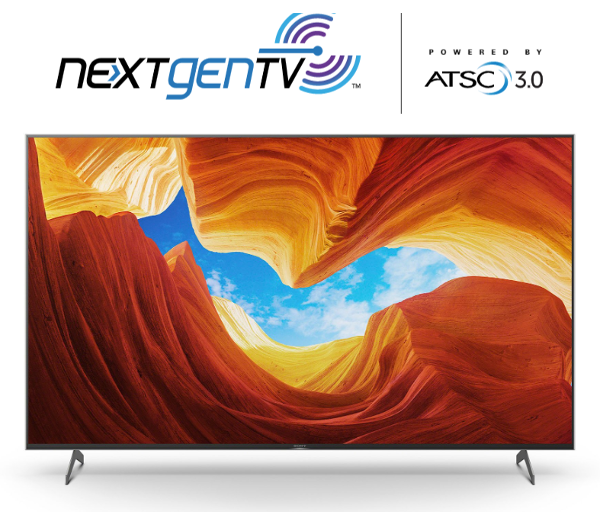 Big-name TV makers and broadcasters have come together at CES 2020 to promote the new FCC-approved ATSC 3.0
NextGen TV
broadcast system that will go live in more than 60 markets across the U.S. this year.
Samsung, LG, and Sony are supporting the broadcast rollout with plans to ship as many as 20 ATSC 3.0-enabled 4K and 8K TV models to retailers later this year. LG is incorporating ATSC 3.0 over-the-air tuners in seven of its 2020 OLED TVs and Sony is adding the feature to all five models in its new X900H 4K LCD series.
The internet-based ATSC 3.0 standard will enable TV stations to broadcast in 1080p and 4K (up from the current 720p and 1080i resolutions) with high dynamic range (HDR ), wide color gamut (WCG), frame rates up to 120 Hz, and object-based 3D surround sound with up to 7.2.4 channels in addition to delivering interactive and personalized content, including interactive advertising.
ATSC 3.0 TV signals will be stronger than current terrestrial broadcast signals and include improved error correction to broaden coverage and improve reception in households using an indoor TV antenna.
"Developed by hundreds of consumer technology and broadcasting experts across the globe, the ATSC 3.0 suite of standards has the capability to easily deliver 4K Ultra HDTV signals to give viewers access to more 4K content — along with a host of other features comprising NextGen TV," said ATSC president Madeleine Noland.
On the broadcast side, Sinclair Broadcast Group and ONE Media are conducting live NextGen TV broadcasts across the CES show floor with the help of the local NBC affiliate KSNV-TV and demonstrating an application that lets viewers switch seamlessly between broadcast and internet-delivered TV channels.
Pearl TV and broadcasters who are part of the Phoenix Model Market are demonstrating the new NextGen TV Application Framework that gives broadcasters and consumer device manufacturers a clear view of what's available with NextGen TV on each channel. Dolby is also demonstrating its Voice Boost technology, which boosts dialogue over background noise and normalizes audio levels.
"Viewers in South Korea have been enjoying 4K video and immersive audio delivered via ATSC 3.0 since 2017 and a number of U.S. broadcasters are already on-the-air with NEXTGEN TV," Noland said. "Many more channels in the U.S. are expected to sign on as the spectrum repack is completed and stations work cooperatively to launch this revolutionary new service while also preserving current digital TV broadcasts. With a focus on the Top 40 Nielsen markets and more than 20 additional cities, NextGen TV is expected to reach more than 70 percent of the U.S. population over the next year."
For more information, visit atsc.org.