Samsung Q-Symphony Enhances TV Audio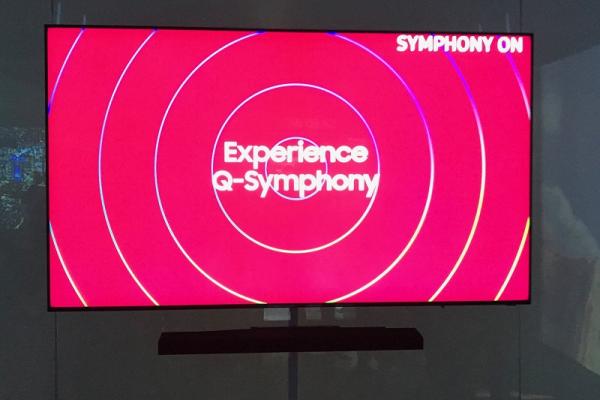 While the majority of hubbub at Samsung's booth was centered around new televisions with thinner bezels, more pixels, larger and brighter screens (along with all things Galaxy and a bevy of smart appliances), there was an interesting demonstration going on in a back corner of the booth called Q-Symphony. Fortunately, I took the time to sit through the demo and learn about how certain upcoming Q-Series Samsung displays will utilize this unique feature to greatly expand the audio soundstage delivering a far more cinematic experience.
The description outside the door read, "Surround yourself with sound from TV and soundbar orchestrated in harmony. Q-Symphony uniquely allows TV and soundbar speakers to operate simultaneously for better surround effect without muting TV speakers." OK…
Typically, when you have a sound bar – or any separate audio system – you want to make sure the TV speakers are completely silent, otherwise you often get an echoey sound that makes dialogue very difficult to understand. But when certain upcoming Q-series TVs are mated with Q-series soundbars, Q-Symphony will utilize the top and side mounted speakers in the television to expand to width and height of the audio presentation.
The presentation utilized the upcoming HQ-Q800T soundbar and a Q-80 series TV with clips played with both Q-Symphony on and off. Scenes like planes flying overhead and atmospheric rain had more greater immersion with the Q-Symphony engaged, and definitely shows that Samsung is paying attention to the audio portion of its TVs.
Unfortunately, details were scarce on the pricing and availability of the new Q-Symphony capable soundbars, just that they are expected to launch with the new 2020 displays.