New LG Soundbars Benefit from Meridian DSP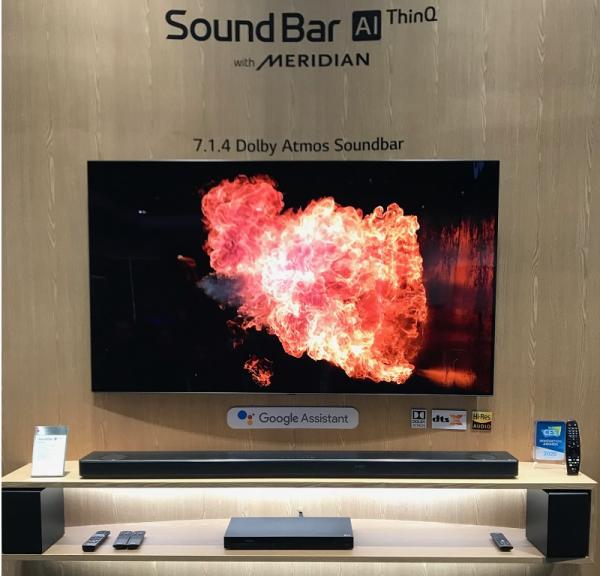 While Meridian's line-up of digital speakers might be out of your budget, you can still enjoy some of the company's sonic digital wizardry which is featured in the new line of LG premium soundbars. These bars leverage a long-standing partnership between LG and Meridian Audio and apply Meridian's in-depth understanding of psychoacoustics and world leading DSP expertise, incorporating key technologies such as Bass & Space, Image Elevation, and Meridian Upmix Technology to boost low-frequency reproduction, widen the soundstage, and ensure a more lifelike listening experience by elevating the perceived height of lead instruments and vocals — extra important when the bar is positioned beneath a display.
The flagship SN11RG is a 7.1.4 system, supporting both Dolby Atmos and DTS:X, and will include a pair of rear speakers with Dolby technology onboard providing both forward and upfiring sound to deliver a truly immersive experience. The stepdown SN9YG is a 5.1.2 capable system that does not include the rear speakers, but the optional SPK8 Wireless Rear Speaker Kit can be added for true surround performance. Both bars will include the same 8-inch subwoofer for low frequency effects.
Music lovers will appreciate the bar's advanced processing capable of upscaling conventional file formats to near-studio quality.
Also new for these 2020 LG bars is LG's AI Room Calibration, which is designed to optimize audio for each room, automatically tailoring the speaker's outputs for that room's unique sonic characteristics. The bars will utilize the far-field microphones to self-calibrate, analyzing test tones to assess the dimensions of the listening space and then adjust accordingly. When not being used for calibration, the microphones will be used for via the integrated Google Assistant.
Both bars feature HDMI 2.1 eARC for simple one-wire connection to a display, as well as a Toslink optical digital connection. The bars are designed to match the minimalist aesthetics of LG's new line of 55- and 65-inch TVs.
Pricing was unavailable at the show, but the bars are expected to start shipping in Q2.