Vizio Woos Showgoers With its First-Ever OLED TVs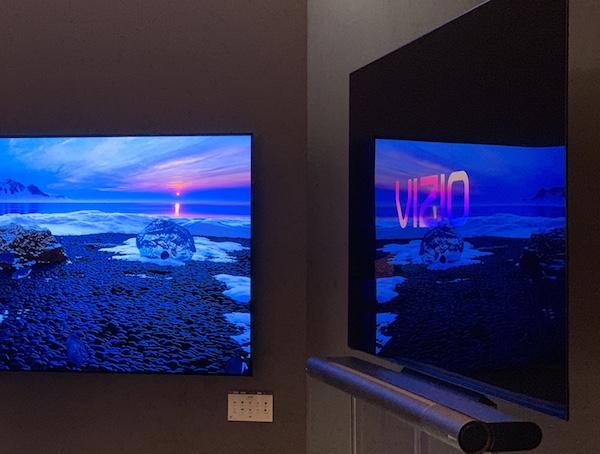 Like several other TV makers at CES, Vizio plans to introduce its first-ever OLED models in 2020. The company was displaying the new sets, which will be available in 65- and 55-inch screen sizes, at its usual offsite digs along with its new V-, M-, and P-Series Quantum and Quantum X sets that are also scheduled to ship in 2020.
All the new Vizio OLED and LCD TVs will be 4K-resolution models featuring the company's new IQ Processor to enhance images. The P-Series Quantum X line will also get an 85-inch model this year, and there are features throughout the various lines to enhance gameplay, including AMD FreeSync/VRR and 4K/120Hz input capability.
While it's not easy to make out in the above picture, the new OLED models feature a stand that can also serve as a docking station for the company's new Elevate Sound Bar, a high-end model featuring two-way left, center, and right front speakers, plus additional speakers at either end that rotate up or down automatically based on whether immersive Atmos/DTS:X or regular 2- or 5.1-channel content is playing.
Another cool feature of Vizio's 2020 lineup is a new VIZIO Voice Remote that lets you control the TV using voice commands and connects with the TV via Bluetooth. The new remote is compatible with older Vizio TVs and will be available for purchase separately as an accessory.