Meet Oval's Five-in-One Smart Sensor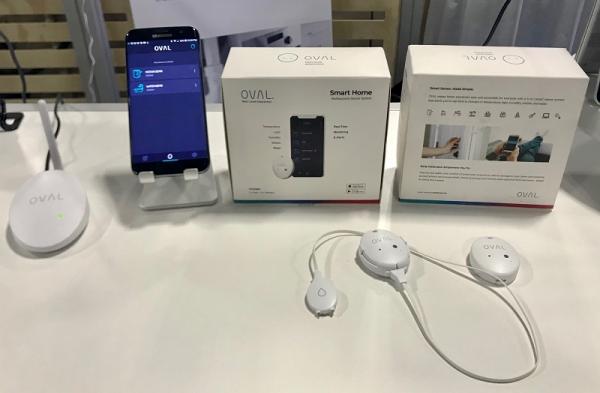 There were no shortage of startups in the smart-home category at CES, but cruising up and down the aisles of Eureka Park in the Sands Expo Convention Center, I stumbled across Oval, a new all-in-one sensor that makes it an exciting entry into the crowded DIY smart-home sector.
What makes Oval so interesting and unique is that the single sensor combines temperature, light, humidity, motion*, and water sensing into a single small and design-friendly form factor. While this kind of sensing certainly isn't new in itself, its cramming all the functions into one compact device that makes Oval enticing. (*The motion sensing is an accelerometer-type designed to detect the movement of things like windows, doors, or drawers and not an infrared-based motion sensor designed to detect people walking around like found in a security system.)
Oval provides real-time monitoring and alerts either via text, push notification, and email notifying you immediately when any sensor event occurs. The company also found that many of their clients don't want to be tethered to a device for notifications, so they can also be alerted by an actual phone call via a prerecorded message. Beyond the primary user, Oval can also notify up to 12 additional contacts, perfect for responding to those pesky water-leak detection alerts when you're out of town. Also, those with privacy concerns will appreciate that there are no cameras or microphones in Oval.
The wireless sensors utilize standard user-replaceable CR2477 batteries that offer a 12-18-month life. The sensors can either screw into a wall or use the included bracket and double-sided tape to more easily remove it for battery changes.
Oval is offered in a Smart Home Sensor System for $149 that includes the hub, two sensors, and two water-leak detectors that plug into the sensor. Additional sensors can be purchased for $50 each. The hub sits on the home's 2.4-GHz Wi-Fi network and uses Zigbee to communicate with the sensors, with a 150-foot range. The system works with both Amazon Alexa and Google Assistant, with free apps available for both iOS and Android. The device is also compatible with IFTTT allowing for some automation routines.
Oval is expected to begin shipping by the end of the month.