Audio-Technica Aims High with $399 Turntable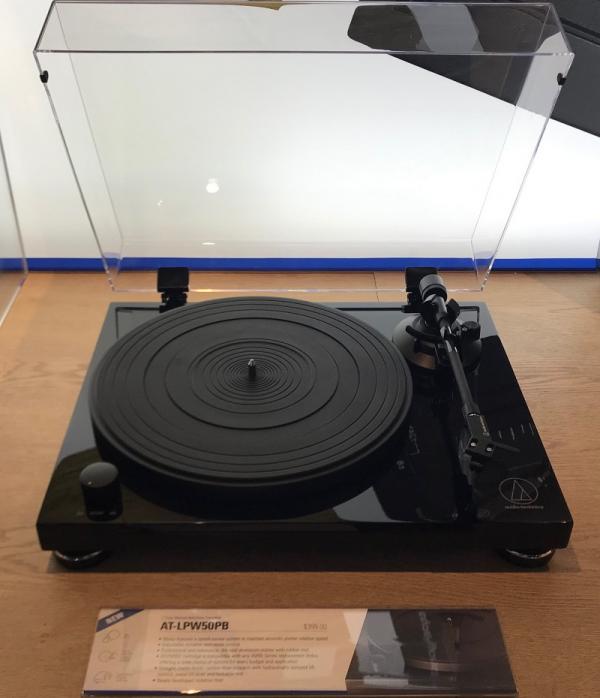 With a slate of affordable, entry-level turntables in its stable, Audio-Technica is rolling out the new AT-LPW50PB, a new belt-drive deck sitting at the upper-range of its line meant to provide a more affordable path to high-end audio listening.
Engineered for superior record playback, the LPW50PD has upgraded materials throughout including an anti-resonance, 30 mm thick MDF base to dampen any low-frequency feedback. To further improve sound, an outboard power supply reduces any potential noise or hum from being introduced. It also features a professional-grade die-cast aluminum platter driven by a speed sensor-monitored motor to ensure accurate rotation. Height-adjustable feet not only provide further vibration isolation but allow the table to be easily and precisely leveled.
To simplify installation, the deck comes with a straight-line matte-black carbon-fiber tonearm pre-fitted with an AT-VM95E moving magnet cartridge mounted on Audio-Technica's upgraded AT-HS4 headshell. The VM95E cartridge employs a dual magnet designed with magnets precisely positioned to match the left and right channels of the record's stereo groove walls, delivering outstanding channel separation and imaging. The VM95E is compatible with Audio-Technica's replacement styles, offering a wide array of upgrade options, with the headshell simplifying cartridge changes.
The deck also features a built-in phono preamp, enabling it to be used with virtually any home music system, including those that don't have a dedicated phono input; the preamp is defeatable via a rear-panel switch for use with a receiver's phono input.
The AT-LPW50PB is offered in a sleek high-gloss piano black finish and is supplied with all necessary cables and accessories and will be available this Spring for $399.