Samsung Expands 8K Lineup, Unveils Rotating 4K TV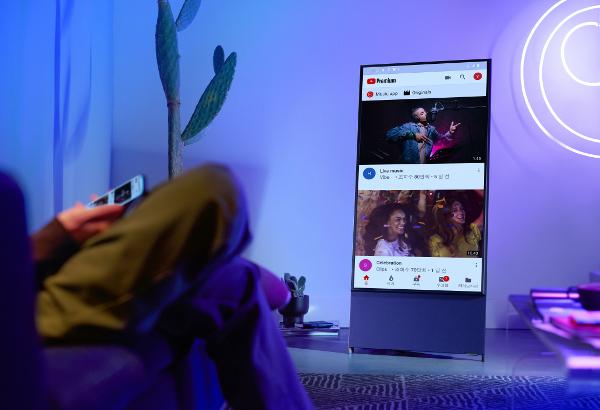 Samsung is bringing 8K UHD displays and color-enhancing quantum-dot technology to lower price points in a 2020 TV lineup that features more 8K models, more choices of big-screen sizes measuring 70 and 80 or more inches, new contrast-enhancing LCD technologies, and new TV-audio enhancements.
At CES, the company is also expanding its décor-oriented 4K Frame and Serif TV selection and launching its first TV targeted to so-called "mobile natives," incorporating screen mirroring and a motorized rotating 4K display that can be viewed in landscape or portrait mode (shown above).
In soundbars, the company is showing its first models with built-in Amazon Alexa and Bixby digital assistants.
In large modular Micro-LED displays, Samsung has over the past two years pioneered the development of MicroLED technology as the next generation of displays. New advancements for 2020 have allowed for larger-scale production of fixed screen sizes, including new 88-, 93-, 110-, and 150-inch sizes (in addition to prior years' 75-, 146-, and 219-inch screens). And as seen in a new 292-inch iteration of The Wall, MicroLED's uniquely modular structure and sleek design allow for an unparalleled and customizable entertainment experience. From production to installation, Samsung's MicroLED technology will transform our expectations for the experience of owning a TV.
Prices weren't disclosed.
Here are some of the key developments in Samsung's AV plans:
8K UHD: "A super-big lineup expansion" is at hand, said a spokesperson, with the number of 8K series going from one to three and featuring more screen sizes. In addition, entry-level 8K pricing is hitting the price points of 2019's premium 4K TVs, the company said.
In its 2019 lineup, Samsung offered five 8K models from 55 to 98 inches at launch prices that included $4,999 for 65 inches, $6,999 for 75 inches, and $9,999 for an 82-inch screen. In contrast, 2019's top 4K series (Q90) featured launch prices of $3,499 for 65 inches, $4,999 for 75 inches, and $6,499 for an 82-inch screen.
One new 8K series, the Q950TS, features a "virtually-no-bezel" design with 2.3mm (0.09-inch) bezel, helping the TV blend in with a room's décor. Like other Samsung TVs, the Q950TS series also features décor-blending ambient mode, allowing the TV to reproduce the color and pattern of the wall behind it when off or display artwork or patterns.
The TV's depth is only 15mm (0.59 inches) from top to bottom, allowing for flush mounting to the wall with the company's no-gap wall mount.
8K AI has been upgraded to deep-learning versus machine-learning so that AI processing can get better over time for such functions as 8K upscaling.
Size Matters: The company is implementing an "intense focus" on larger screens, due to an expanded 8K lineup and a similar number of 4K models as in 2019, a spokesperson said. Growth in sales of 75-and-up sizes is accelerating, he said.
Quantum-Dot Pricing: Quantum-dot technology, dubbed QLED by Samsung, delivers a wide color gamut and appears in all 8K and select 4K series. In 2020, it's expanding down, via the new 4K Q60T series, into the price range of Samsung's 2019 quantum-dot-less Premium UHD series, which ranged in price from $799 to $3,199 for 49- to 82-inch models.
LCD Contrast: Samsung is implementing new technologies to improve the contrast performance of LCD TVs. A new power-distribution technology controls LED brightness and enables smaller groups of full-array local dimming (FALD) backlights to be controlled. It allows for up to 20% higher brightness in smaller areas. Appearing only in 8K models, the power-distribution technology also reduces halos around bright objects on black backgrounds.
In select 4K series, the company is delivering better control of blue-light leakage that reduces off-axis viewing angles and contrast, thanks to a hardware rather than firmware implementation of color-temperature control, a spokesman said. Consumers choose cool, normal, or warm color temperatures to reduce the amount of blue light.
Multi View:In 8K and 4K models, a picture-in-picture feature lets consumers simultaneously display TV content and mirrored content from a mobile device. Consumers can change the size of the mirrored content and select the volume of one picture over the other.
Hands-Free Voice Command: Samsung's Bixby voice assistant continues in the 2020 lineup, but whereas 2019 TVs featured mic-equipped remotes to tell Bixby what to do, Samsung is building mics directly into some TVs. Some of these TVs will also come with a mic-equipped remote. Other Bixby TVs will come only with the mic-equipped remote.
Frame, Serif TVs: For the décor-minded, Samsung is expanding its selection of 4K Serif TVs to three screen sizes (43, 49, and 55 inches) and the number of Frame TVs to six from four. Frame gets new screen sizes of 32-, 50-, and 75-inch sizes and will continue to come in 43-, 55-, and 65-inch sizes.
All Serif and Frame TVs feature quantum-dot QLED technology to deliver 100% of the P3 color-gamut standard.
The Frame TVs are designed to look like framed art, with a choice of optional frames and an Art Mode displaying artwork downloaded from a subscription-based art store. Frame TVs can be mounted flush to the wall with included no-gap wall-mount bracket, placed on a credenza, or for select models placed on the floor on a three-legged easel-like stand. The 32-inch Frame can be placed in portrait or landscape mode by manually snapping its two feet into new positions.
Serif TVs are shaped like the capital letter "I" from the side and can be placed on a credenza or, via four legs, on the floor. Serif's ambient mode displays customizable patterns when the TV is off.
"Mobile Native" TV: In a first for Samsung, the 43-inch 4K Sero TV (shown in opening photo) features a rotating motorized display designed for "mobile natives" who watch a lot of content on mobile devices. The screen of the floor-standing TV rotates from landscape to portrait mode to display content mirrored from an Android or Apple device. Speakers are in the stand. Wheels are optional. The TV comes with 500MB of storage for pictures, and it displays visual patterns that interpret the sound of music playing.
Other New Features: The company is adding eARC, an HDMI 2.1 feature, to TVs for the first time, along with an improved universal guide combining linear TV and streaming content.
Advanced Audio: Multiple audio-enhancing features are debuting in the 2020 TV lineup.
Though not adding Dolby Atmos surround decoding to its TVs, Samsung is promoting its own immersive post-processing technology called Object Tracking Sound. With it, 8K quantum-dot TVs feature six speakers (two on top, two on the bottom, and a single speaker on each side) to better track the sound of individual object on the screen.
Active Voice Amplifier (AVA) technology debuts in 8K and 4K models, which use a built-in microphone to listen for loud ambient noise levels and then boost dialog over the noise.
Adaptive sound returns in all 4K and 8K QLED TVs to optimize sound on a scene-by-scene basis and calibrate sound to compensate for viewing distance, room echoes, and room reflections.
All 8K and 4K QLED TVs also feature Adaptive Picture like before. The feature optimizes the picture by scene type on a scene-by-scene basis and, via a light sensor, automatically adjusts back-light levels and contrast according to four ambient light levels in the room, up from three: dark, normal, bright and very bright.
Soundbars: Built-in digital assistants (Amazon's Alexa and Samsung's Bixby) appear for the first time in the company's soundbars, all enabling hands-free voice control via soundbar-embedded microphones.
The smart assistants will appear in two of three new soundbar series (Q and S), with Alexa available at launch, followed sometime later by Bixby.
To get along better with Samsung TVs, all three new series, including the entry-level T series, feature reduced width and height to fit between Samsung TV legs and, in some cases, slide under the TV. In bars featuring top-firing drivers, the top drivers have been moved forward so their sound won't be blocked by the TV.
Symphony Sound enables users to connect a Samsung soundbar to Samsung TVs without disabling the top speakers of select TVs. Another new feature, called Sound Wall, uses AI to analyze music and display a visualization on a connected TV.
The top-end Q series features Dolby Atmos and DTS:X object-based immersive surround-sound decoding for home theater enthusiasts. The S series is targeted to music listeners who could also use the soundbar for TVs in secondary rooms. The entry-level T series features DTS Virtual:X, which produces surround and height effects through the soundbars' speaker pair from two-channel and multichannel soundtracks.