LG Doubles Down on 8K with Huge Screens, Thin OLED
LG is doubling down on 8K Ultra HD, "ultra-large" screen sizes of 70 to 88 inches, and thin OLED TVs in its 2020 lineup, which also includes the brand's first models with Next Gen ATSC 3.0 TV tuners and the UHD Alliance's Filmmaker Mode.
In other TV advances, all 8K OLED TVs, almost all 4K OLEDs, and all 8K TVs in the premium NanoCell LCD lineup get new artificial intelligence (AI) features via a third-generation Alpha 9 processor that automatically detects the type of AV content playing and optimizes the picture and sound according to one of four genres: sports, movies, animation, and standard programming such as news.
The Alpha 9 processor also steps up picture enhancement by identifying individual on-screen objects and processing the objects differently rather than applying one type of enhancement across the entire screen.
The Alpha 9 processor appears in 11 of 14 8K and 4K OLED models and all four 8K NanoCell LCD TVs but not in NanoCell 4K TVs or standard 4K series TVs.
Also for the first time, select 8K and 4K OLEDs and NanoCell TVs feature "hands-free" voice control of built-in Google and Amazon smart assistants and LG's ThinQ AI, which delivers voice control of a long list of TV functions as well as smart-home features. Voice commands are detected by "hands-free" mics built into the TVs. Other LG TVs will continue to use mic-equipped remotes to deliver voice control of smart assistants and ThinQ AI.
In home audio, the company is adding HDMI eARC and room-acoustic calibration to soundbars for the first time and expanding its selection of soundbars with Dolby Atmos and DTS:X surround, Meridian Audio acoustic designs, and built-in Google Assistant.
Prices haven't been disclosed.
Here are the key advances in LG's AV lineup:
8K UHD: The number of 8K models goes from two to six, with four models in the NanoCell LCD lineup at 75 and 65 inches and two OLED models at 88 and 77 inches, each with four 8K/60fps HDMI 2.1 inputs. The TVs' 8K Alpha 9 processor uses deep learning to upscale any content to 8K while reducing noise, sharpening the image, and adding detail.
The new 77-inch 8K OLED and three new 4K OLEDs feature a thin design with at least one model coming in at only 0.79 inches in depth. The backs of the TVs are flat and can be flush-mounted to a wall with no gap between the wall and TV. In these TVs, electronics and speakers are built into the displays, whereas two current OLEDs bearing the Wallpaper designation are thinner at 0.23 and 0.15 inches because their electronics and speakers are outboarded into a separate soundbar-style enclosure.
Two new Wallpaper-style OLEDs at 77 and 65 inches also appear in the 2020 lineup.
In its 2019 8K lineup, LG offers one 75-inch $4,999 NanoCell LCD TV and one $29,999 OLED.
LG stressed that its 8K TVs qualify to use the CTA's 8K Ultra HD logo, which signifies multiple display parameters beyond pixel count, including the International Display Measurement Standard (IDMS) for 8K contrast modulation (CM). The company says its 8K TVs deliver CM numbers up to 92%, exceeding the standard's minimum, whereas competing models don't meet the minimum. A higher CM score delivers "real 8K" with the clarity that enhances the pixels' detail and color, according to LG.
Ultra-Large Size: LG is expanding its selection of 4K and 8K TVs with what it calls "ultra-large" screen sizes (at least 70 inches) to 18 models from 11. The new models appear in its OLED, premium NanoCell LCD, and standard 4K LCD lineups and feature 70-, 75-, 77-, 82-, 86- and 88-inch sizes.
LG estimates North American unit sales of ultra-large TVs grew 19.4% in 2019 and will rise 21.4% in 2020 to 3.1 million.
Thin OLEDs: In its new OLED lineup, LG continues to offer two Wallpaper-designated OLEDs at 77 and 65 inches, both with included soundbars that incorporate all TV electronics to deliver a display thickness of 0.23 and 0.15 inches, respectively.
Expanding on the concept, LG is launching a Gallery 77-inch 8K OLED and three Gallery 4K OLEDs at 77, 65, and 55 inches. Their electronics and speakers are built into thin displays up to 0.79 inches deep with no-gap flush mounting.
LG also promises 2020 shipments of its 65-inch rollable OLED TV, unveiled a year ago with a thin display that rolls up into a tabletop enclosure and disappears.
Next Gen TV (ATSC 3.0): Seven premium-priced 8K and 4K OLED TVs, but no LCD TVs, feature ATSC 3.0 over-the-air TV tuners. The feature, dubbed Next Gen TV, appears only in seven premium 55- to 88-inch OLED models in recognition that premium features usually start at the high end and that ATSC 3.0 broadcasting will be a staged rollout, the company said.
Next Gen TV stations will be capable of broadcasting 1080p and 4K video resolutions (up from the current 720p and 1080i) with 10-bit versus 8-bit video, high dynamic range (HDR), wide color gamut (WCG), frame rates up to 120Hz from 60Hz, object-based 3D surround sound with up to 7.2.4 channels, and interactive and personalized content, including interactive advertising.
ATSC 3.0 also promises higher peak power output, improved error correction, and other techniques to improve coverage in a station's market and improve in-building penetration for households with indoor antennas. Reception improves further if stations build a single-frequency network (SFN), which uses multiple broadcast antennas to fill in coverage gaps created by hills and other obstructions.
The products feature CTA's NextGen TV logo to help consumers identify ATSC 3.0 products.
By the end of 2020, the broadcast industry expects TV stations in roughly more than 60 markets to have implemented the Internet Protocol (IP)-based 3.0 standard, including the top 40 markets by population.
For sports enthusiasts, potential interactive options could include the selection of sports statistics that would appear on the screen, choosing to listen to the commentary of home- or away-team announcers, choosing different camera angles, and switching between a sports game in overtime and the channel's regularly scheduled program.
ATSC 3.0 also makes it possible for individual stations to deliver more channels than they currently do and enables robust reception by mobile devices and vehicles in motion.
Next Gen TV stations will also broadcast content using the current ATSC 1.0 standard incorporated in existing TVs.
Filmmaker Mode: All models in the OLED and premium NanoCell LCD lineups (27 8K and 4K models in all) feature Filmmaker Mode, a feature developed by the UHD Alliance (UHDA) in cooperation with filmmakers, movie studios, and CE companies to preserve the original look and feel of movies and TV shows.
The mode displays content in its original aspect ratio and frame rate; turns off noise reduction, picture sharpening and all other post-processing effects; sets the white point color to the D65 standard; and turns off motion smoothing, which increases frame rates up to 120fps from the 24fps rates of most movies and TV shows.
Compatible TVs respond to metadata embedded in a video stream to automatically engage Filmmaker Mode. Viewers can also manually select Filmmaker Mode when playing content that lacks the metadata.
The Filmmaker Mode name and settings will be consistent across TV brands.
Hands-Free Voice Control: The feature appears in eight of 15 new 8K and 4K OLEDs and four new 8K NanoCell LCD TVs, whose built-in "hands-free" mics detect voice commands. All other 4K OLED, all 4K NanoCell TVs, and most TVs in opening-price 4K UHD series continue to offer a mic in a handheld remote, as did select 2019 LG TVs.
Wherever their mics reside, the TVs delivers voice control of the TVs' built-in Google and Amazon smart assistants and LG's ThinQ AI.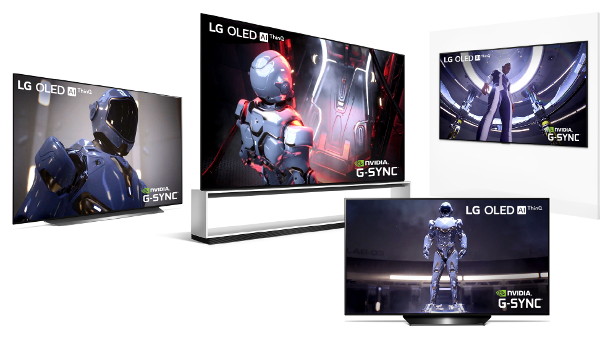 Gaming: Nvidia's G-Sync technology, used in PC GPUs, appeared in select 4K OLEDs for the first time in late 2019 as a firmware upgrade, making LG the first TV maker to offer G-Sync. The feature expands in 2020 to most 4K OLEDs and to both 8K OLEDs.
In addition, AMD's FreeSync technology for PC GPUs is being added to the G-Sync OLEDs as well as to all 8K and 4K NanoCell LCD TVs.
Both technologies adapt the TVs' refresh rates to the frame rate of a game to eliminate flicker, tearing and stuttering, LG said.
In another nod to gamers, LG launched its first 48-inch 4K OLED TV, enabling gamers to take advantage of OLED's input lag times as low as 13ms for 4K/60fps games.
Other Features: New features for 2020 include Bluetooth Surround and Sport Alert, available in all 8K and 4K TVs except for two lower price 4K LCD models in the opening UHD LCD line.
Bluetooth Surround lets viewers create a simple surround system using the TV speakers in front and one or two Bluetooth speakers to deliver surround channels.
Sports Alert uses text and graphics to display details of games in progress, and from a Sports Alert window, viewers tune directly to the channel showing the game without searching for the channel.
LG's 8K and 4K TVs also offer key streaming services, including CBS All Access, Disney+, Apple TV +, and Comcast's Xfinity Stream live-TV channels.
All 8K and 4K TVs but two opening-price 4K LCDs feature Apple AirPlay 2 and Apple HomeKit compatibility.
Audio: In home theater audio, the company is expanding its selection of soundbars with Dolby Atmos and DTS:X to five of seven new models and added two new features — eARC and room-acoustic calibration — to soundbars for the first time. Those two features appear in the top four models.
Meridian Audio design expands to five of seven models, and built-in Google Assistant expands to four models. The top Atmos/DTS:X bar comes with wireless-surround speakers that include top-firing height drivers to deliver a 7.1.4-channel sound field in conjunction with the main bar's drivers.
Also in audio, the company continues to offer Dolby Atmos decoding in all of its OLED and premium NanoCell LCD TVs along with WiSA-ready circuitry, which enables an optional connected dongle to send 5.1 surround sound wirelessly from the TVs to WiSA-enabled wireless powered speakers.
For the TVs with the third-gen Alpha 9 processor, LG uses AI to isolate and boost dialogue in scenes with lots of ambient sounds and create a virtual 5.1-channel upmix from stereo soundtracks. Those features are also available in select 2019 LG models.