Sony 8K TVs Adapt to Rooms, Add Next Gen TV Tuner
Sony is bringing new audio- and video-enhancements to its lineup of 8K and 4K TVs, including a feature that optimizes audio and video playback for individual room environments, 4K/120fps high-frame-rate (HFR) playback, and reception of Next Gen TV (ATSC 3.0) over-the-air TV broadcasts.
The company is also expanding Dolby Atmos surround decoding to all new models, launching its first 48-inch OLED TV — in the flagship Master Series — for smaller rooms, and adding a new 75-inch screen size to its 8K collection.
In 8K TV, Sony continues to shy away from 8K OLED panels, instead launching two Z8H series 8K LCD TVs with 85- and 75-inch screen sizes. It wasn't certain at press time whether the two new 8K TVs would replace or expand the current 8K lineup, which consists of the 98- and 85-inch Z9G Master Series models priced at $69,999 and $12,999, respectively.
All 15 of the new 8K and 4K TVs are smart TVs running the Android 9 Pie OS. Pricing and in-store availability will be disclosed in the spring.
Like before, select models continue to offer IMAX Enhanced certification and a Netflix Calibrated mode.
Here's a more detailed look of the key features in the 2020 lineup:
Ambient Optimization: The new feature optimizes picture and sound quality based on the room conditions, and it appears in all new TVs but the five models comprising the mid-range X900H 4K LCD series (available with 55- to 85-inch screens). For audio optimization, the TVs use automatic acoustic calibration during initial TV setup to adjust audio response based on the room's acoustic characteristics. Also to calibrate audio during setup, the TVs detect the main seating position from which household members watch TV. Additional details were unavailable.
Next Gen TV: Over-the-air reception of ATSC 3.0 TV-station broadcasts will come to all five models in the X900H 4K LCD series via a future software update. The timing of the update wasn't available at press time.
Next Gen TV stations will be able to broadcast 1080p and 4K video resolutions (up from the current 720p and 1080i) with 10-bit versus 8-bit video, high dynamic range (HDR), wide color gamut (WCG), frame rates up to 120Hz from 60Hz, object-based 3D surround sound with up to 7.2.4 channels, and interactive and personalized content, including interactive advertising.
The ATSC 3.0 standard, which is Internet Protocol-based, also promises higher peak power output, improved error correction, and other techniques to improve coverage in a station's market. It will also improve in-building penetration for households with indoor antennas.
By the end of 2020, the broadcast industry expects TV stations in about 60 markets to launch commercial Next Gen TV broadcasts, including the top 40 markets by population.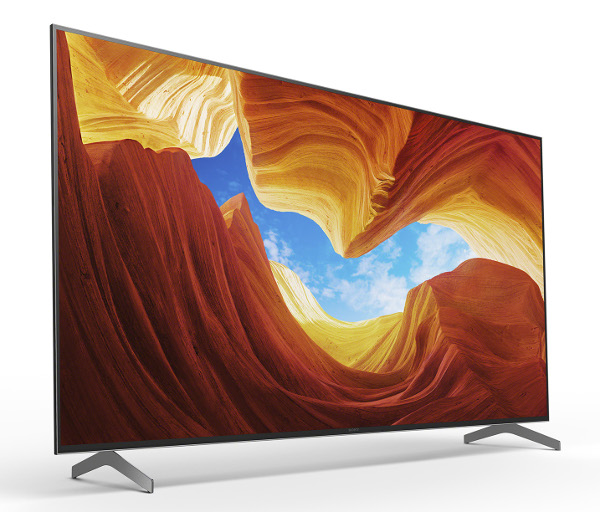 High Frame Rates: For use with next-gen game consoles arriving late this year, select TVs support a 120Hz frame rate for 4K content. The TVs consist of the two Z8H 8K LCD TVs and the midrange X900H 4K LCD series. The 4K TVs will require a future software update to support 120fps.
Dolby Atmos: In its 2019 TV lineup, Sony adopted Atmos decoding for the first time, launching the surround technology in all new 8K and 4K series except for the A8G 4K OLED series. This year, Atmos comes to the successor A8H OLED series, which continues to feature screen sizes of 65 and 55 inches. As in Sony's 2019 lineup, 2020's Dolby Atmos TVs also offer Dolby Vision HDR.
X-Wide Angle: More TVs in a premium 4K LCD series get the technology, which maintains color accuracy even if viewers are sitting off to the sides. The technology appeared in two of four premium X950G 4K LCD TVs in 2019 and expands to all four models in the successor X950H series (consisting of 55- to 85-inch models). The technology also appeared in the two 2019 Master Series 8K LCD TVs, Sony's web site shows. Additional details were unavailable.
X-Motion Clarity: The technology comes to Sony OLED TVs for the first time to minimize blurring of fast-action scenes with no loss of brightness, the company said. The technology appears in the new 48-inch Master Series A9S OLED and the two A8H OLEDs. In 2019, the technology appeared in the 8K Z9G LCD series and the premium 4K X950G LCD series.
Airplay2, HomeKit: Apple's wireless-multiroom and smart-home technologies will be available as a firmware update for all 2020 8K and 4K TVs and all 2019 TVs.
IMAX Enhanced, Netflix Calibrated: Sony will continue to offer TVs with IMAX Enhanced certification and Netflix Calibrated Mode, but it wasn't certain at press time whether the features expand to more models. In the 2019 line, 12 models featured IMAX, and 10 featured Netflix Mode.
When the user-selectable Netflix Calibrated Mode is engaged, TVs are supposed to reproduce the colors, contrast, and resolution that content creators see on their mastering monitor. The mode is intended for use with Netflix's HD, 4K, and 4K HDR content, whether produced by Netflix or by other studios.
Under the IMAX Enhanced certification program, TVs must meet minimum performance requirements for resolution, color, contrast, and dynamic range to take full advantage of IMAX Enhanced 4K Blu-ray discs and other IMAX Enhanced content. The TVs must also have screen sizes of 65 inches and up.
IMAX Enhanced content undergoes IMAX-proprietary post-production processing to improve picture quality on premium TVs. In addition, IMAX Enhanced home-entertainment titles originally shot with IMAX cameras feature an expanded aspect ratio similar to that of IMAX theater screens, eliminating black bars across the bottom and top of 16:9 TVs and filling that space with active pixels.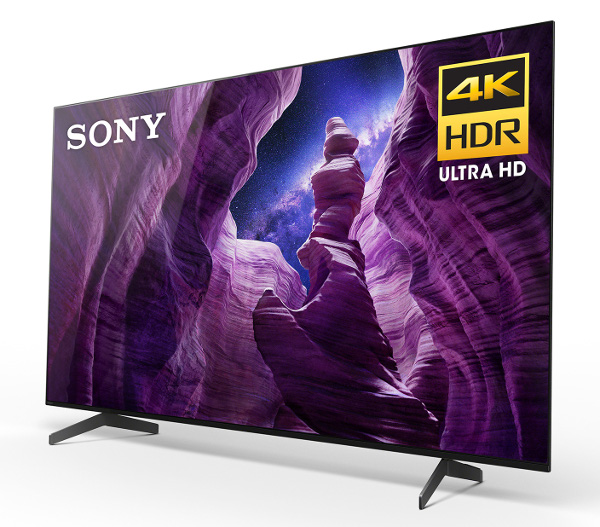 TV Audio: To enhance sound, OLED TVs continue to offer Acoustic Surface Audio technology, which uses multiple actuators to vibrate the OLED panel to align individual sounds with their on-screen locations and pan individual sounds across the screen. In 2020's 4K A8H OLED series, the technology steps up with the addition of two subwoofers to deepen bass response. Details of subwoofer availability in other 2020 OLED models was unavailable.
Sony brought analogous technologies to LCD TVs for the first time in 2019, offering Acoustic Multi-Audio technology in Master Series LCD TVs and in X950G series LCD TVs. In the Master Series, Sony used four front-facing speakers, two on top and two on bottom. In the X950G series, Sony used "sound-positioning tweeters."
In 2020, the Z8H 8K LCD series gets a variation of the sound-positioning tweeter concept. Via a new "Frame Tweeter" design, tweeters vibrate a TV's frame to make it seem as if sound comes directly from the screen, Sony said.
In addition, Sony said it has improved Acoustic Multi-Audio technology in four of five premium X950H 4K LCD TVs, adding biamplification and a new speaker shape said to combine slimness with clarity. In the step-down X900H 4K series, Acoustic Multi-Audio appears in three of five models with the new speaker shape but without biamplification.