All-Star Upgrade: A Peek Inside Mariano Rivera's Home Theater
With a little help from Harman, retired Yankee closer Mariano Rivera brought his aging home theater into the big leagues.
Mention the name of retired Yankee relief pitcher Mariano Rivera, and it evokes the image of a lean, lanky stick of a man in pinstripes, standing on the mound at the Stadium in the late inning of a big game, focused like a laser on his catcher before winding up and throwing yet another blinding, physics-defying cutter. This is the Rivera who, in 19 Major League seasons, played in 13 All-Star Games and was instrumental in helping the Yanks win five World Series, delivering both pinpoint strikes and wild thrills to millions of New Yorkers watching from the stands and at home. Win or lose, when The Sandman was on the mound, it was always a great show.
There is, of course, another image of Mo, that of a man committed to his Christian faith, his family, and his community. As told in The Closer, his autobiography published last spring, Rivera grew up in a poor fishing village in Panama, a gifted young athlete who by a com- bination of luck, righteous living, and divine intervention, came to be the most prolific and successful relief pitcher in the history of baseball, finishing his career with 652 saves in 952 games finished, both records. Rivera was never shy during his playing years about crediting God for his on-field gifts and the opportunity to use them, and this devotion was again evident when, as he watched his career wind down, he began raising funds and made his own substantial contribution toward the multi-million-dollar renovation of a long-abandoned and crumbling 107-year-old church in New Rochelle, NY, just north of New York City. Rivera bought the structure for $1 from the town in return for a promise to rebuild it. His wife, Clara, who had been leading ever-larger prayer groups at their nearby home, accepted the church's pastorate upon its reopening last March.
But before she and the congregants could move in, the church needed a sound system, and this is where our audio/video story begins. Rivera hooked up with the folks at Harman International, keepers of the Harman Kardon, JBL, Infinity, Mark Levinson, and Revel consumer brands, which donated a commercial JBL pro-audio system. With the church project well underway, Rivera set his sights on the renovation of his own home theater, working again with Harman's consultation and help.
Out With the Old
Mariano, Clara, and their three sons (ages 20, 17, and 11) inherited a dedicated 27 x 16 x 10-foot home theater room in the basement of their house when they moved in several years ago. The equipment was already dated by that time, but worse, neither the room nor the system had been particularly well designed from the get-go. Despite the somewhat expansive space (4,320 cubic feet), the audio was powered by only a Marantz A/V receiver driving an undersized Niles 7.1-channel in-wall surround system with exposed, flush-mounted speakers. There was but one 10-inch SpeakerCraft in-wall subwoofer and an aging Sharp projector delivering a washed-out image on the 110-inch, 16:9 aspect ratio screen. The components sat out in the open on recessed shelves, and there was no universal control system—just a pile of remotes that made operation quite cumbersome.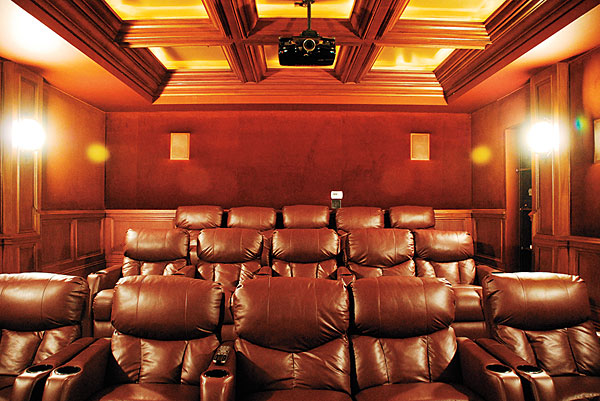 Architecturally, there was also serious room for improvement. The room had a beautiful coffered ceiling with uplighting and some nice mahogany trimwork, but the fabric panels that covered the walls were filled with loose pillow-fill stuffing that didn't work particularly well as acoustic treatment and also felt strange to the touch. "I was unhappy with it," Rivera says. "The equipment wasn't the best, and the walls weren't built correctly. I just wasn't content with what was there." Robert Eng, owner of TechLife Media Systems, a custom integrator and Harman dealer out of Glen Head, NY, elaborates further: "Mariano was interested in a high-performance system, and, in our discussion, he also expressed an interest in enhancing the appearance of the room. He wanted to jazz it up and make it more elegant."
In the end, Eng and his team designed and executed an extensive rebuild whose only real claim to the prior system was the reuse of 15 red theater recliners. The new JBL Synthesis system includes an SDP-40HD surround processor and an S7165 seven-channel power amplifier rated to deliver 160 watts to each channel (into 8 ohms, with all channels driven). Three SAM3HA three-way LCR speakers, each featuring a 1-inch, horn-mounted titanium compression driver and a pair of 6.5-inch midbass drivers, span the front of the theater, hidden in newly created compartments below the screen.
Two pair of THX Ultra-certified S4Ai in-wall surrounds, measuring approximately 24 x 14 x 4 inches in their sealed backboxes, grace the side and back walls, stealthily tucked behind cutouts in the freshly installed, fabric-covered 1-inch acoustic panels. Deep bass is handled by four HTPS-400 12-inch, sealed-box subwoofers, each powered by an internal 1,000-watt Class D amp. These are found inside the bases of the architectural columns added to each corner of the room, an enhancement that adds aesthetic interest while also accommodating the classic four-corner subwoofer placement for even distribution of bass. Crossovers and room EQ are handled by an outboard, two-piece SDEC4500 equalizer and bass-management system that provides 500 bands of parametric EQ. As is often the case with Synthesis installations, a JBL field engineer was brought in to fine-tune the system.
To replace the Sharp projector, TechLife recommended a top-line JVC Pro Reference Series RS65 (more familiar to Sound & Vision readers by its consumer model number, the DLA-X90R), and the original screen was swapped out for a 2.35:1 wide aspect ratio Screen Innovations Black Diamond Zero Edge (1.4 gain) measuring 140 inches diagonal. Video sources include a Marantz UD5007 Blu-ray player and Scientific Atlanta cable box. A Panamax M4315 Pro power center provides line conditioning and surge protection, and a Middle Atlantic rack with a smoked glass door replaced the original shelving to give the system a finished, professional look, not to mention proper ventilation.
Of course, TechLife added a one-touch, activity-driven control system: RTI's XP6 control processor, ZM-24 RF transceiver and T3V+ color touchscreen handheld remote control. A Lutron RadioRA2 lighting control system for the theater lighting, easily integrated with the RTI controller, was also installed.
All Hands on Deck
Swapping in all this new gear was hardly a walk in the park. "The equipment design was pretty straightforward, but the toughest part was the construction of the room," Eng says. The side walls of the existing room were gently curved as they approached the front corners, and their failure to meet squarely greatly complicated the building of the front subwoofer columns and speaker cabinetry. Matching the old molding to the new was an arduous task and involved intricate carpentry and finishing to make sure the new enhancements looked original. "Some of the molding even had to be custom made, as we couldn't find any place that had the exact pattern," said Eng. "We also had to completely rewire for electric, and also for speaker wires and subwoofer cables."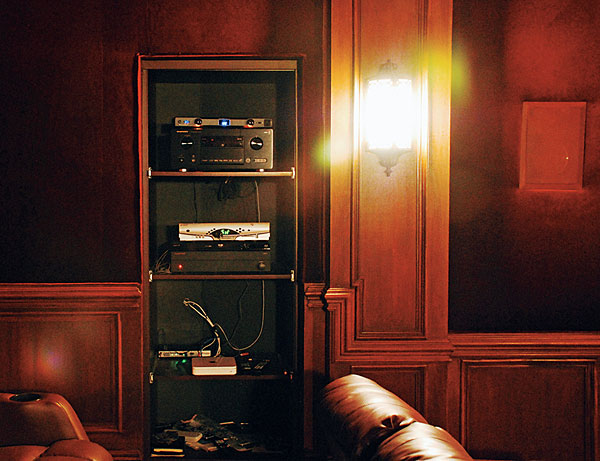 Compounding these challenges was a fairly tight time frame for the renovation. TechLife began speaking with Rivera in October of 2012. He wanted the room completed by Christmas so he and the family could enjoy it for the holidays and the few months preceding his departure to Tampa, Florida, for his final season of spring training. The project was finished a week before the deadline, thanks in part to some help from Rivera himself, who thought nothing of occasionally rolling up his sleeves and helping out. "While we were working at Mariano's home, he was there with us, pulling out nails, taking down the fabric walls, and getting his hands dirty with us," Eng says. "He spent lots of time with us talking about rehabilitating his knee and what he was doing to stay in shape. We shared sports stories and often discussed football."
"Oh yeah—whatever I can do, I do," says Rivera, who enjoys tinkering around the house and once thought in his youth he'd turn to auto mechanics if the baseball thing didn't work out. "They [the TechLife crew] left one day and they had a bunch of nails in the walls from ripping out all the fabric that was there. So I went in there and by the time they came back, every- thing was gone. But Robert and all those guys at TechLife did a tremendous job."
The end result was well worth the effort. "The difference in the quality is day and night," says Rivera. "I was watching this movie about the Navy SEALs [Act of Valor], where they drop from the helicopter into the river and then they get ambushed. They're being fired on, and they're firing back from the river, and in this theater, you just feel like you're in the scene with them." There's been a huge improvement in the bass performance, Rivera says—not surprising given the move from one subwoofer to four—and the JVC projector opened a new window on picture quality. Operating the theater couldn't be simpler. "I had quite a few remotes—one for the projector, one for the cable… and now I have one remote for everything. So it's easy."
Rivera says his sons use the theater most frequently, both to hang out and to entertain their friends, though during New York's cold winter months, the whole family can often be found downstairs enjoying a movie night watching an animated flick, perhaps an action movie ("but nothing too gory or with too much objectionable language"), or, more than likely, a Christian movie. "The movies we watch, we want to learn something from—we're trying to capture something or have it teach us something," he says. Sports? The theater might get fired up for a big game like the Super Bowl, but what baseball he watches—mostly the Yankees—usually gets viewed upstairs on a new 65-inch Ultra HDTV. These days, Rivera says, he's so busy doing charity work for the church and community that there's not a lot of time left for TV or much else anyway. "I went from baseball right into it, but I love it—that's what I wanted to do, so I don't regret one bit of it," he suggests. Reflecting on his amazing run in the majors, he says, "Yeah, it was great, but that was then, and now I'm moving toward my other chapter. Life—that's bigger than baseball."
Rob Sabin tells the story behind the story here.