A Theater and a Gentleman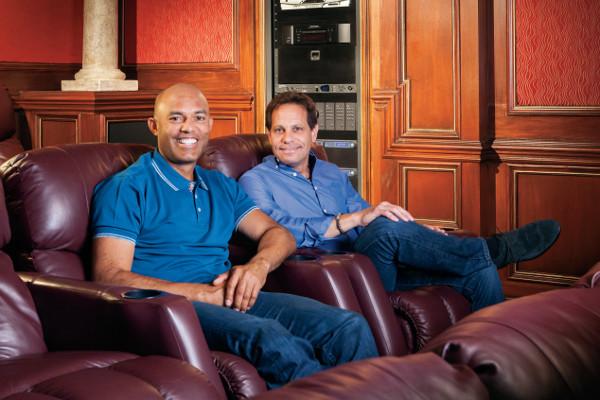 The Closer Is a Class Act
Last summer, Sound & Vision was invited to visit retired Yankee relief pitcher Mariano Rivera to profile a renovation that had been done, with JBL's help, to his private home theater. Baseball fans know Rivera as the Major League's all-time leader in saves, and undoubtedly a future Hall of Famer. As a New Yorker, I knew him as a fixture in my city for the nearly two decades he played here, when, on any given day from April through September (and frequently, October), he might be the figure gracing the back-cover sports page of the New York Daily News or Post. The very nature of Rivera's work as a closer—to be trotted out in the late innings to hold a slim lead or demoralize the competition and give his team a chance at the tying or walk-off run—made him an exciting figure.
This interview really wasn't going to be about baseball, but more about Rivera's theater and lifestyle. So to learn a little about his background, I picked up his autobiography, The Closer, which had come out just a few months before. The book offers his recollections of some great Yankee moments but also tells the story of a kid from a poor Panamanian fishing village who could have easily ended up on a boat instead of the pitcher's mound at Yankee Stadium. Rivera never forgot that fact or took it for granted, and he's quite open in the book, as he has been throughout his career, about the role his Christian faith plays in his life. His virtuous, hard-work approach had always set him apart from many other high-profile, mega-contract athletes, and I found when I spoke with him that he remains committed to always trying to do right by his family, church, and community.
Rivera's home, nearby the Stadium in New York's Westchester County, was impressive and appropriate to a man of his success trying to provide his wife and three sons a comfortable life, but it was not outwardly opulent or excessive in the manner I've seen while working as an installer in high-end estate homes in the New York metro region. Our team spent several hours there—first sitting down with Rivera, then taking professional photographs of the theater—and Rivera proved a gracious and friendly host, even as we began to run over on our allotted time. The theater renovation had a good story behind it—the classic case of a room with good bones that never quite lived up to its promise, but turned into something special with some extensive, yet judicious, rehab. You'll find our profile here.
As we were leaving, a piece of baseball memorabilia in the home's main entryway caught my eye. In a display case on the windowsill was what looked like a team-signed ball, with a handwritten note below it that said, "The fans of Boston thank you…". The Yanks/Sox rivalry is legendary, of course, and The Sandman, as Rivera came to be known, ruined many a night in Beantown. That some of Boston's passionate fans had stepped up to honor him this way speaks not just of his ability to win through the years, but of how he handled winning. For me, that said it all.