New TV Tech Makes Super Big-Screen TV Appealing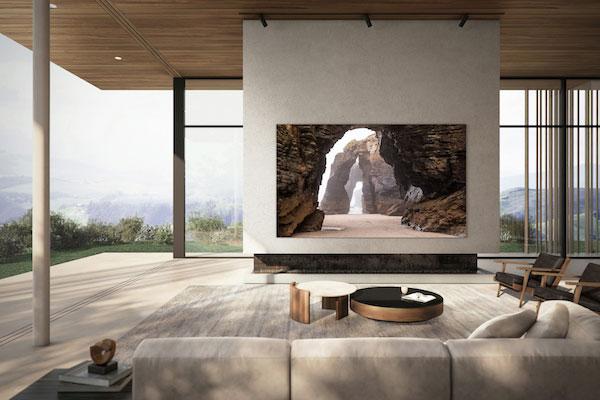 In a recent letter to the editor, reader Paul Brians makes the case that current home theater systems, including ones that use a 65-inch TV, offer a superior viewing experience in comparison with a typical movie theater. I'll confess to having had that same thought many times, even as I continue to be a fan of theatrical venues such as the Cinerama in Seattle that Mr. Brians mentions.
As a "projector guy" for most of the past decade, I prefer to watch movies on the biggest possible screen in a pitch black, or nearly so, room. My setup is satisfyingly theater-like and has served me well. (Also, no distracting bright red exit sign.) Lately, though, I've been considering swapping out my projector for a flat-panel TV. The impetus? Trends in TV technology I observed at the January 2021 "virtual" CES show, all of which point to a future packed with better, bigger, and more affordable flat-panel options.
For me, the most exciting development is MicroLED, a tech that's finally making a transition from the ultra-high-end custom installation market to the consumer world. With screens up to 110 inches diagonal, the new fixed-size MicroLED displays Samsung announced at CES deliver the same theater-scale visual impact as projection systems but combine that with the high light output and high contrast ratios that the best-performing LCD TVs deliver. This makes them a perfect match for high dynamic range (HDR) images, something that current projection systems struggle to adequately reproduce.
Still, it's unlikely that MicroLED will be anything other than a luxury purchase for the next few years, if not longer. That's why I was encouraged to see manufacturers like LG introducing new OLED TVs promising higher brightness — potentially enough to make them competitive with LCD on that front. And mini-LED, a relatively new, performance-improving backlight technology for LCD TVs that Sound & Vision first evaluated in a flagship model from TCL in 2019, has expanded into more affordable lines from the same maker (see our review of the company's 6-Series set). Both LG and Samsung have announced that they will introduce LCD models with mini-LED backlights in 2021.
MicroLED, mini-LED/LCD, OLED, or some other innovation — no matter which tech drives my next TV purchase, the screen will be extra large. Having lived with a projector for so many years, I've grown accustomed to a supersized image, and can't see ever going back. Clearly, I'm not alone. According to market research firm NPD, sales of sets larger than 70 inches increased 81 percent in 2020 over the previous year and are expected to comprise 27 percent of TV sales by the end of 2021. The people have spoken, and what they want is a theater-like experience in the comfort of their home. Manufacturers are responding to that need, and as a result the future for TVs is looking exceptionally big and bright.
That's Entertainment
On another home cinema-related note, I want to call your attention to a couple recent movie reviews in case you missed them. Movies editor Chris Chiarella weighs in on Tenet, a film I can't say I loved, but certainly admired for its technical and storytelling virtuosity. I'm glad I bought the disc (Ultra HD version, of course) so I could watch Tenet multiple times — a requirement to figure out exactly what the hell is going on.
Also check out Josef Krebs's take on out the Criterion Collection's new Luis Buñuel box set. Films by Buñuel, the most accessible and interesting of the Surrealist artists, aren't likely to be everyone's cup of tea, but the fluid manner in which narrative threads are handed off like batons in this trio of late-period films, frequently shifting between real and dream states, is dazzling to behold. Highly recommended.