Tenet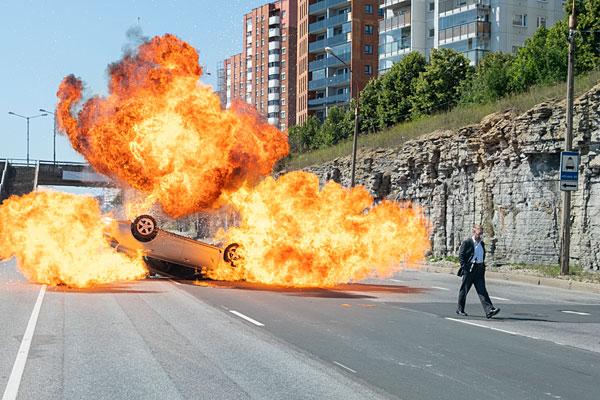 Tenet
—one that commands audiences to pay full attention lest they be left behind—is the recent discovery of a temporal anomaly, possibly man-made, that can send certain objects backwards in time, rather than in the usual direction. Science's best and brightest are convinced that, if this power should fall into the wrong hands, it would mean the destruction of the entire planet. And, wouldn't you know, fallen it has, into the clutches of a maniacal arms dealer with intentions far worse than profiteering. Fortunately, one of the goodest of good guys, The Protagonist (John David Washington, with understated cool to spare), is on the job, a secret agent determined to unravel the mystery, neutralize the threat, and maybe even rescue the arms dealer's innocent wife along the way. With his combination of big heart, mad skills, and no fear, how can we lose?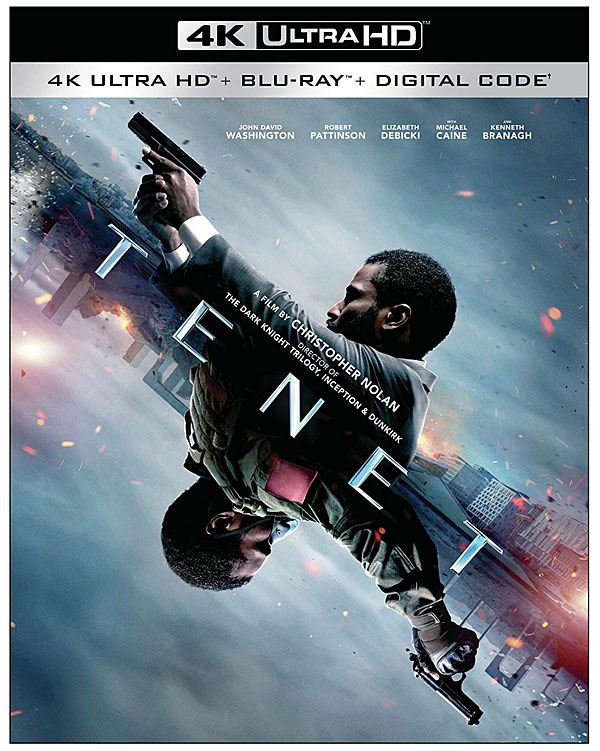 Tenet is another eye-opening journey into a high-stakes world that regular folks never knew existed, one where we don't know who to trust or even what's going on a lot of the time, guided by smart characters who aren't above joking about the complexity of it all. Once again, Nolan goes big, with explosive set pieces that quicken our pulse while challenging our imagination. Many are captured in-camera without the use of extensive CGI, an approach that imparts a cleaner, more natural look that greatly aids the credibility of the sci-fi doin's. Tenet was shot on 65mm and 70mm film, with extensive use of large-format IMAX gear—and the shifting aspect ratios to prove it. Sourced from a native 4K master, the resulting 16:9/2.2:1 image is a marvel of clarity, with zero artifacts and wonderfully deep blacks. Colors are implemented with a keen eye that often evokes deliberate moods and sometimes just simply look lovely. This is a potential reference disc right here.
The volume of Tenet's DTS-HD Master Audio 5.1 soundtrack is quite high—I needed to drop below my usual listening level for its two-and-a-half-hour duration. The action takes us to a series of sonically dynamic environments marked by deft multichannel engagement and ample bass: a trainyard with active locomotives on either side, a working windmill, a packed opera house…amid a shootout. Ludwig Göransson steps in for Nolan's go-to composer Hans Zimmer this time, but there's still plenty of trademark BWAAAH! in the fresh, inventive music score. An absence of immersive overhead audio seems a tad unusual for a modern would-be blockbuster, but that's an artistic choice. The reason I knocked off half a star from the sound rating is a recurring issue with dialogue levels within the mix that leaves some lines inaudible. (Characters' heavy accents and occasional masked faces don't help.) That's vexing for any movie, but with exposition so critical to understanding Tenet's plot, it's nigh-unforgivable.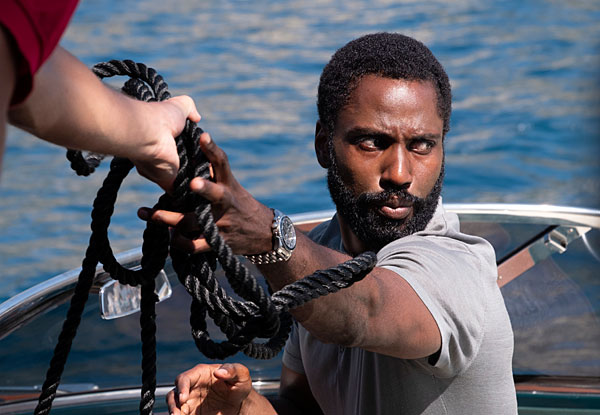 The triple-layer, high-bitrate 4K platter is movie-only, as is an included regular Blu-ray. A third disc carries the one extra feature: a documentary in 13 parts so we can jump right to whatever aspect most interests us. All movies can be a challenge to create, but in this doc we learn of the truly unique puzzles that needed to be solved in the making of Tenet. A Movies Anywhere digital copy code is also provided.
One more reason to consider adding this disc to your collection is that you'll likely want to watch it multiple times, to get a handle on what you missed on first viewing. Or you could just sit back and take the advice of Tenet's top scientific mind: "Don't try to understand it: Feel it."
Ultra-HD Blu-ray
Studio: Warner, 2020
Aspect Ratio: 2.20:1/1.78:1
HDR Format: HDR10
Audio Format: DTS-HD Master Audio 5.1
Length: 150 mins.
Director: Christopher Nolan
Starring: John David Washington, Robert Pattinson, Elizabeth Debicki, Kenneth Branagh, Dimple Kapadia, Michael Caine
This is how director Christopher Nolan does time travel. Actually, to hear him tell it, this is how he does a spy thriller, inspired by the Bonds of his youth and enhanced with all of the mind-bending trappings we've come to expect from one of filmdom's brainiest auteurs. The central conceit of