Three Films by Luis Buñuel
Un Chien Andalou
, writer-director Luis Buñuel—aided by screenwriting partner Jean-Claude Carrière—created a trio of subversive amusements that savagely poke fun at pillars of French society, including church, military, and figures of the establishment. The master surrealist did so by playing with and disrupting conventional narrative structures, questioning the validity of his protagonists' rationality, and reducing their self-serving behavior and values to nonsense while upsetting cinematic expectations of viewers.
Winner of 1973's Best Foreign Language Film Oscar, The Discreet Charm of the Bourgeoisie has as its central conceit six characters in search of a gastronomic experience that ends up being consistently and comically thwarted. The situations insistently undermine the characters' pretense of being respectable, civilized, and powerful. As normal edges into odd, before becoming bizarre, meaning and relevance are altered. For example: a scene turns out to be a dream, or the awakened dreamer just a player in someone else's nightmare. A luncheon gets interrupted by a stranger, who recounts a tale of his ghost-haunted childhood, bringing death and the subconscious to the forefront and shattering the polite pretensions the film depicts.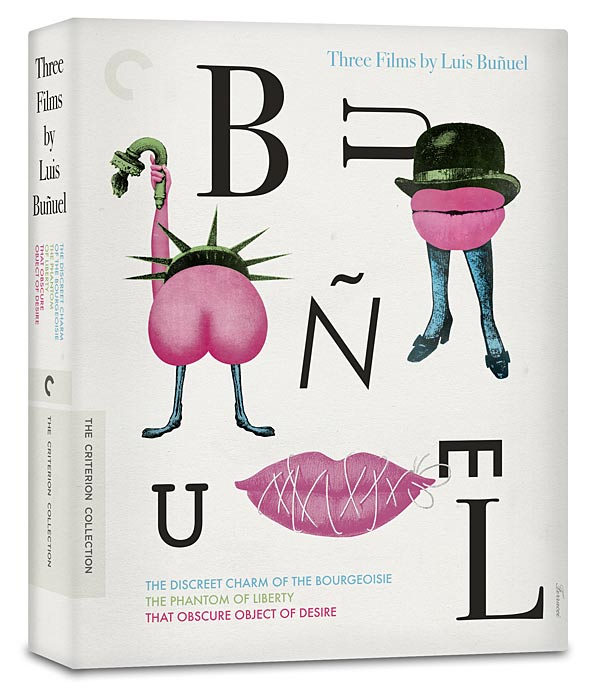 The Phantom of Liberty (1974) takes a more Dadaist approach, mocking and shocking convention and bourgeois behavior through absurdity. A frantic couple take their missing child to the police to show them what she looks like; a soldier in Napoleon's army who is about to perform sacrilegious acts gets assaulted by a statue; a motorist is stopped by a tank whose commander is searching for foxes. These unconnected, free-associative sequences constantly defy laws of narrative and upend all expectations of acceptable logic.
That Obscure Object of Desire (1977) uses a more traditional storytelling style as Mathieu, a sophisticated, middle-aged widower on a train journey, tells fellow passengers of his tortured romance with a younger woman, Conchita. She, while accepting his gifts and financial support, consistently rebuffs fulfillment of his lusts. Told in flashback, all seems straightforward—except that Conchita is played by two actresses. Completely different in appearance and personality, is this multifaceted woman trying to drive her besotted, would-be seducer mad, or teach him the foolishness of his attempts to reduce her to an obscure object of desire? Yes, to both.
Image quality and style are remarkably consistent from film to film. Shots are neither strikingly composed nor make use of much overt cinematic language, relying instead on content to grip your attention. In Criterion's Blu-ray disc trio, all have excellent contrast, with the dazzling whites of shirts and servants' aprons popping against the inky black of suits, police uniforms, and monsignors' robes. Rich colors are rare in the sedate, refined, and gently-lit world that Buñuel creates, except for Desire's Seville scenes where bright visuals abound. Skin tones appear natural and varied. The exceedingly crisp images reveal plentiful detail in patterned wallpaper, bedcovers, and textiles, and there's enough grain to preserve a film feel.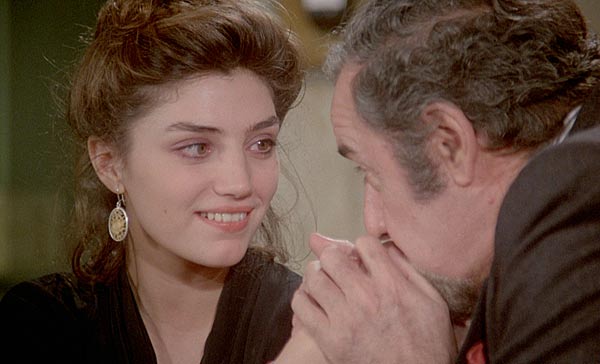 Each film's French mono soundtrack is clean, with the deteriorations of time digitally fixed so silences are truly silent. There's no music score, but a naked female pianist's rendition of Brahms' Rhapsody in Liberty is beautifully sonorous. So is Desire's scenes with flamenco guitar and singing, though it gets occasionally strained in the higher ranges. Dialogue, mostly consisting of inane chatter and pretentious pronouncements, is clear and full-sounding, and so are natural environmental effects such as buzz-sawing, station announcements, and the boom of terrorist bombings.
Each of the three discs contains voluminous extras— 6.3 hours in total of absorbing featurettes and interviews with Carrière, cast, and crew. An outstanding feature-length documentary has lifelong friends and associates discussing Buñuel's biography, working techniques, and mischievous personality. They also tell of his Jesuit upbringing, his discovery of Surrealism in Paris, and his career in Mexico, France, and Spain, all illustrated by footage of the director on set and relevant clips from his films. A fascinating biography of Serge Silberman, producer of all three films and others by great auteurs like Jean-Pierre Melville, Jacques Becker, and Akira Kurosawa, includes clips from some of these productions. It also reveals that at age 65 Buñuel thought he would die soon and wanted to retire. The director then went on to make six of his most acclaimed feature films before passing away at age 83.
BLU-RAY
STUDIO: Criterion, 1972/1974/1977
ASPECT RATIO: 1.66:1
AUDIO: French, LPCM Mono
LENGTH: 101/103/104 mins.
DIRECTOR: Luis Buñuel (with Jean-Claude Carrière on Liberty)
STARRING: (Bourgeoisie): Fernando Rey, Delphine Seyrig, Bulle Ogier, Jean-Pierre Cassel, Stéphane Audran, Paul Frankeur; (Liberty): Jean-Claude Brialy, Michel Piccoli, Adolfo Celi, Adriana Asti, Julien Bertheau, Paul Frankeur; (Desire): Fernando Rey, Carole Bouquet, Ángela Molina, Julien Bertheau, André Weber

Closing an almost 50-year career that began with