16 Best Speakers to Buy Right Now Page 2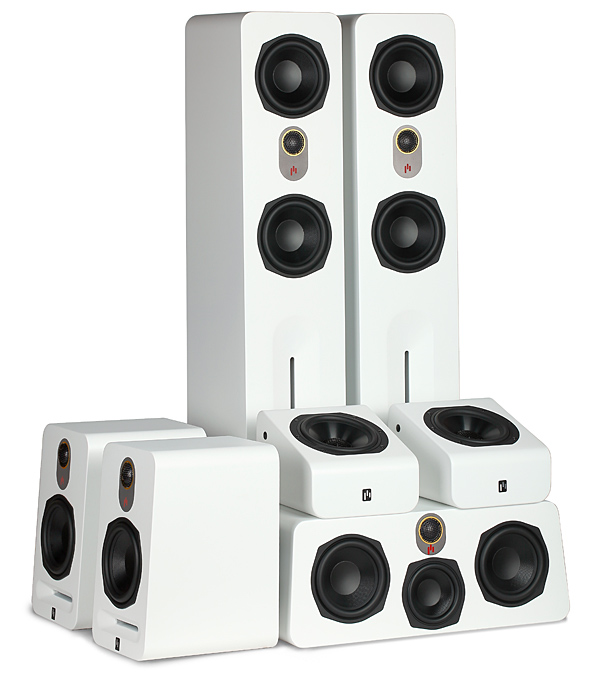 Aperion Audio Novus 5.0.2 Speaker System: $2,995 (as tested)
With its Novus 5.0.2 speaker system, Portland, Oregon's Aperion has split the difference between its flagship Versus series and entry-level Intimus series. Anchored by the $1,400/pair Novus tower, this stylish suite of speakers presents a detailed soundstage with music and excels on movie soundtracks when combined with a good subwoofer. Watching
Blade Runner 2049
, reviewer Tom Norton reveled in the "first-class" sense of spaciousness the system conveyed. "Surround activity was spot-on, and the music, with its strong electronic element, blew me away…Dialogue was always natural, with a total lack of bloat or distracting fizzy sibilance." All in all, a very good value, which is why the Novus system was a runner-up to our
2019 Top Pick of the Year in speakers
. Aperion is currently offering three "SuperDad" deals on its
website
.
AT A GLANCE
Plus
Natural dialogue
Detailed without sounding aggressive
Great value
Minus
Limited deep bass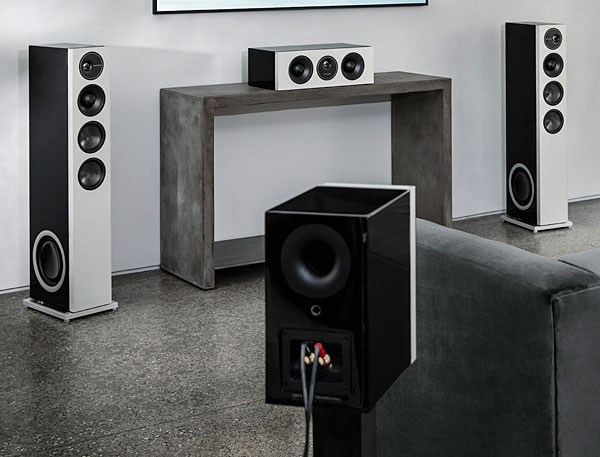 Definitive Technology Demand D15 Speaker System: $5,056 (as tested)
With its stylish new Demand Series, DefTech offers a simplified path to home theater with a five-speaker setup, skipping the standalone subwoofer and relying instead on the bass prowess of the D15 towers. Listening first to the towers on their own, reviewer Dan Kumin described what he heard as "focused, accurate, and uncolored, with a broad, spacious sense of width and depth." When the DC5 center-channel was pressed into action with a pair of rearward D9 bookshelf speakers, the system reached cinema-like levels without strain and with visceral impact during the climactic train-derailment sequence in the 2018 action/thriller
The Commuter
. While adding a capable standalone sub will bring the bottom octave to bear, Kumin raises a question: Can you live without the added measure of floor-flexing bass in exchange for a simpler setup? "I think I could."
AT A GLANCE
Plus
Highly accurate sound
Impressive stereo imaging
Solid center-channel reproduction
Well-controlled and moderately extended low end
Minus
Towers sensitive to placement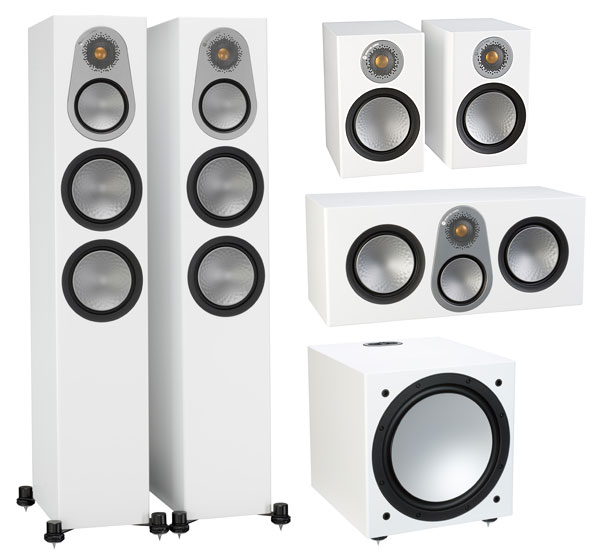 Monitor Audio Silver 300 Speaker System: $5,975 (as tested)
U.K's Monitor Audio did something audiophiles love when it revamped its popular Silver Series of speakers: Improved sound without jacking up the price. Reviewer and longtime audiophile Al Griffin was captivated with the Silver 300 system's build quality and ability to deliver clean, detailed sound with music and movie soundtracks: "I found myself won over by its crisp, dynamic sound…and was particularly impressed with the C350 center speaker, which allows for seamless sound across the front channels." The Silver W-12 subwoofer also drew accolades for bolstering bass from the main towers with music and "adding oomph to action movies."
AT A GLANCE
Plus
Crisp, detailed sound
High-performance center speaker
Subwoofer with room correction
Minus
Subwoofer pricey compared with competition
Polk Audio Legend L800 Tower Speaker, $5,998/pair
Polk's engineering team embraced history and did something special when they designed the Legend L800 flagship speaker: They revived and refined the Stereo Dimensional Array (SDA) technology Matthew Polk developed nearly four decades ago. The results were impressive, earning the L800 a finalist spot next to our
2019 Top Pick of the Year in speakers
. Listening to a wide variety of music, Al Griffin reveled in the "appealingly neutral" full-range sound and expansive sound stage created by the new SDA-Pro implementation of the original SDA technology. With these formidable speakers, Polk has made a statement that audiophiles will appreciate. We think Matthew would approve.
AT A GLANCE
Plus
Enveloping soundstage from SDA-Pro tech
Dynamic, full-range sound
Flush-mounted elevation module option
Minus
Somewhat bulky cabinet design
Requires SDA-Pro interconnect cable