16 Best Speakers to Buy Right Now Page 3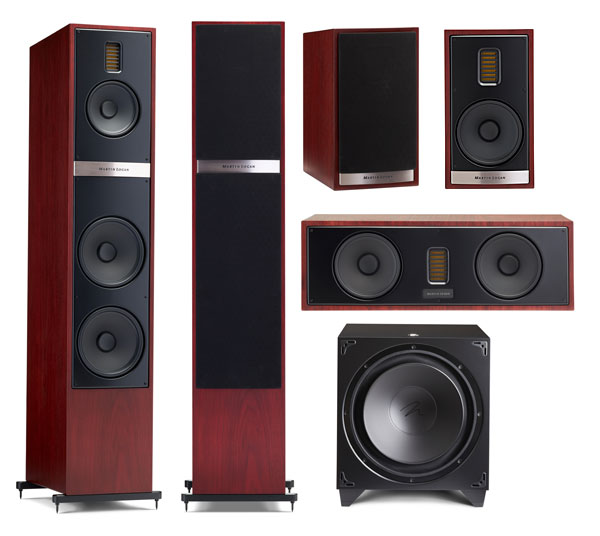 MartinLogan Motion 60 XTi Speaker System: $8,000 (as tested)
When MartinLogan unveiled a first-of-its-kind hybrid electrostatic speaker at the 1983 Consumer Electronics Show, high-end audio dealers loved what they heard and placed orders on the spot. Tall and slender, the appropriately named Monolith was sonically and visually striking. In the ensuing decades, the Kansas-based company built a reputation for delivering exceptional sounding speakers, expanding its offerings in recent years to include a more traditional line of speakers under the Motion banner. The six-piece Motion 60XTi system, assembled around the line's flagship tower speaker and Dynamo 1600X subwoofer, brings subtle upgrades in style and performance that translate into a fresh round of visual and sonic excellence — sound reviewer Mike Trei characterized as "powerful and smooth." Through all the chaos in
Avengers: Infinity War
, the Dynamo delivered a "tremendous wallop" without upsetting the grand sense of space conveyed by the system or marring the natural sounding dialogue.
AT A GLANCE
Plus
Refined sound
Powerful, feature-rich subwoofer
Minus
Tweeter on 60XTi tower sits high off the ground
60XTi tower requires careful placement
Subwoofers and Soundbars
Vizio 36-inch 2.1-Channel Soundbar System: $180 (originally $150)
Vizio's SB3621n-G8 soundbar system has a solitary mission: Replace the awful speakers built into most TVs with a svelte, two-piece system that's inexpensive and easy to set up. The low-profile subwoofer connects wirelessly to the soundbar so all you have to do is run an audio cable to the TV, select the appropriate input, and sink into the couch. For less than $200, you get the ability to stream music from your phone or tablet/laptop and a serious boost in sound quality, making the system ideal for a small bedroom or den. Since we reviewed the SB3621n-G8 last fall, the price has gone up from $150 to $180 but it's still a great value and worthy of our Top Value designation.
AT A GLANCE
Plus
Decent sound for the price
Slim, wireless subwoofer
Bluetooth for music streaming
Minus
Confusing LED display
Lacks deep bass
Hard-to-read remote control
DALI Katch One Soundbar: $999
From Denmark's DALI comes a simple, décor-friendly soundbar that will blow away the sound produced by the tiny speakers built into today's skinny TVs. In addition to delivering robust stereo sound, the bar is stylish and accommodates any hookup scenario, including those requiring an optical digital connection or HDMI with ARC (audio return channel). The Katch One doesn't deliver a true surround sound experience (what soundbar can?) but it does provide a Wide mode that in the words of reviewer Leslie Shapiro produces a "luxurious soundstage" with imaging that extends well beyond the edges of the soundbar.
AT A GLANCE
Plus
Very good dialogue intelligibility
Wide stereo imaging
Multiple color options
Minus
Lacks front indicator lights
Pricey
SVS SB-2000 Pro Subwoofer: $899 (piano gloss black), $799 (black ash)
If you know SVS you won't be surprised that the Ohio-based company has once again bolstered its reputation as a premier builder of subwoofers, this time with a bass box that will wow hardcore enthusiasts. Reviewer Michael Trei was won over by the SB-2000 Pro's ability to deliver clean, hard-hitting bass for a reasonable price and loved the ability to tweak its performance to a fare-thee-well from his smartphone via the company's companion app. Instead of having to bend over or squat to make critical adjustments, the app puts controls like a parametric EQ with volume, bandwidth (Q), and center frequency settings at your fingertips. Rare, indeed!
AT A GLANCE
Plus
Big bass punch from a small form factor
Excellent value
Versatile smartphone control app
Minus
No auto-calibration/room EQ feature