Vizio 36-inch 2.1-Channel Soundbar System Review
PRICE
$150
AT A GLANCE
Plus
Decent sound for the price
Slim, wireless subwoofer
Bluetooth for music streaming
Minus
Confusing LED display
Lacks deep bass
Hard-to-read remote control
THE VERDICT
Vizio's 2.1 soundbar system with wireless subwoofer delivers better sound than built-in TV speakers without breaking the bank.
Vizio's latest soundbar is a compact system with a wireless subwoofer that sells for $150. If you just spent big bucks on a new TV and realized that its built-in audio is horrific, this 2.1 package will deliver significantly better sound without consuming what remains of your budget.
The SB3621n-G8 replaces Vizio's equally awkwardly named SB3621n-E8. A big change the new soundbar system brings is a slim subwoofer that can be positioned either vertically or horizontally, in which case it can easily be slipped under a sofa. While the G8 lacks streaming features such as Wi-Fi or Chromecast built-in, it does offer Bluetooth, along with a 3-month trial subscription to Tidal Hi-Fi.
The G8 soundbar is 36 inches wide and features two 1.9 x 3.5-inch drivers. With a black fabric wrap and aluminum endcaps, the soundbar has a subtle look that lets it disappear nicely below a TV screen, though its fabric material is a dust magnet. There are recessed control buttons on top for power, input, Bluetooth, and volume up/down. Inputs include optical and coaxial digital, analog stereo minijack, and a USB port for playback of WAV and MP3 files. I found the lack of HDMI input on the soundbar disappointing, though that's something to be expected at this price point.
The system's wireless subwoofer holds a 5.3-inch woofer in a ported cabinet and has an aluminum face with black plastic sides. Rubber pads on two of its sides are provided to accommodate vertical or horizontal placement. No specs are provided for amplifier power, but Vizio does state that the system is capable of delivering a 100dB sound pressure level.

The G8 system comes with a basic remote with small print that some might find hard to read in a dim home theater. There are controls for the bar's Movie and Music EQ modes, DTS TruVolume to even out loudness levels, and DTS Virtual:X to simulate overhead speakers. Additional buttons let you adjust bass, treble, and subwoofer level.
A small row of LEDs on the soundbar's left side provide the only feedback when making settings and adjustments. I found it annoying at first having to figure out how to adjust the tone controls and input selection using the LEDs, but then got used to it after a few days.
Setup
I placed the soundbar directly on a wooden cabinet under my TV and connected it to the set's optical digital output. The subwoofer was initially set up next to the sofa centered in my 10 x 20-foot home theater, but I quickly realized that positioning the subwoofer that far away from the soundbar resulted in localized low-frequency effects when watching movies. Moving it to the room's corner close to the TV created a more cohesive sound.
Performance
Escape Plan: The Extractors starring Sylvester Stallone isn't exactly cinematic magic, but it does have great sound design. Dialogue at first sounded muddy and overwhelmed by the movie's music score, but it was simple to adjust the bass and subwoofer levels while slightly elevating the treble using the system's remote control. Once this was done, the sound was much improved, with the G8 doing what a good soundbar should: disappear and not draw attention to itself. Escape Plan's dialogue sounded crisp and clear and its music was full and balanced. The system's sub is only spec'd down to 50 Hz, so it lacks an ability to convey deep low-frequency effects, but bass was still quite powerful on explosions. Whispered dialogue on the system was also clearly audible even when watching movies with a deep, pounding soundtrack.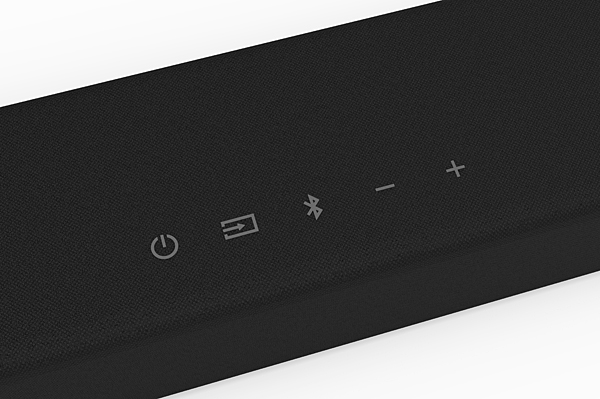 When I turned on Virtual:X, the effect wasn't anywhere close to surround, but it did open up the sound and create a wider soundstage. Sound didn't come from overhead, but it was less localized to the bar itself and seemed to come from the center of my TV's screen where the action was happening.
Music sounded good with the default Music EQ setting selected. When I played the Maroon 5 track "Memories," Adam Levine's vocals sounded clean, clear, and pure. The reverb on his vocals had a natural and transparent quality that made it pleasant to listen to—something that wouldn't have been the case when using my TV's built-in speakers.
The song "Boomerang" by Imagine Dragons showcased the nice balance of the G8 system's bass. During the chorus, a kick drum sounded distinct with punch and impact, and the bass guitar had a full, rich tone. Watching the video for the band's song "Birds," the sound didn't disappoint, with the massive drums handled deftly by the system's subwoofer throughout.
Conclusion
Vizio's latest 36-inch 2.1 soundbar is an ideal option for a small bedroom or den. While the system's lack of surround and deep bass can be considered limitations, it does deliver significantly better sound than what you'd get from almost any TV. For that reason alone, the SB3621n-G8 is a bargain.