Witt & Wisdom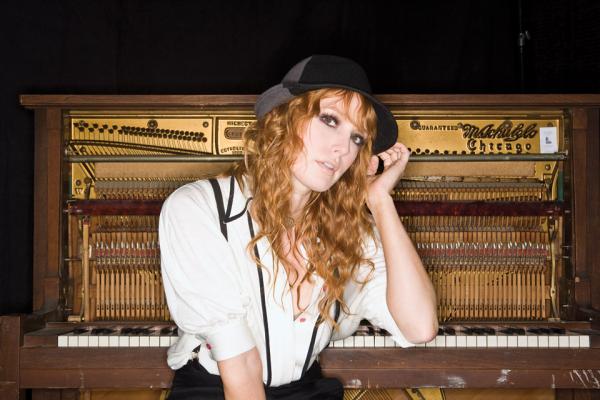 YOU'RE SCRAMBLING NOW, thinking, Wait — I recognize her . . . don't I? Yes — yes, you do. Can't quite place her though, hmm? (She might actually appreciate that; she doesn't like or seek being typecast.)
Let's see. Didn't she turn in a memorable recurring role as the multifaceted waitress Cheryl on the critically lauded, Emmy-nominated series Friday Night Lights? Yes. Didn't she go toe to toe with Al Pacino in 88 Minutes? Yes indeed. Wasn't she Cybill Shepherd's acid-tongued daughter Zoey Woodbine on Cybill? Correct again.
We could continue her C.V. review ad infinitum (and you're more than welcome to scan over some of her roles on page 36), but acting is only part of who she is. More than that next plum role, Alicia Witt, 36, has had one burning desire for most of her life: get her music heard. "This is so personal to me," she says. "It's something I've wanted to do for literally 15 years."
Hers is not a "starlet picks up an instrument as a folly" kind of story. Far from it. For her, it all began behind a piano. She studied classical music at age 7. Practiced 4 hours a day. Entered international competitions for the next 7 years. Played at a restaurant in Massachusetts on weekends to fund her lessons. Put her own spin on the original "Piano Man" script by playing the lobby lounge of the Beverly Wilshire Hotel for 2 years. David Lynch, who cast her in her first movie role in Dune in 1984, was so taken by her skills that the director later had her, when she was just 15, bang out some boogie-woogie riffs over the end credits of an episode of the seminal Twin Peaks — Episode 2.1, from 1990. Buy the DVD box set, Google it, YouTube it: You gotta see it. Just that 48-second segment alone shows that, hell to the yeah, the girl can play.
That talent is also quite clear in the four songs on her self-released Alicia Witt EP (available at aliciawittmusic.com and on iTunes). A full backing band fuels two upbeat songs, "Anyway" and "Blind," and both exude a sharp undercurrent of raw ache. ("A great collaboration to me is one that turns out like what you heard in your head, or even better," she notes.)
A dramatic and intense take on Paul Simon's wistful "You Can Call Me Al" shows range and cleverness, but it's the piano-and-vocal-only ballad "Taken" that tunnels straight for your core, and is recommended as a lights-out, headphones-only special. Ditto that for her recent iTunes single "Me or New York," an instant heart-grabber. "As someone who's still trying to figure this all out," she admits, "that song was just what I meant it to be, and it means a lot to me that you got all of that from it on the first listen. I appreciate that. It's really what I would hope for as a response."
Believe me, you'll feel the same way when you hear it for yourself.
To read our interview with Alicia Witt, check out the September issue of Sound+Vision.