Wide Open Spaces
Coming up with a unique, never seen, theater design takes some creative genius, and the folks at Woodbridge Stereo along with the homeowner and theater fabricator, HTL, delivered this one-off theater that is both eye-catching and surreal. Circling the theater are custom printed fabric panels of locally photographed images of the Jersey Shore, creating the effect that this home theater is sitting right in the middle of the beach.
While this 3-story home is 10,000 square feet, the theater space is actually very modest (13.5' w x 16.9' L x 8' h). "The smaller dimensions made it challenging to fit eight full seats and the necessary equipment," said Tom Altobelli, President of Woodbridge Stereo. "We placed the projector behind a lighthouse photo and shot the lens through a special glass element to open up the space. It also eliminated projector noise that would have seemed extremely loud in such a small room."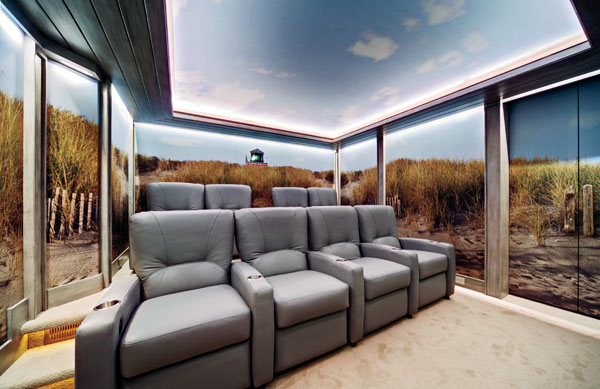 Even in this tight space they were able to install a 42" x 99" 2.35:1 cinemascope screen with 2-way motorized masking for 1.78:1 content. It was coupled with a Runco projector equipped with an anamorphic lens. Powered by a Marantz receiver, a Triad 7.2 (two subwoofers) speaker system was mounted in-wall. An AMX touchscreen was Integrated into a motorized dock in the center console between the rear seats. The final touch is the picturesque ocean view, created by the fabric panels, which makes the room appear far larger than it is in reality.
"With the collapse of new home construction, large, dedicated theaters are simply less common," says Altobelli. "With more clients choosing to integrate theaters in smaller spaces, effective acoustical design and noise isolation techniques are more critical that ever. Moreover, improvements in broadcast, disc, and streamed content, as well as lower cost video projection hardware, allows us to create very compelling theaters in a wider range of applications and at price points not previously possible."
In addition to the theater, Woodbridge Stereo installed a 14-zone whole-home audio system that is expandable to 20 zones, which is controlled by 12 AMX touchscreen controllers located throughout the house. Architectural and outdoor speakers from Triad, DALI and Stealth are mounted throughout every living space making it possible to listen to music from any location. There are nine independent video zones with various size NuVision flat panel TVs installed in every major room of the house including two family rooms with 5.1 Music and Cinema systems (one is located in the basement), a gym, a playroom, the master bedroom, the master bath and two other bedrooms.
Sources for the whole-home AV include a four-zone Request hard drive DVD/music server with a storage capacity of 1000 DVDs or 15,000 CDs, however, it is expandable should the homeowner exceed it's current capacity. There are five globally-accessible HD/DVR cable receivers in addition to both satellite and FM/HD radio.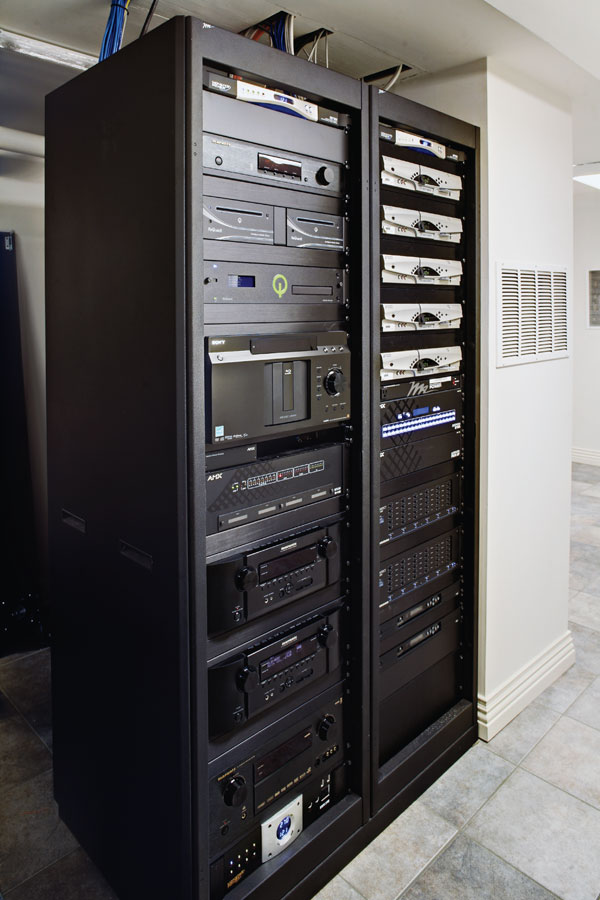 Other systems installed by Woodbridge include a Panasonic cellular phone system with 16 locations and a wireless Internet network, which included three access points. The remotely accessible AMX system is capable of controlling further upgrades for HVAC, CCTV, security, weather and Internet radio.
Photography- Wing Wong, Memories TTL