Vizio P652ui-B2 LCD Ultra HDTV Review Page 2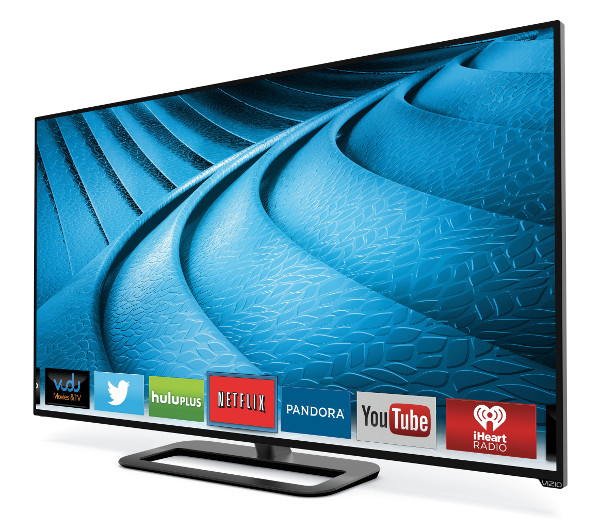 Prior to calibration, the Vizio's gray scale had a too-warm, reddish balance and its color points measured reasonably far off. Gamma, too, was a concern: even with the 2.4 (dark room) preset selected, it averaged out to about 1.6—a result that missed the target by quite a lot. After adjustment, the set's gamma was more accurate, though I found it difficult to calibrate out some non-linearity at the high end of the gray scale.
Performance
The Vizio's picture quality was a curious mix of the good and not so good. First, the good. When displaying content that was shot digitally, as opposed to on 35mm film, the P652ui-B2's image looked crisp, clean and detailed. That situation applied equally with both 4K and 1080p sources.
When I watched 1080p Blu-ray movies and streamed Netflix Ultra HD content that was shot on film, however, the TV's picture appeared noisy and unstable. My sense was that there was perhaps something about the random, chaotic patterns of film grain that caused the Vizio's video processing to kick into overdrive, adding an active, "crawling" look that made pictures look decidedly low-rez.
Another side effect of the Vizio's poor handling of images with film grain was that skin tones would take on an overly red, patchy appearance. Streaming the first episode of Breaking Bad, Season 5, Walter White's normally pasty complexion had a charred look. Picture highlights also showed little differentiation between bright white tones. In another shot, for instance, white details in the clouds in a wide desert shot were completely burned-out.
One more picture quality complaint: edge enhancement. Even with the set's Sharpness control set to zero, both test patterns and many types of real-world content displayed faint white lines on object edges, particularly ones with abrupt dark-to-light transitions. I could imagine how Vizio's aggressive video processing might apply this effect to standard- and high-def content, but was surprised to also see it on UltraHD/4K content as well.
One area where the Vizio did impress was in displaying dark images. Watching The Raid 2 on Blu-ray, deep shadows in scenes that take place in the prison looked deep, solid and uniform. However, given the P652ui-B2's just average off-axis picture uniformity, experiencing optimal picture contrast was a matter of situating myself within a fairly tight viewing window. Seated in the Vizio's sweet spot, though, the movie, which was shot digitally with 4K Red cameras, looked wonderfully crisp and clean.
Conclusion
At $2,200 list, Vizio's P652ui-B2 represents an affordable option for anyone looking to score a reasonably large UHDTV. The set's Vizio Internet Apps Plus GUI is spiffy and sanely arrayed, letting you easily access streaming apps including Netflix 4K. While I appreciated the set's solid contrast and detailed, uniform blacks, I was less impressed with its washed out image highlights and overly-aggressive video processing, which made movies and TV programs shot on 35mm film appear grainy and harsh. The same processing also added an unnatural-looking reddish tint to skin tones.
Is there redemption in store for Vizio's P652ui-B2? Possibly. The company claims to have a firmware fix in the works that addresses many issues I've gone out of my way to complain about here. No date on when that will be pushed out to P-Series models, but Vizio expects it will be released concurrent with its update for 4K Ultraflix and Amazon Video on Demand. If that does indeed come to pass, the P652ui-B2 may then be worth a second look.
Postscript: Vizio P65 Version 1.1.6 Firmware Update
After I completed my review of the P652ui-B2, Vizio pushed out a firmware update for its P Series UHDTVs. After reviewing various test patterns and program material, I determined that Vizio's update made the P Series' film grain enhancement issue less onerous, though a fixed noise pattern could occasionally be seen in programs originating on 35mm film.
Edge enhancement also remained an issue, though it was now less noticeable. Vizio's update did fail to address two shortcomings I had taken note of during my initial round of tests: white/black clipping and 3:2 pulldown processing for film-based sources. In the first instance, the overly "hot" contrast and blown-out detail in highlights that I originally saw were still in evidence when watching movies. In the second instance, the set's video processing still failed to pick up both 3:2 and 2:2 cadences on motion test patterns.
Overall, Vizio's version 1.1.6 firmware update for its P Series UHDTVs does help to improve picture quality—I'd now be inclined to bump it up to 3 stars for performance. That said, it doesn't solve all of the issues I encountered during my initial testing of the P652ui-B2.—A.G.