Vizio P652ui-B2 LCD Ultra HDTV Review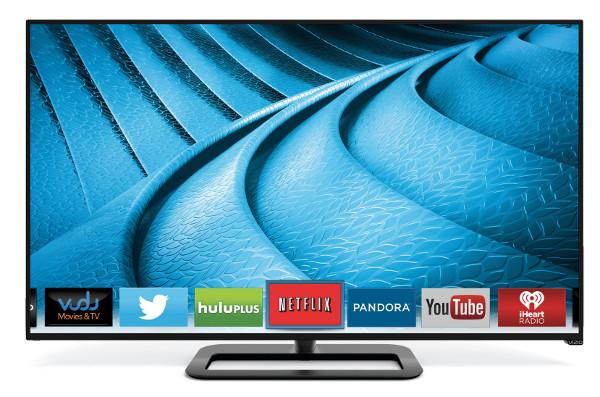 PRICE
$2,200
AT A GLANCE
Plus
Impressive black depth and uniformity
Excellent color
Good set of streaming options
Low-glare screen
Minus
Picture processing adds edge-enhancement, noise
Poor handling of images with film grain
Washed-out-looking highlights
THE VERDICT
Vizio's P-Series comes with a full-array LED backlight and 4K Netflix streaming, but its performance is marred by overly aggressive video processing.
Editor's Note: This review has been updated following a recent firmware revision. Please see postscript at the end of the review.
Vizio is known for making TVs that consistently beat the competition on price—often by a significant margin. In some cases the performance of Vizio's sets also ends up being equal to or better than the competition, though the company's track record on that count isn't as consistent. The last two Vizio HDTVs Sound & Vision tested, the 2014 entry-level E- and step-up M-series models, delivered very good performance at an affordable price. Now the company's P Series, its first UHDTVs for 2014, have hit the street. It should come as no surprise that the price here is nice: the 65-inch P652ui-B2 model I tested lists for $2,200. But does Vizio's budget bigscreen UHDTV continue the company's streak of high performance/low cost? Let's take a look.
Like other Vizio TVs to come out in 2014, the P Series omits 3D but adds a full array LED backlight with local dimming. While the last Vizio model I tested, the 60-inch M602i-B3, had 36 active LED zones, P Series sets have 64 active zones (72 on the 70-inch model). Other features include the company's P3 processing engine with edge detection and "Active Pixel Tuning," plus a 120 Hz display panel with a 240 Hz "effective" refresh rate—something it achieves through backlight scanning.
Like most other UHDTVs to arrive in 2014, the P Series is outfitted with the HEVC H.265 codec for viewers to stream 4K Ultra HD content from sources like Netflix. (According to Vizio, the set has been optimized for 4K Netflix streaming.) It has one HDMI 2.0 port that supports 4K/60 signals; four additional ports are HDMI 1.4, which maxes out at 4K/30. The set is also HDCP 2.2-compatible—an important factor if you plan to connect current UHDTV sources like Sony's FMP-X10 media server, or future ones like Blu-ray players and satellite/cable receivers.
The P652ui-B2's look is very much in the mold of other Vizio TVs to arrive in 2014. Its screen is bordered by a thin, dark-toned bezel and is mounted on a slim stand with a minimal footprint. Like the M Series model I last tested, P Series screens have a matte-type finish that helps to minimize reflections. At 2.3 inches deep, the panel is a bit thicker than most other recent flat-panel TVs. (At least it's not curved!)
Vizio's P Series models come with the company's two-faced remote control. The front side is lined with small, neatly arrayed buttons with direct access keys at the top for the Amazon Instant, Netflix, and iHeartRadio apps. On the back there's a QWERTY keyboard, which comes in handy for things like entering text in Netflix searches.
Not much has changed with the outlay of the Vizio Internet Apps Plus GUI. You can select apps via a horizontal bar that runs along the bottom of the screen or from a fullscreen My Apps menu. Choices here includes Vudu, Hulu Plus, YouTube, Flickr, Pandora, Spotify, and Plex. Hitting the V button on the remote twice calls up a My Apps fullscreen menu where you can browse apps by category, and add or delete them from the My Apps page. You can also tap the DIAL protocol to "flick" Netflix and YouTube content from a tablet or phone to the TV and vice-versa.
In contrast to many TVs we test that pass all incoming audio to a soundbar or other outboard audio system in 2.0 format, Dolby and DTS 5.1 soundtracks are passed from the P652ui-B2's optical digital output as 5.1 when its Bitstream option is selected.
Setup
I made picture adjustments to the P652ui-B2 in its Calibrated Dark mode. Beyond basic adjustments, the set's Advanced Picture menu lets you turn Active LED Zones (local dimming) on/off and select from High, Medium, and Low settings. There's a Smooth Motion Effect option that helps to increase motion resolution, but the tradeoff is a significant amount of soap opera effect at all presets. A Color Tuner menu provides professional calibrators with both 2 and 11-point White Balance and primary/secondary color point adjustments. There's also a range of gamma presets—a feature missing from Vizio's M Series HDTVs. One cool feature: you can name any custom picture settings you make and save them to the picture presets list where they can be applied to other inputs.