Vizio M602i-B3 LCD/LED HDTV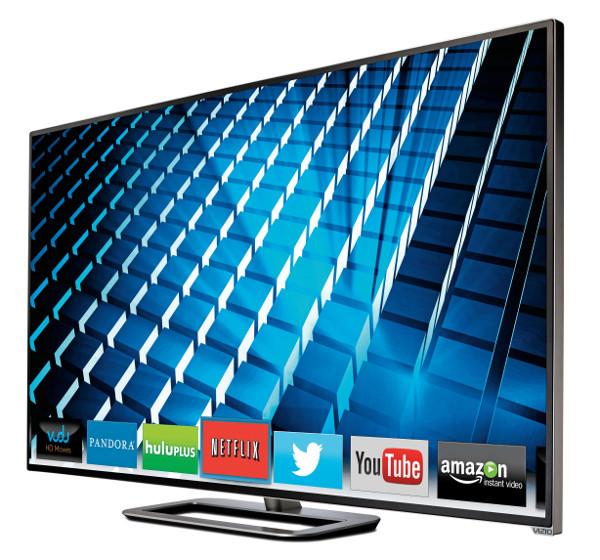 PRICE
$1,250
AT A GLANCE
Plus
Great black levels and screen uniformity
Mostly accurate color
Good set of streaming options
Low-glare screen
Minus
No gamma presets or adjustments
THE VERDICT
While it's not quite the deal you get with Vizio's lower-cost E series HDTVs, this M series set offers excellent performance at a very good price.
Vizio opted to take some bold steps for their 2014 lineup of LCD TVs. The first was to get rid of 3D—no huge loss there, since most folks don't watch 3D outside of movie theaters anyway. The second was to add a full-array local-dimming backlight—and not just to some of the new models, but to all of them. The entry-level 55-inch E series set that we reviewed in the July/August issue featured 12 dimmable zones. For the 60-inch M602i-B3 under scrutiny here, that number gets bumped up to 32. Do all those extra zones make the M602i-B3's black-level performance three times as good? Read on to find out.
One thing Vizio hasn't changed much for 2014 is the design of their TVs; the M602i-B3 basically looks like the 2013 Vizio model I tested a few months back. As with that set, the M602i-B3's screen is bordered by a thin bezel and edged with a metal-toned strip. It also has the same stand, one that's small but strong due to a die-cast metal neck propping up the panel. But whereas the 2013 TV had a fairly reflective screen that was prone to glare during daytime viewing, this one has a matte-type finish that effectively reduces reflections.
One more change worth mentioning: Vizio's remote control for the M series. The front is just a normal clicker with small, neatly arrayed buttons. The only real distinguishing feature here is the row of keys lining the remote's top, providing direct access to the Amazon Instant, Netflix, and iHeartRadio streaming apps. Flip the remote over, however, and you'll find a full QWERTY keyboard. While not completely necessary, this proved useful for entering text in apps such as Netflix.
Flipping back to the remote's front, you'll see a large "V" button at its center. This calls up a horizontal graphic overlay running along the bottom of the TV screen, which you scroll through to select apps. In addition to the ones mentioned above, the list includes Vudu, Hulu Plus, YouTube, Flickr, Pandora, and Spotify. Hitting the big V twice calls up a My Apps full-screen menu. From there, you can browse apps by category, as well as add or delete them from the My Apps page.
As with earlier Vizio TVs, you can tap the DIAL protocol to "flick" Netflix and YouTube content from a tablet or phone to the TV and vice versa. This makes it easy to keep watching a movie after you've grown tired of your couch and have slouched off to the bedroom. Beyond that, there aren't too many other features to talk up. In many ways, the M602i-B3 is a refreshingly basic TV.
Audio passed to the set via HDMI is handled in various ways. With the Bitstream option selected for the TV's optical digital output, Dolby TrueHD 5.1 and Dolby Digital 5.1 soundtracks are passed on in compressed 5.1 format. DTS-HD Master Audio 5.1 gets converted to 2.0, which isn't totally ideal when you consider that most Blu-rays have DTS-HD MA soundtracks. However, many of the TVs we test simply pass on all HDMI audio as 2.0 to a soundbar or some other outboard audio system, so the Vizio still has a leg up on the competition.
Setup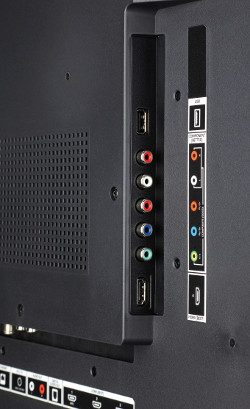 The Vizio's picture presets include a Calibrated Dark mode that's the recommended spot to start your picture setup. An Advanced Picture menu provides settings for Black Detail, Active LED Zones (on/off), Motion Blur Reduction, and Smooth Motion Effect. The Black Detail modes didn't seem necessary after basic picture setup, but the Active LED Zones option, which enables local dimming, is a necessity for getting good black levels out of the M602i-B3. Motion Blur Reduction, meanwhile, made images look too dim, while Smooth Motion Effect introduced the soap-opera effect at all settings, though it did noticeably improve motion resolution on test patterns.
Both the Vizio's gamma and color temperature measured fairly far off, even in Calibrated Dark mode. Unfortunately, there are no gamma presets or adjustments, though there is a Color Tuner adjustment in the Professional menu with extensive settings to tweak both color temperature and primary/secondary color points. Vizio also provides an 11-point color-temperature adjustment, but its workings were arcane enough to make me feel satisfied with just the regular 2-point adjustment.
Performance
After I made final tweaks to the picture setup, the Vizio looked punchy, though a bit too bright on some material—most likely due to the set's inaccurate gamma in Calibrated Dark mode. Still, the M602i-B3 did a great job displaying deep blacks and fleshing out shadow detail in dark scenes. As with many other LED-lit TVs, the Vizio's backlight shuts off completely when displaying a full black image. Fortunately, there's no visible jump on shots that fade to black; instead, the fades appear natural and smooth.