TCL FS4610r Roku LED/LCD HDTV Review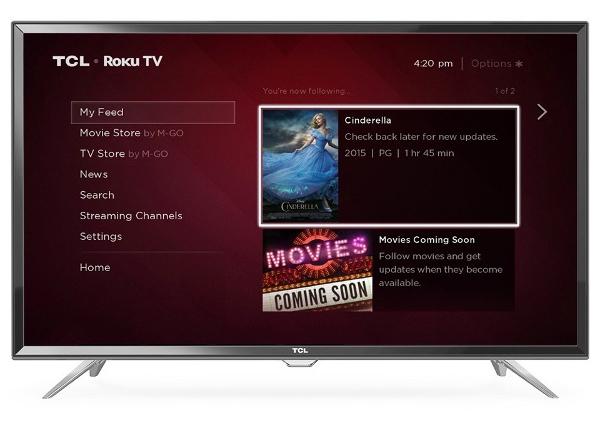 PRICE
$500
AT A GLANCE
Plus
Roku home screen accesses source inputs as well as streaming channels
Universal search results finds titles on most channels
Excellent value at under $500
Minus
TV picture can't compare with high end models
No Ethernet port for wired network connection
Settings for closed captions and many other features require returning to home screen
THE VERDICT
TCL's Roku TV may be the easiest TV to use for everyone in your family—a great second TV.
Roku is the king of streaming media players. Whether it's the Roku 3 streaming box or an HDMI streaming dongle, no other streaming system can claim the same variety of channels or simple, intuitive graphic interface. TCL is one of several manufacturers that has integrated Roku into its TVs in some capacity, either with a Roku-friendly remote that can be mated with a Roku stick, or, in this case, a fully-integrated platform in the 48-inch model 48FS4610R ($500 list before discounting). While its picture quality can't compare with high-end TV models, this is one TV that everyone in the house should be able use.
From the moment I first turned on the Roku TV, it was evident that setup would be a breeze. Led by simple questions in plain English, it prompts the user to connect and turn on devices before going to the next step. That next step asks what type of device is connected to each input—a Blu-Ray player, cable box, Xbox and so forth—and it creates a shortcut icon tile for each that is displayed in the Roku TV home screen.
To help you remember what is connected, it displays the live feed from each input in the tile. A technologically-challenged family member no longer has to think about finding a dedicated input button and cycling through the options. Instead, he or she simply chooses to watch a Blu-ray movie, play a videogame, or view cable or antenna TV in the same way they'd select a stream from any of the downloaded Roku channels. But, unfortunately, while the home screen is convenient for choosing what to watch, it is also the only way to access many of the TVs settings. So, for example, while watching satellite TV, I needed at one point to turn off closed captioning. To do so, I had to leave the TV show I was watching and find my way to the settings menu and then access the submenu for this task. On most other TVs, I could access settings in a menu overlayed right on top of my current program.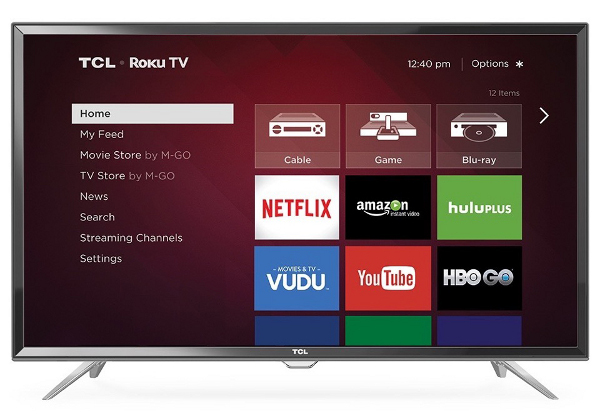 The home screen can be easily customized by pressing the asterisk (star) button on the remote and moving the most-often used channels to the top of the channel list. The Roku TV remote is nearly identical to other Roku device remotes, with the addition of four direct-access buttons provided for Netflix, Amazon Instant Video, Rdio, and Vudu.
As another convenience feature, Roku's remote app for smartphones displays basic remote functions and all of the downloaded channels for direct access. It also connects to the Roku channel store to easily find new channels to add to Roku TV. The keyboard in the remote app makes it easy to type channel logins and search words.
Although Roku has added voice search for the standalone Roku 3 streaming box, my Roku TV sample did not have that feature at the time I tested the TV. Still, it had a global search function that brought up results from the most popular channels—Crackle, Amazon Instant Video, Netflix, Vudu, Cinema Now, and others. Unlike other streaming platforms, the search results did not favor one service over another—a situation that comes up sometimes when you use an Amazon Fire or Apple TV box, for example, which may direct you first toward those company's services. A search for "Will Smith" brought up his full filmography. I chose the movie Hitch and the Roku TV showed where it could be streamed "free"—the Netflix and Amazon Prime subscription services—as well as the pay-per-play rental and purchase price on other streaming services (it was available to purchase for $10 on CinemaNow). Clicking on one of the channel results took me directly to the title in Amazon Prime where I could play it immediately.
Content
Roku reports that it now has over 2,000 channels available. They run the gamut from niche channels like those for religious groups, fishing enthusiasts, and foreign country private channels to the most popular services—Vudu, Netflix, Amazon Instant Video, Google Play Movies and Music, Spotify, Cinema Now, Crackle, Vudu, Hulu, HBO Go and Showtime Anytime, and more. Plex can access home network media libraries (and others' libraries with a PlexPass), and PlayOn's PlayLater can show online video recordings initiated on a computer. Dish's standalone streaming TV service, Sling TV, is available, as well as Simple.TV and a large number of news and sports channels (including live streaming on the Watch ESPN channel). M-Go TVs and movies are integrated in the same way as it is on Roku dongles and streaming boxes.
Roku now includes Miracast device mirroring (still in beta) to display an Android or windows device on the Roku TV.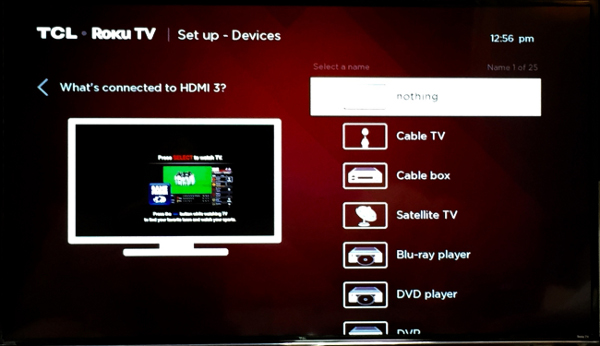 Performance
It would be unrealistic to compare the picture quality of a 48-inch TV that retails for less than $500 with the picture quality of a high-end model from other manufacturers. Nonetheless, I was satisfied that it had relatively deep blacks and rich colors that didn't wash out in a brightly-lit room. A streamed viewing of House of Cards from Netflix was crisp, clear and bright. All high-definition content looked good—better than some TVs that cost hundreds of dollars more than the TCL TV. [Editor's note: It should be pointed out that Vizio's high-value E-series (also about $500 at this size) and M-series 1080p models from the 2014 model year feature full-array local-dimming backlights and were quite favorably reviewed by us for image quality, though they would not offer this set's user-friendly Roku interface.—Rob Sabin]
Streaming and loading channels was almost immediate. There was no lag when opening a channel or loading the channel menus.
Final Thoughts
If you are looking for the highest quality picture and sound, the TCL Roku TV is not for you. However, if you need a TV for the whole family, or want a convenient TV for a second room, the TCL Roku TV may be a perfect fit.