Vizio E550i-B2 LED/LCD HDTV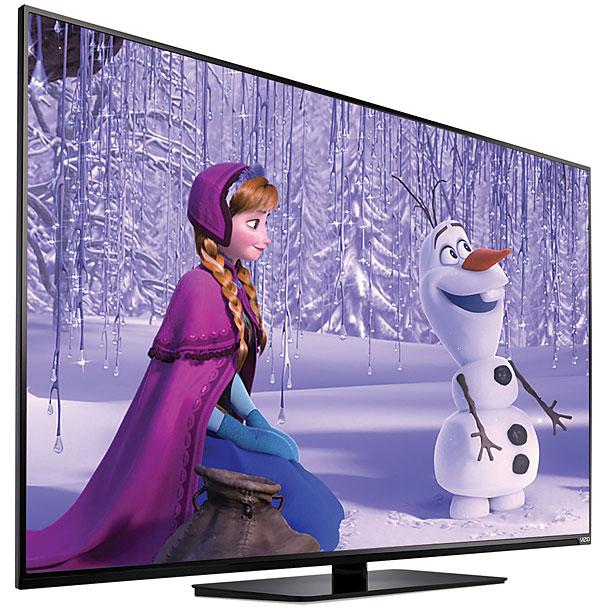 PRICE
$730
AT A GLANCE
Plus
Backlit local dimming for superior blacks
Good color
Remarkable value
Minus
Wobbly stand
Occasionally buzzy sound
THE VERDICT
It's not without flaws, but the Vizio E550i-B2 offers more of what we like in a quality HDTV than we ever expected to see at such a low price.
You still can't get a decent, major-brand 55-inch HDTV for under $500. You can, however, get one for under $800. The new 2014 E-Series may be Vizio's budget line, but it's not bare bones. It omits 3D (as do all of the company's 2014 HDTVs, including the highest-end models), and there's no picture-in-picture mode. But it offers the same bang for the buck that has, in the relatively few years since Vizio's founding, rocketed the company to a U.S. market-share position that has left long-established HDTV makers gasping for breath trying to keep up.
Description
While not as thin as some sets, the E550i-B2 is still skinny and surprisingly light. The frame is narrow, and the screen itself, though still somewhat reflective, is less mirror-like than many of its competitors. The included stand is easy enough to install; that said, it's the wobbliest flat-screen support I've ever seen. Vizio must be assuming that most buyers will wall-mount their sets.
At 55 inches and with an MSRP of $730, the E550i-B2 might lead you to expect a set with few features. But unless you must have 3D or PIP, you'd be wrong.
In addition to the usual Picture Modes and other standard controls, the E550i-B2 offers three fixed Color Temperature options (Normal was best), together with both 2- and 11-step white balance adjustments and a full color management system.
All LCD sets require some sort of backlit illumination separate from the non-emissive LCD elements themselves. In today's designs, this lighting is most often performed by LEDs, which can be located either behind the screen or at its edges (the latter in conjunction with a light guide). In either case, in some models, this lighting is selectively dimmed by zones. This technique is referred to as local dimming and can be dramatically effective in improving the primary shortcoming of LCD sets: mediocre black levels.
The E550i-B2 has 12 dimmable zones. The number of zones varies by screen size even within the E-Series family, from either five or six zones in sets smaller than 50 inches up to 18 zones in the 70-inch E700i. The odd man out is the 65-inch E650i, with only six zones. More zones can be more effective, but increasing their number can be pricey. Vizio's higher-end sets offer more zones than the E-Series—up to 36 in the M-Series and 96 in the Ultra HD P-Series.
A Motion Blur Reduction control (On and Off only) can significantly smooth out motion on test material specifically designed to show blur. But on most real program material, the smoothing effect was almost unnoticeable. Engaging this control also subtly softened the picture, particularly on 1080i material. I elected not to use this feature; even without it, motion blur was no worse than on most LCD TVs and never bothered me.
Vizio's redesigned Internet Apps Plus feature provides access to a wide range of sites, including most of the usual suspects for social networking, movie streaming, and music (including Spotify, Pandora, and others).
You can also play music, watch videos, or browse photos on the TV from a USB thumb drive, or pair your smartphone or tablet with the set. With the DIAL protocol (currently usable only with YouTube and Netflix), Vizio says, "You can begin watching a program on your TV, then move to your tablet for the walk down the hall, then pick it up again on the TV in the bedroom while you get ready for bed."
The Internet link may be either wired or wireless, but my first attempt at wireless didn't work because a wall and a heavy, sliding closet door were between the set and my router. When I opened the door, the wireless connection worked fine. Only once did the system pause for buffering while I was watching trailers on YouTube and Vudu (many of the latter looking very good in that site's HDX mode).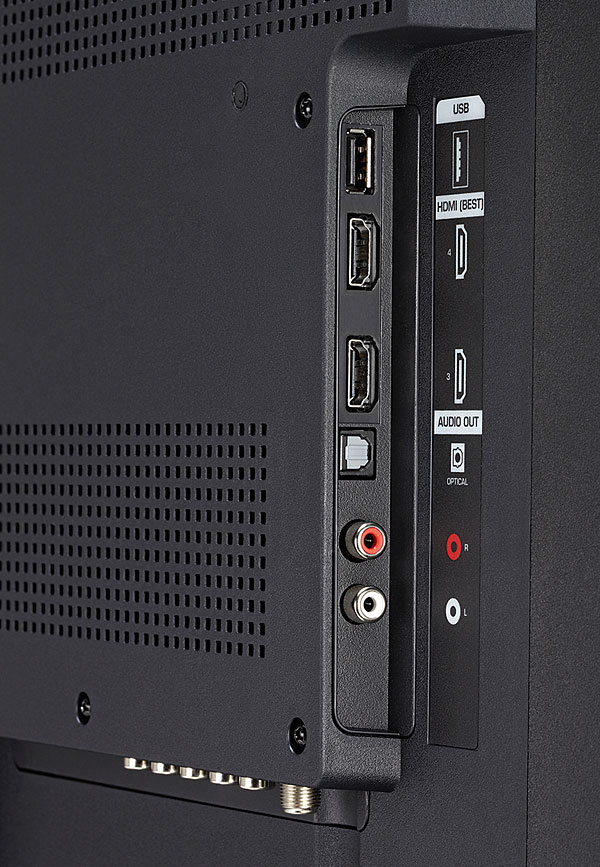 Unlike most sets, the Vizio offers both stereo analog and TosLink outputs. In its Bitstream audio setting, a Dolby Digital or Dolby TrueHD source at one of the set's HDMI inputs will be passed on to the TosLink output as Dolby Digital surround sound (Dolby TrueHD soundtracks will be downconverted to standard lossy Dolby Digital). However, the set won't output DTS-HD Master Audio in the same way; that format comes out of the TosLink output as two-channel stereo only. Most sets we've tested won't pass along any multichannel sound, either Dolby Digital or DTS, to their TosLink outputs without first converting it to two-channel stereo, so this is a step in the right direction and a plus for those who plan on hooking up a multichannel soundbar straight from the set. However, while that arrangement might work well for a cable-box and streaming (movie streams and TV broadcasts typically have Dolby Digital soundtracks), a great many (if not most) of today's Blu-ray releases use DTS-HD Master Audio for their English-language tracks. Blu-ray fans will still be better served letting an AVR do the source switching and enjoying all manner of lossless surround decoding.
The set's audio is adequate—better in fact than what I've heard from more than a few far more expensive sets. But, on our sample, there was an occasional, annoying buzz coming from the back panel on some program material, even at modest playback levels. I've encountered this only once before in a flat-screen HDTV—with the now discontinued Vizio CinemaWide. In any event, we always recommend a secondary sound system.
Performance
The Vizio's video processing was excellent; it passed all of our standard tests for upconversion, resolution, and proper handling of video levels both below black and above white. I did see a subtle, rapid flickering on the chroma resolution test with the Active LED Zones control switched to On. Turning this control off eliminated this, but either way, I saw no sign of it on normal program material.
The set's performance was good up to about 25 degrees off center, beyond which it exhibited the progressively more washed-out image common to most LCDs—though this wasn't as severe as in some sets we've tested.
It's always an issue with a budget set like this one as to whether or not the typical buyer will spend another $300 or $400 on a full calibration. Since the likely answer is no, I spent more time than usual watching the set before performing a full color calibration. With the Contrast set to 75, the Brightness to 53, and the Backlight to 60, the set produced just under 30 foot-lamberts peak white, though I backed this off to 45 for movies in a darkened room. The Color Temperature control was set to Normal, the Black Detail to Medium, and the Active LED Zones to On.
The Vizio also offers the option (in the Color Tuning menu) of turning off any of the colors, which makes it easier to set the Color and Tint controls with a test disc than using the traditional color-filter method. But I found that using the set's controls for this resulted in colors that were far too intense. I went with my eyeballs and used 50 for Color and –6 for Tint, with minor adjustments around those points depending on the source material.