Panasonic TC-L55WT60 3D LCD HDTV
PRICE
$2,999
AT A GLANCE
Plus
Very wide viewing angle
Accurate out-of-box color
Great GUI and Smart features
Minus
Some picture-uniformity issues
Pricey compared with high-end LCD competition
THE VERDICT
Panasonic's LCD boasts an impressive array of Smart features and decent picture quality, but some uniformity issues on dark movie scenes prevent it from stacking up to the high-end LCD competition.
Panasonic is a company that has stuck with plasma TV tech through thick and thin. In the thick column, you'll find loads of great reviews and general raves from videophiles. In the thin column, there are claims (largely unfounded) of burn-in damage generated by everything from video games to stock tickers; more crucial, there's bruising sales competition from LCD. What's less known about Panasonic is that the company actually does sell LCD HDTVs—quite a few of 'em, in fact. If you were to check Panasonic's Website right now (do it!), you'd see that its TV lineup is divided equally between plasma and LCD. And with rumors circulating about the company's imminent departure from the plasma manufacturing biz (say it ain't so!), that balance could soon swing fully over to the LCD side.
Now that we've established that Panasonic is TV-tech agnostic, let's consider its top 1080p-rez LCD, the 55-inch TC-L55WT60. This set boasts some impressive specs to back up its $2,999 price. An IPS (In-Plane Switching) LCD panel permits a much wider viewing angle than you usually get with LCD TVs, some of which lock your head in a narrow sweet spot. It has a 240-hertz refresh rate with "4,200 Backlight Scanning Technology." (How did Panasonic come up with that 4,200 number? The marketing materials aren't clear about it.) As you'd expect, the set's edge-lit backlight features local dimming, and there's 3D display via a film-type patterned retarder (FPR) and passive 3D glasses.
Panasonic's design for its WT60 Series makes a unique statement, though it's not one I'm completely sold on. A chrome-toned quarter-inch-thin bezel surrounds the set's screen, and the included non-swiveling stand incorporates a clear acrylic panel. A narrow acrylic strip just below the screen has an etched Panasonic logo illuminated by LED lighting (thankfully, you get the option to shut this off in the setup menu).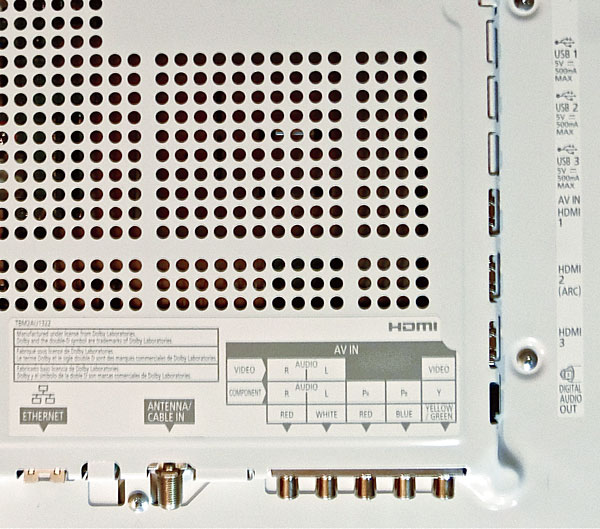 Home on the Screen
Panasonic's new Smart interface for its sets is called My Home Screen. Following through on that concept, the GUI serves not just as a jumping-off point to access Netflix, Amazon Instant Video, and other apps but also as a kind of electronic bulletin board for the household. There are clock and calendar panels, and you can use the set's built-in camera to leave video messages as well as create event alarms that pop up onscreen. Family members can create their own custom home screens, populating them with preferred apps and functions; there's even a facial recognition option that makes the set switch automatically to a different Home Screen layout depending on which face the built-in cam spies. The default setting is to display a Home Screen when you first power up the set, but you can replace it with a Full Screen option that shows the last-selected video input instead.
One standout feature on the Panasonic is Swipe & Share 2.0. This lets you "transfer" pictures, video, or Websites from a tablet or a smartphone running Panasonic's TV Remote 2 app (more on that in a bit) to the set by swiping your finger across the portable's surface toward the screen. Using it, I was able to easily view pictures and videos stored on my iPad, as well as send YouTube videos I'd been browsing to the big screen. You can also transfer content (such as pictures pulled from a USB drive attached to the back of the set) to your portable with a reverse swiping motion—cool.
Voice Interaction is also among the Smart features of the WT60 Series. This works well, though it's limited in what it can do. I used it to change volume levels on the set, even specifying a particular level (e.g., "20"). I could also speak a search term like "Target" and select Map Search to show a Google Map with all Target store locations in my area. But I couldn't use the feature to change channels or search programs on my cable box or browse Netflix—two key actions I usually take when flopped out in front of a TV.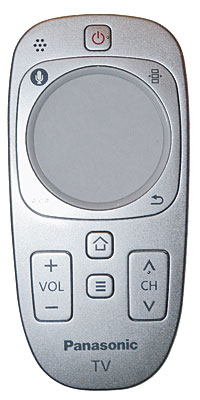 Remote Variations
Panasonic's Smart sets come with the company's Viera Touch Pad controller, a squat thing with rounded edges and a large central pad that you swipe up/down/across to navigate onscreen menus. To hold the remote, you insert your finger in a recessed section on the back; to select items, you click a trigger located there. Control buttons are limited to basics like volume, channel, Home Screen, return, and Voice Interaction. To do anything more in-depth (such as switch inputs or adjust picture settings), you press a button that calls up an onscreen graphic with multiple panels mirroring all controls contained on the set's regular remote. You heard that right: Unlike other Smart TV makers, Panasonic also provides an old-school handset. So if the Touch Pad controller freaks you out, or if you find yourself annoyed by having to scroll through onscreen graphic representations of a regular remote, you can forgo the Touch Pad entirely.
Working with the Touch Pad had its ups and downs, but I had no similar qualms about Panasonic's excellent TV Remote 2 app, which boasts enough truly useful features to put it miles ahead of the competition. With this loaded on my iPad, I could switch quickly between regular and pad-type remote control and a virtual keyboard layout. There's also a gamepad controller. But what's most impressive about TV Remote 2 aside from the Swipe & Share feature) is its Smart Calibration interface. This provides slider controls to tweak every picture parameter, along with multiple panels to adjust color points, white balance, and gamma on the fly using swipe motions, which makes picture calibration much easier than with a regular remote.
Setting Up
The L55WT60 provides two ISF setup modes labeled Professional1 and Professional2 in the menu (you need to first unlock these in the Setup submenu); they're intended to store calibrated settings for day and night viewing. After doing a first round of measurements in the set's Cinema mode (see Test Bench), I made adjustments in Professional 1. The set's default Warm2 color temperature preset displayed a balance that was too red, so I needed to make changes in the W/B Detail adjustment menu to compensate. Gamma was very close to the 2.2 target at the default setting. Color points also measured nearly spot-on without requiring any further adjustments.