Panasonic TC-P65ZT60 3D Plasma HDTV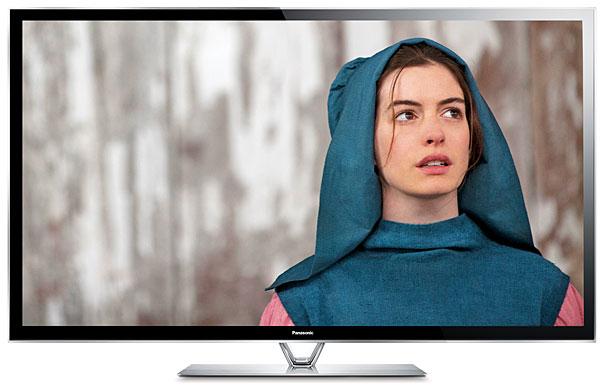 Price:
$3,800
At A Glance
Plus: Rich, accurate color and superb resolution • Full adjustability • Unsurpassed blacks and shadow detail
Minus: Adequate but not very bright 3D
The Verdict
Four years after the Pioneer Kuro plasma exited the market, Panasonic has finally, in its ZT60 series, created an HDTV that is essentially its equal in all key areas of image quality.
In 2009, Pioneer ceased production of its highly regarded Kuro plasma HDTVs, and videophiles everywhere took to wearing hair shirts and pondering self-flagellation.
We knew back then that Panasonic produced excellent plasmas as well, but the Kuro's inky blacks remained unsurpassed. So when a number of former Pioneer engineers went to work for Panasonic, there was new hope. Big changes don't happen over a single product cycle, however, or even over two or three. But now, with the release of Panasonic's new ZT60 series, Panasonic claims to have reached that elusive summit. But has it? Can Kuro buyers stop sweating about their sets breaking down, and can those who missed the Kuro express altogether finally stop kicking themselves? We're here to find out.
Features
Of all the highly touted technical features of the new, 65-inch TC-P65ZT60 (a 60-inch sibling fills out the ZT60 line), the most significant is its new Studio Master Panel, which eliminates the air space normally found between the plasma pixels and the screen's glass front. Closing this space is said to maximize contrast by reducing reflections from the room—or even within the panel itself. Outwardly, the ZT60's deep black screen is slightly less reflective than most, but it's still far from a pure matte finish. As with most of today's HDTVs, it pays to position the set to minimize reflections from windows and room lights.
The ZT60 is THX certified. There are 10 accessible picture modes, including THX Cinema and THX Bright Room plus Professional1 and Professional2 modes that can be locked by a calibrator. All of these modes are separately adjustable for different inputs. And depending on the source, and whether it's 2D or 3D, you can select one of three refresh rates for 24p content: 60 hertz, 96 Hz, or 48 Hz.
The controls needed for a full calibration are available only in the Cinema, Custom, and Professional modes. These include W/B (white balance) Detail (both two- and 10-step), Color Detail (a full color management system for the primary and secondary colors), and Gamma Detail (which offers the usual fixed settings as well as a 10-step adjustment to customize the gamma curve across the brightness range). The THX modes offer no color calibration or gamma options.
There's a range of other controls, some of which I ignored, turned off, or left in their factory default settings. You'll find my final settings online, but I did deactivate the Motion Smoother frame interpolation that makes film-originated content look like video—plasmas suffer little from inherent motion blur.

Panasonic provides two remotes with the set. One of them is a typical, button-loaded device, the other a smaller, more rounded design with a trackpad and a few key buttons. The smaller unit must first be paired with the set, after which you can use its trackpad to navigate the menus. It also offers voice control features. I preferred the larger backlit remote.
The Panasonic plasmas I've tested in the past have been moderately prone to temporary image retention, appearing as a dim ghost of stationary images past that fades out on subsequent viewing of normal program material. It's most visible when a full black screen immediately follows a prolonged, bright image. This was less prevalent in the ZT60 (and the similar, step-down VT60, also reviewed here) than with earlier Panasonic plasmas. And, as before, Panasonic offers selectable anti-image-retention features, including a Pixel orbiter. But as with all plasmas, we recommend avoiding prolonged hours of viewing non-moving images—including moving images with fixed elements such as game scoreboards. This is particularly important during the first 200 hours of operation, while the new phosphors are settling in.
The set comes with two pair of active, non-rechargeable, Bluetooth-connected 3D glasses. Extras are $80 each—a bit pricey in today's market. You must remember to turn these off manually to avoid running down the battery (hold down the power button for a few seconds, and three flashes of the power LED tell you the glasses have been turned off). There's also the usual variety of 3D controls, including a 2D-to-3D conversion mode.
You can also access a wide range of popular (and not so popular) video streaming and social sites on the ZT60, either wired or wirelessly (on the VT60 as well), add an optional camera or cameras for monitoring another room in the house via your home network, and view your still photos or full-motion video (including compatible 3D content). You can also listen to music on the set's (listenable but hardly hi-fi) audio through your home network or from a USB device or SD card.
One nuisance on the ZT60 (and other new Panasonics as well, including the VT60) is that you get a banner ad at the bottom of the screen every time you power it up. It disappears after a few seconds, and it can be defeated if you dig into the Viera Connect menu.
2D Performance
The TC-P65ZT60 passed all of our standard video processing tests (see Video Test Bench at soundandvision.com/TestBench) apart from SD and HD 2:2 pulldown—a common and largely insignificant failure common to many sets we've reviewed. The set's color and resolution were not significantly different from my memory of past Panasonic sets, but those qualities have always been Panasonic strengths. Out of the box, with adjustments made only to the standard controls, the picture left little to complain about visually, though the measurements were only middle of the road in either the Cinema or THX Cinema modes (see Test Bench). However, a full calibration brought the Panasonic to within a gnat's eyelash of a technically perfect setup. The colors were gorgeous, and the crisp detail was hard to fault. It appeared to bring out the best in every source, without a hint of excessive enhancement.
But when a set gets this good, the only comments that matter involve a direct comparison with sets of arguably reference quality. Fortunately, my much-used Elite Signature Series PRO-141FD Kuro, a 60-inch monitor that was Pioneer's top-of-the-line set when it exited the HDTV business, was here and ready to be evaluated side by side with the Panasonic.
The Face-Off
Both the Pioneer and the Kuro were fully calibrated, set to a peak white level of between 32 and 33 foot-lamberts, and their black levels, peak white, and gamma adjusted to be as close as possible. The comparisons that follow were all conducted in a totally darkened room. With the room lights turned up a bit, however, dark areas of the Panasonic's image still looked convincingly black, while the Pioneer's were a shade lighter.