LG 55LA7400 3D LCD HDTV
PRICE
$2,299
AT A GLANCE
Plus
Bright, crisp 3D display
Unique Magic Remote
Voice Mate feature
Minus
Below-average picture contrast
THE VERDICT
LG's mid-level set is undoubtedly Smart and a very good value, but its less than stellar contrast and picture uniformity make it an also-ran in the LCD TV race.
At first look, there's nothing groundbreaking about LG's 55LA7400, the mid-size model in the company's LA7400 line of 3D-capable LCDs (47- and 60-inch versions are also available). To be honest, its feature list is packed, yawn, with lots of stuff we've seen before from LG: TruMotion 240-hertz display, edge-arrayed LED backlight with local dimming, passive 3D using polarized glasses. Where the LA7400 series starts to get interesting is when you look beyond the video specs to the Smart features and connectivity options—things video enthusiasts routinely dismiss but in reality are futuristic and cool. As one of the big three companies pushing the Smart TV envelope (Panasonic and Samsung are the other two), LG takes this stuff seriously, and it hopes you will too.
Features aside, the 55LA7400 is a nice-looking TV-object. It boasts a bezel-free design, with controls tucked cleanly away on the panel's right-hand side and a thin, barely visible aluminum edge surrounding the screen. The included stand has an interesting design: When you swivel the TV left or right, not only does the panel pivot, but the entire stand shifts direction along with it.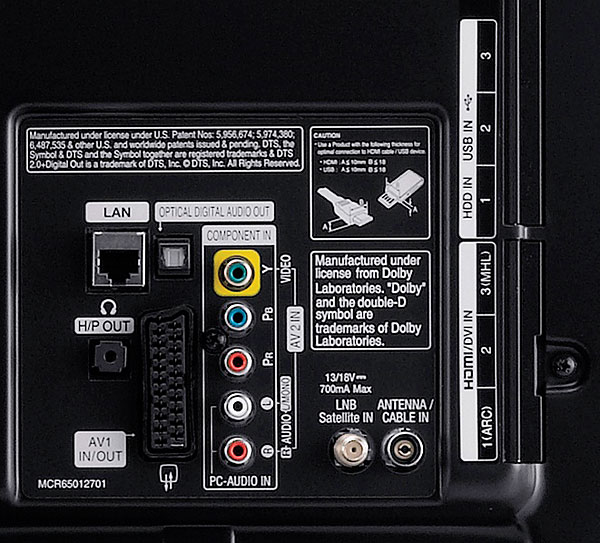 Creeping Features
Let's start by ticking off the value-added features that make this set compelling. First off, LG has done away with a regular remote: The version that comes with the 55LA7400 isn't a normal clicker, but a gyroscope-powered wand with minimal buttons that's used to guide an onscreen pointer. You simply point and click on an item in the onscreen GUI and scan through any submenus via a scroll wheel on the remote's upper half. Weird, right? Check this: It also has a built-in mike for voice commands. Using this feature, you can select channels on your cable or satellite box by saying things like "PBS, please" or search your program provider's offerings by barking "Find The Simpsons!" The remote needs to be configured to control your external set-top box (it can also operate a Blu-ray player or other device), but once set up, Voice Mate works fairly seamlessly. I even found myself ignoring my regular cable DVR remote.
Wired connection options on the 55LA7400 include three HDMI ports (one with ARC and one with Mobile High-definition Link) and a combined component-/composite-video jack to plug in legacy video sources. There are three USB ports—more than enough for most folks' needs. LG has some new things in store on the wireless connection front. In addition to built-in Wi-Fi, there's Miracast to send audio/video from a smartphone to the TV and a WiDi (Intel Wireless Display) feature to beam content directly from your PC's desktop. (Use of both Miracast and WiDi require a compatible portable device or PC.) LA7400 series sets are also NFC-ready and come with a stick-on tag that lets you transfer media instantaneously to the set by bumping a compatible smartphone or tablet up against it.

LG routinely outfits its TVs with calibrator-friendly picture settings that provide a greater-than-usual level of adjustment. At the basic level, there's something called Picture Wizard II that guides you through the setup process via onscreen patterns and pictures, prompting you at each step to make your preferred tweaks. Moving up a notch, it has presets for Color Gamut (Standard, BT709, EBU, SMPTE, Wide) and Gamma (1.9, 2.2, 2.4). For pro calibration, there are both two- and 20-point color temperature adjustments, as well as a color management system control with settings to adjust saturation, tint, and luminance levels for each color.
Other picture setup options on the 55LA7400 include LED Local Dimming, a TruMotion setting with three presets (Smooth, Clear, and Clear Plus), plus a User mode that lets you independently adjust the level of dejudder and deblur. With judder set to minimum in User mode, the set engages 5:5 pulldown to display 24-fps content. TruMotion can also be switched off, which is a good thing, because the last LG TV I tested shipped with motion interpolation as a nondefeatable picture "enhancement." The TruMotion presets visibly improved resolution with motion test patterns, but they also introduced an undesirable level of soap opera effect, with the Smooth mode in particular adding a Jell-O-like look to film-based images.
Smart Moves
With their new dual-core processors, upper-end LG Smart TVs like the LA7400 series have a zippy, responsive user interface that's a breeze to navigate with the Magic Remote. Some Smart UIs make you click through multiple screens to call up specific content, but this version has a one-page design that you can scroll through horizontally by clicking arrows at either side of the screen. For better or worse, you can't do much of anything without first going through the Smart UI, which contains control panels for everything from input switching to picture settings. I didn't find this problematic, but I was annoyed by a nondefeatable display ad at the screen's lower left, which constantly informed me that sirloin and crab legs start at just $13.99 at Outback Steakhouse. Yum.
The set's On Now recommendation engine mines guide info from your program provider (Time Warner Cable, in my case) and presents programs in a grid at the screen's bottom. Select one that looks interesting, and your set-top box automatically tunes to it. There are also tabs for Catch Up TV, Movies, and Favorites, along with a personalized For You tab that amusingly offered up Teenage Mutant Ninja Turtles on Nick and V for Vendetta on Vudu just pour moi. The next time I visited, A Clockwork Orange had been added to the list. Now we're getting somewhere...