LG 55LA7400 3D LCD HDTV Page 2
The last experience I had testing a TV with a voice command feature proved completely frustrating—but also kind of funny. The short version: It didn't work. LG's Voice Mate worked quite well for the most part, however. As I stated above, I could easily select channels by calling out the network or a specific program name. Voice Mate also worked for Web searches: Issue a command like "Google Edward Snowden," and relevant search results populate the screen. Not surprisingly, the results weren't always on target. For example, uttering "prog rock," generated just two results: the Prague Nightlife Video Guide on YouTube and The Royal Tenenbaums on VOD. Huh?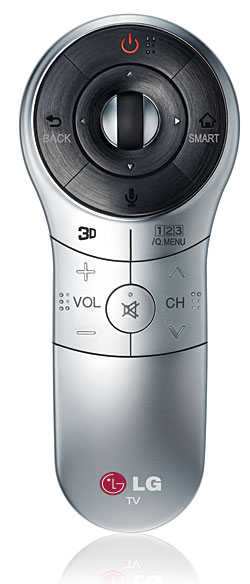 Moving Pictures
With the LG's Cinema preset selected, its gray scale displayed a slightly warm/reddish balance. Primary and second color points both measured a bit off the mark, though I've seen worse out-of-box results with other TVs. Gamma was also somewhat choppy with the 2.2 option selected: The lower (darker) end of the range was linear, but the high end displayed an upward spike in level as steps got brighter.
After making adjustments in the ISF Expert1 mode, the LG's post-calibrated picture showed a definite improvement. Watching a scene from Spring Breakers (a college bacchanal genre pic directed with a European art-house sensibility) where the girls-gone-wild appear in court after getting busted at a hotel party, their skintones looked natural, and their neon-hued bikinis came across as appropriately vivid. High-def detail in most shots was very good, though close-ups displayed a patchy effect on faces that flattened the picture somewhat.
Contrast measurements showed the LG to be trailing the pack in comparison with other LCD sets I've tested recently. There was little contrast ratio difference to be seen from the set's three LED Local Dimming modes: Measured results ranged from 1,136:1 (Low) to 1,375:1 (High). When you consider that some other recent edge-lit LCDs like Sony's W900A series models can beat that with Local Dimming switched off, it's obvious that LG's set leaves room for improvement.
Watching one of my black-level torture-test Blu-rays, 2001: A Space Odyssey, it was immediately clear that the LG wasn't up to delivering the deep shadows I typically look for on this disc. In a scene in a cave where proto-humans huddle together for warmth, the black background looked more of a dark gray, and the creatures' fur couldn't be easily distinguished from the cave walls. Flipping back to Spring Breakers to watch a different type of simian activity, the same impression held: In scenes where Alien and his girls cruise the streets of St. Pete's at night, both their car's shadowy interior and the dark skies in the background had a pale-gray look that robbed the picture of punch. There were also some uniformity issues created by the LED backlight that showed up as faint spotlights at the bottom of the screen, but these were mostly visible only with letterboxed movies.
Pass the Glasses
Sets that use passive as opposed to active 3D tech have a big advantage in that the glasses are light, inexpensive, and immune to the image flicker that sometimes plagues active 3D viewing. Passive 3D sets generally deliver a brighter 3D image than active sets and are usually free of ghosting artifacts (a regular issue with active models). The main downside to such models is that the polarizing film patterned retarder (FPR) coating on the screen limits vertical resolution to half of the normal 1080p, or a total of 1920 x 540 to each eye. The FPR also adds its own artifact—a sort of louvered effect of horizontal lines—when viewing from a relatively close seating range.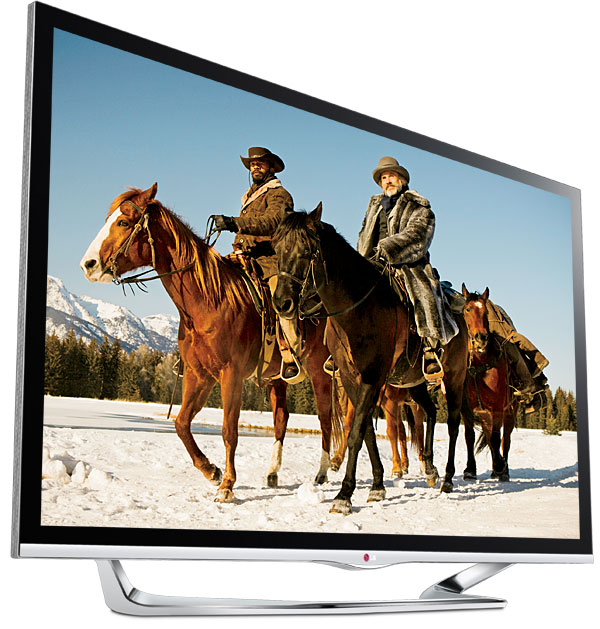 With LG's 55LA7400, all of the benefits of passive 3D were in evidence: lightweight glasses, bright picture, minimal artifacts. This made viewing a reference production like the IMAX Born to Be Wild documentary a more revelatory than usual 3D experience. Watching a shot where an orangutan lopes along the entranceway of Indonesia's Tanjung Puting National Park, the boardwalk extending deep into the frame created a strong sense of 3D depth, and there was plenty of layering visible in the trees lining the path. I did note a slightly jagged quality to the leaves when I moved closer than 8 feet from the screen—an effect created by the FPR—but that all but disappeared at my normal 9-foot viewing distance.
Conclusions
At around $1,500 (street), LG's 55LA7400 is an affordable choice for a 3DTV with a 55inch screen. Its 3D picture is impressive, and its Magic Remote–controlled Smart UI pushes the boundaries of human/TV interaction without being completely disorienting. Banner ads aside, I can honestly say I liked working with it. The bad news here is that the 55LA7400's below-average contrast ratio and screen uniformity issues cause it to lag performance-wise behind other recent edge-lit LCD overachievers. It could be said, though, that those sets are overpriced for what they deliver, especially in comparison with some of the better low-priced plasmas out there. So if you're seeking LCD perfection, be prepared to pay for it. Otherwise, you might just like this LG.