Panasonic Viera TC-P60ST60 3D Plasma HDTV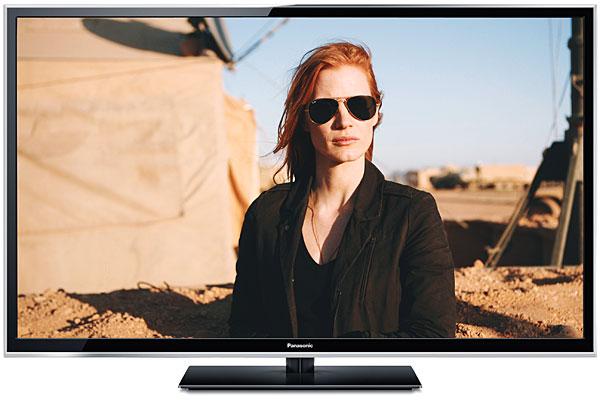 Price
: $1,699
At A Glance
: Top-tier black levels and color accuracy • So-so 3D • World-class value
Last year, the number-one TV I recommended to friends, family, and anyone else who would listen was Panasonic's ST50 series plasma. Although a serious enthusiast might have appreciated the superior black levels and more extensive picture controls of the company's then top-line VT models, 2012's ST50, like the ST30 models of the year before, delivered most of the VT's performance and easily beat out all but the most expensive LED LCDs. It was simply an incredible value and was recognized as such in Home Theater's Top Picks of the Year.
Here it is 2013, the ST50 has morphed into the ST60, and if anything, my recommendation this year will be even stronger. The line comes in 50-, 55-, and 65-inch models along with the 60-incher we tested here. And though our sample was not without its flaws, it was superlative where it really counts: the picture quality.
The ST offers a new sleek design this year with a slim 1-inch gloss black bezel surrounded by a chrome-look trim piece all around, and a basic gloss black plastic base. Unlike the single sheet of glass that fully covers the frame and screen of the more stylish VT and ZT step-up models, the glass here is set back behind the raised bezel.
Among the most obvious differences in this year's ST is the onscreen navigation scheme. Along with speed-adjustable (and fortunately, defeatable) voice guidance to help new users learn the features, Panasonic has added a My Home Screen graphic interface accessible from the prominent Home button on the remote. Users can customize a screen to quickly access favored apps from the Viera Connect Market streaming platform, as well as widgets for weather, time, a calendar, etc.; each also has a live picture window showing what's playing now. As for the apps, Panasonic has greatly expanded its online offerings this year, and Netflix, Vudu, Amazon VOD, Hulu Plus, YouTube, and the key social media sites are all represented; Netflix has a dedicated button on the remote.
It's worth noting that whatever you select as your My Home Screen also boots up by default whenever the TV powers on—which means you'll have to hit the OK button on the remote to get to full-screen TV viewing. I'm not a fan of this approach, which makes more work for the user who just wants to start watching TV. It also means that, if you have a set-top box and typically use your cable or satellite box remote as a universal to control TV volume, you'll either have to set it to its TV control mode before you hit its OK/Enter button to make the Home Screen go away (remember, that button usually talks to the cable box, not the TV).
Or, you'll have to reach for the Panasonic TV remote that you'd normally keep stored in a drawer and hit OK on that. Remember, this is every time you turn on the TV. Hmm… Fortunately, there's a workaround here by selecting the Full Screen option for your Home Screen, which only flashes up a thin navigation bar with a few non-customizable buttons for about three seconds before disappearing. Unfortunately, using that option pretty much defeats the one-touch customized convenience of this feature. Another minor annoyance is the ad banner that comes up on the screen for a few moments upon boot-up. You can opt out of this in the menu, though I'd argue that forced ads like this are insulting to purchasers of a name-brand TV, and I'm convinced there's a lot of non-technical buyers who don't dive deep into menus and wouldn't know they can turn this off.

I might as well get some other nitpicks out of the way before moving on to the superlatives. The remote is a step down from last year's ST series, with no backlight. And that prominent Home button I mentioned is a little too prominent, positioned as it is too close to the Up arrow key—I hit it innumerable times as I navigated the set's menus, and I bet you will too if you spend much time moving around the app area or the My Home Screens. On the plus side, the ST this year comes with two sets of active shutter Bluetooth 3D glasses, versus none with last year's model. However, these are coin battery-powered, not rechargeable (Model TY-ER3D5MA; for extras, order the TY-ER3D4MU, $80). The glasses come with no instructions, so let me be first to tell you that you must turn them off manually after every use. When activated, you'll see a dull red flashing of the power button on top. Pressing and holding the button for a few seconds will cause the button to flash brightly three times then turn fully off. I found this out the hard way when I quickly ran the battery down in both pairs after walking away from the TV for a few hours. I did find them lightweight and comfortable, and I tried them over a pair of wireframe reading glasses to verify that they could work for someone with prescription eyewear.
As is typical in flat panels today, Panasonic has the speakers radiating down from the back of the set. They will play reasonably loud and are acceptable for the slightly veiled dialogue we've come to expect from these TVs, but you'll need an ancillary audio system to bring music or soundtracks to life. If you expect to connect a soundbar and have the TV perform switching among HDMI sources such as a cable box and Blu-ray player, be advised that the ST's optical digital audio output you'll use to feed the soundbar downconverts all multichannel Dolby Digital and DTS bitstreams to PCM stereo, which will bypass any DD or DTS decoder built into the soundbar and result in less-than-best sound quality. This practice is unfortunately common to most HDTVs today. But on a related note, Panasonic also eliminated the usual menu option to defeat the internal speakers, another shortsighted move in this age of soaring soundbar sales. The better soundbars rely on learning your TV remote's IR codes to control their volume, and some even ship with no remote. If you try to use the Panasonic remote, the TV's internal speakers will track up and down along with the soundbar volume. If you expect to use your cable or satellite-box universal remote to control TV volume instead of the TV remote, the workaround is to program the set-top remote's volume keys to some other phantom TV brand you don't own, then teach those dummy codes to the soundbar so the Panasonic won't respond to the volume keys at the same time. Got all that?
So…notes to Panasonic: (1) Lose the banner ads or at least make them opt-in from the menu instead of opt-out. (2) Add a menu button that defeats the My-Home-Screen-upon-power-up function so I can customize My Home Screen the way I like but only have to see it when I want to. (3) Add back the internal speaker defeat so non-technical customers who buy a soundbar don't have to hire an engineer to program the volume control. (4) Start passing 5.1-channel multichannel bitstreams, both Dolby Digital and DTS, through the optical audio out on every TV beyond a certain size so customers will get the fine sound quality they paid for when they buy a good soundbar with virtual or discrete surround capabilities. And that last one goes for every TV maker out there. Sigh…
Chock-full of Tweaks
OK, enough grousing—let's get on to the good stuff. Panasonic's picture controls this year for the ST models includes both two-point and 10-point gray scale adjustments (the latter is new here), a color management system (CMS), also new, that allows fine adjustment of the color gamut (that is, the limits of the color pool from which the set may draw to paint its image), and extensive gamma controls that provide 10-point gain adjustments across the brightness range. In short, for a budget TV, there are a ton of options for tuning the image to a fare-thee-well, particularly if you have instruments. For those who would rather forgo an expensive calibration, the default Cinema picture preset, while far from perfect (see HT Labs Measures), deactivated most of the offensive automatic contrast and color features, and with a few minor tweaks, most people would still be blown away by its 2D picture quality. For me, these included turning off Video and MPEG noise reduction and the anti-judder Motion Smoother control (which adds a soap-opera effect to film-based content) and setting the HDMI video range to Non-Standard (video levels 0–255 instead of 16–235) to avoid any video clipping of extreme black or white information that might turn up occasionally in program material.