Samsung UN60F8000 3D LCD HDTV
PRICE
$2,300 (updated 2/2/16)
AT A GLANCE
Plus
Excellent picture quality for an LCD HDTV Innovative remote control
Minus
Overly wide Arc Stand base
THE VERDICT
Samsung's F8000 Series represents an evolutionary leap in the company's LCD TV offerings.
My last experience with a Samsung TV (aside from the company's KN55S9C OLED, reviewed in the November issue) was a memorable one. The company had just endowed its Smart Hub interface with voice control, and, consequently, it was the first TV I ever found myself talking at. Or screaming at, rather, since that feature proved useless in practice. Another reason was its performance: The Samsung was one of the best sets I'd tested in recent memory. Those familiar with Sound & Vision's or Home Theater's recent gushing reviews of the company's F8500 model won't be surprised to find that the TV I'm talking about was a plasma, not an LCD. Samsung makes plenty of LCDs, however, including high-end ones like the new F8000 series, which comes in screen sizes ranging from 46 to 75 inches. Can Samsung's latest flagship LCD compete with its plasmas? Let's have a look.
One thing you can say for Samsung is that the company has its design chops down. The F8500 plasma I mentioned is beautiful to look at in a sculptural sort of way. While not as visually exciting as the plasma, the UN60F8000 I received to test also has a distinguished look; its nearly invisible 0.25-inch Ultra Slim bezel and minimal-footprint Arc Stand base combine to create a "floating screen" effect. Connecting HDMI cables to the jack-pack located in the recessed area on the TV's back panel was an uncomfortably tight squeeze; it made me nostalgic for the One Connect external input box that comes with the OLED set. The Arc Stand base, which extends out to the set's full width, also proved too wide for my TV stand—a first in my experience for a 60-incher.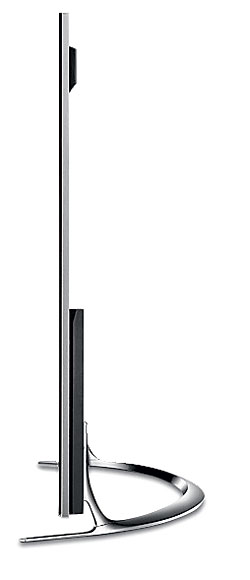 Smart Touches
Like it or not, we've entered a new era of TV remote controls. The Smart Touch handset Samsung ships with the F8000 Series is a compact slab with only a smattering of control buttons that communicates with the TV via Bluetooth. The main highlight is a central touchpad that you swipe up/down/across to navigate the set's Smart Hub GUI and onscreen menus. Using it takes getting used to, but once I got the hang (you can tailor onscreen response speed to your liking in the TV's setup menu), I found it more than adequate. Here's one thing I didn't like: Accessing controls beyond the remote's limited selection involves hitting a button labeled More that calls up a multi-page virtual remote. Minimalism is nice, but it also has its downsides.
Samsung leaves most other companies in the dust when it comes to Smart TV features. (In some cases, it can be accused of putting in too much too soon—e.g., the TV/reviewer shouting match mentioned above.) A smooth move the com- pany made for its current-generation Smart sets is to divide the Smart Hub interface into five separate panels labeled On TV, Apps, Movies & TV Shows, Social, and Photos/Videos/Music. There's too much smartness going on here to discuss it all, so I'll just cover On TV and Apps since they'll likely see the most use.
On TV provides a large window showing the currently tuned channel program along with smaller windows featuring current/upcoming shows the TV thinks you'll like based on past viewing. You can also enable a search mode and enter terms via an onscreen keyboard that calls up relevant TV content, movies, and apps. For example, when you enter "News," a list of available news programs pops up along with news-related apps that the TV can access.
Another component of On TV is a Guide View that duplicates your program provider's own EPG (the data is pulled from the Internet after you enter your local cable, satellite, or telco TV provider's information during initial setup). The TV comes with an IR blaster accessory that connects between the set's panel and the front of your set-top box or DVR. Once plugged in, it enables the TV to automatically change the channels on your box when prompted via one of its many control options.
His Master's Voice
F8000 Series TVs also provide Voice Recognition and Gesture Control, with the latter function using a retractable camera located at the top of the TV's screen. For Voice Recognition, there's a mic located in the same zone, and another on the Smart Touch remote that becomes active when you press a button labeled Voice. You start by saying "Hi, TV" (remember to smile), and the set snaps to attention for further commands. With Samsung's IR blaster running to my cable box, I could easily adjust volume, change channels, and call up Netflix or other apps by speaking the related command. The TV even talks back to you: When I asked for CNN, it prompted me (in a fetching female-robot voice, no less) to select which CNN sub-channel I wanted. There were a few stumbles—a request for weather instead took me to the screen for the Twitter app—but voice control overall worked surprisingly well. And I didn't have to shout—a normal speaking volume was sufficient to issue commands.
Motion control on the F8000 was also a big improvement over the last generation I tested, though it didn't work as well as voice control. To enable this, you simply flip up the camera on the TV's top edge and activate it in the Smart Features setup menu. In some cases, the camera was unresponsive to my gestures (you have to first wave your hand around and then make a fist to select onscreen items). It also appeared to have limited functionality in comparison with its voice-driven counterpart: I could easily change channels/volume and swipe between Smart Hub panels, but navigating my cable TV program guide seemed prohibitively difficult. Using it also made my arm tired—something I rarely experience when hoisting a remote control, no matter how heavy.
A few words about the set's streaming app selection. All the big ones you'd expect are present, including Netflix, Amazon Instant, and Hulu Plus. But there's also a range of other apps that let you stream on-demand content from service providers like Time Warner Cable, FiOS TV, and HBO. The reason I mention this is because it gives you a way to bypass using an external cable box if the TV is installed in a secondary system—cord-cutting in action.