Samsung UN60F8000 3D LCD HDTV Page 2
Not to belabor this whole Smart features business, but it's worth discussing the content-throwing options you can take advantage of if your portable device is on the same wireless network as the TV. With my iPad running the Time Warner Cable app, I could browse my program provider's listings in a more efficient manner than any of the TV's myriad other control options, tuning specific channels by simply touching them on the app's programming grid. (You can be sure this also works with Samsung's Galaxy tablets.) I could also browse Netflix listings in the same way by selecting a program to watch on the iPad and "throwing" it to the TV so it appeared on that screen instead. Cool stuff!
Setting Up
Movie mode was a good place to start my setup of the UN60F8000. A few tweaks to the preset were required—at around 70 foot-lamberts, the mode's default light output was too bright for my dim room viewing environment, and I had to switch off the Auto Motion Plus setting to avoid the dreaded soap opera effect on movies—but things for the most part looked pretty good out of the box. Smart LED—a setting that adjusts the hardware-based local dimming of the set's edge-lit LED backlight—was left at Standard. Other changes I made included knocking default Sharpness back to 0 from 20 and changing the Gamma from 0 to –1. I also calibrated the set's white balance controls to compensate for a slight blue deficiency that made the gray scale skew to the warmish (pink) side. The Samsung does provide a sophisticated color management system in its Custom Color Space preset, but I was only able to make slight improvements on that front.
Looking Good
The Samsung LCDs I've checked out in recent years have tested well on most parameters, but one area where they've come up short has been screen uniformity, particularly with dark images. This was not the case with the UN60F8000. The movie scenes I checked out all displayed a uniform black tone in deep shadows, along with very good shadow detail—clearly Samsung has made big advancements in this area. For instance, in a scene from Kon-Tiki (a compelling drama about an ocean voyage undertaken by a Norwegian anthropologist out to prove that ancient Peruvians originally settled Polynesia) where the crew spies luminescent sea creatures at night underneath the ship, the white points of light spiraling across the screen looked bright and punchy against the jet-black ocean. Even title sequences with white text on black looked punchy and showed no overt sign of blooming. Samsung's Cinema Black feature, which shuts off the edge-arrayed LED modules in the areas where black letterbox bars appear with CinemaScope films, helps to boost both black uniformity and perceived contrast, though I found the picture still looked plenty good without it.
Kon-Tiki also showed the UN60F8000's very accurate color to good effect. The ocean appeared as a rich range of green-blue hues, and skintones of the Norwegian sailors (which became increasingly ruddy as they baked in the sun) looked natural. And although this phenomenon was more likely due to the set's strong contrast, colors like red, green, and yellow popped on the Samsung's screen in an eye-pleasing manner.
The UN60F8000's ample light output served it well for 3D viewing. Samsung's active, battery-powered glasses (four pairs are supplied) were both lightweight and unobtrusive; once I had them on my head, I pretty much forgot they were there. Watching the 3D torture test Hugo, I noted some ghosting in the usual spots where that artifact tends to crop up, but it looked relatively mild compared with some other sets I've tested recently. Interestingly, when I checked out another Blu-ray 3D, Flying Swords of Dragon Gate, a disc with plentiful dramatic examples of 3D cinematography, I didn't see any ghosting at all; the Samsung's 3D picture showed very good 3D depth along with its impressive brightness and contrast.
Unlike some other LCDs where the picture looks different as soon as you slide just a few degrees off from a center seat, the UN60F8000 displayed good off-axis screen uniformity. I saw almost no change at 15 degrees to either side (an arc encompassing your average sofa width), though a shift was visible at 30 degrees off axis. The set's glossy screen did suffer from screen glare in bright room lighting conditions when watching programs with dark images (movies, mostly), but it wasn't a problem on typical daytime viewing fare (sports, kids' shows, etc.).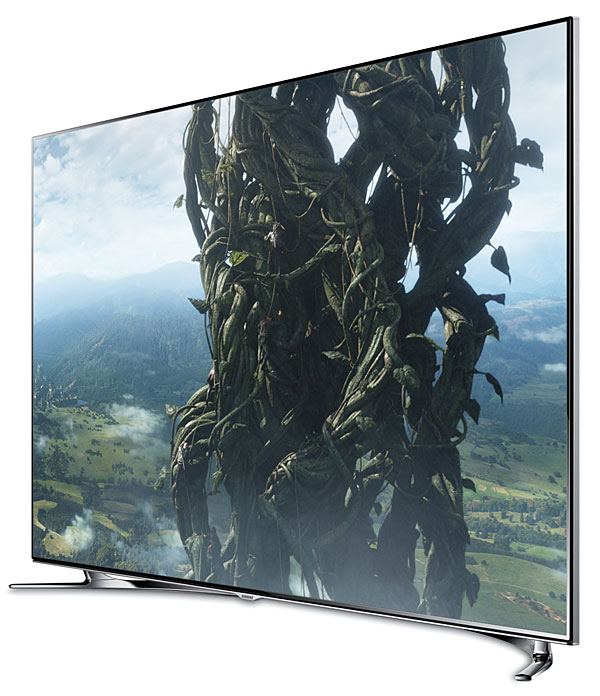 The Samsung's excellent video processing allowed it to pass all SD and HD deinterlacing tests. Left at their Auto settings, the TV's MPEG Noise Filter and Digital Clean View modes also helped to clean up pictures without reducing detail. With Auto Motion Plus turned on, the set's 240-hertz display delivered 1,080 lines on moving resolution test patterns in most modes, and 1,200 lines with its backlight-scanning LED Clear Motion setting enabled. (All of these modes added varying amounts of the aforementioned soap opera effect.) The Samsung also has a Custom Auto Motion Plus mode that lets you independently dial in the amount of anti-blur and anti-judder processing, with a zeroed-out anti-judder setting enabling 24-frame film pulldown for movie content.
Conclusion
Samsung's F8000 Series represents an evolutionary leap in the company's LCD TV offerings. Forget for a moment its elegant design, well-implemented Smart features, and unique remote control. The real triumph of this set is that it overcomes many of LCD's past picture-quality hurdles: Samsung has finally delivered a minimal-compromise alternative to plasma. At $2,700, that goodness doesn't come cheap, but if you're on the lookout for one of the best-performing LCDs available—one with a very appealing mix of Smart features—you won't be disappointed.