Panasonic TC-L55WT60 3D LCD HDTV Page 2

The L55WT60's A.I. Picture mode controls local dimming of the edge-lit backlight. Contrast was weak with the Min setting selected, but it improved significantly with Mid or Max turned on. Some of the screen uniformity issues I noted with Min selected also disappeared, leaving a picture with deep shadows and solid-black letterbox bars when I watched 2.35:1 movies. Turning on A.I. Picture created a few problems during setup, however. Specifically, above-black content in a PLUGE test pattern would fade into black as the dimming kicked in, which made it difficult to dial in a brightness setting.
To reduce motion blur on the L55WT60, you use the Motion Picture setting. All modes showed a marked increase in motion resolution (up to 1,200 lines from 700) when turned on, though each also revealed varying degrees of soap-opera effect with film-based content. The Weak Motion Picture preset soaped up the image to only a mild degree, however; it would be my choice for anyone wanting the benefits of blur reduction without adding a frenetic handheld video look to movies.
2D Performance
As with other LED-backlit LCDs, the WT60 is capable of putting out an über-bright picture: I measured max brightness at 123 foot-lamberts in Vivid mode and 104 ft-L in Cinema. But even with light output reined in for a dim home theater setting, the picture still packed plenty of punch. Watching director Baz Luhrmann's version of The Great Gatsby in 2D, I reached the moment when Nick leaves a party at Gatsby's and turns around to see the man himself framed in a window of his palatial home. Shadows in the background of the nighttime scene were a deep black, and the dark blue hue of Nick's jacket also came through clearly. The crisp, well-defined highlights in this shot also lent the picture an excellent sense of depth.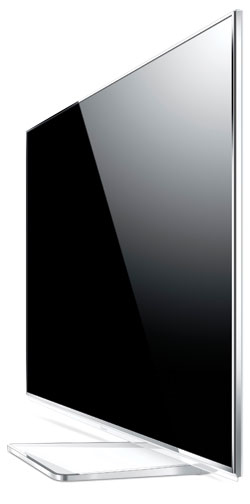 While the WT60 generally had decent picture uniformity, there were a few examples where its performance was compromised. For instance, in an earlier scene where Gatsby first appears, the fireworks that accompany his entrance caused the black of the night sky in the background to lighten on certain sections of the screen, an effect that diminished overall contrast and punch. Shadow detail in additional scenes also lacked that last bit of detail—something I confirmed when I checked out other black-level torture-test discs from my collection.
Given the WT60's accurate color-point measurements, I expected colors in movies to look the way they're supposed to, and that's basically what I got. Luhrmann is known for his flamboyant visual style, and in Gatsby he pulls out all the stops in the plentiful party scenes. In one where Nick and Tom hop off a train to hit the pad of Tom's mistress, the crazy color scheme of the apartment's interior—with its red wallpaper, flowers, and abundant tchotchkes—was rendered vividly by the Panasonic. Even so, the skintones of the revelers looked natural.
3D Performance
The Panasonic's 3D performance overall was very good: The picture was bright, and as expected for an HDTV that employs passive instead of active 3D tech, crosstalk was nonexistent. The lightweight glasses that come with the set clamped somewhat on the bridge of my nose, but not so much that I couldn't handle it for a full movie. (Panasonic includes four pair of glasses.) Reference 3D discs I checked out, such as Hugo, displayed a sumptuous sense of 3D depth. Gatsby, a disc with way-above-average 3D picture quality, also looked great on the L55WT60. For example, hedgerows in exterior shots of Tom's manor house displayed a strong sense of separation and layering.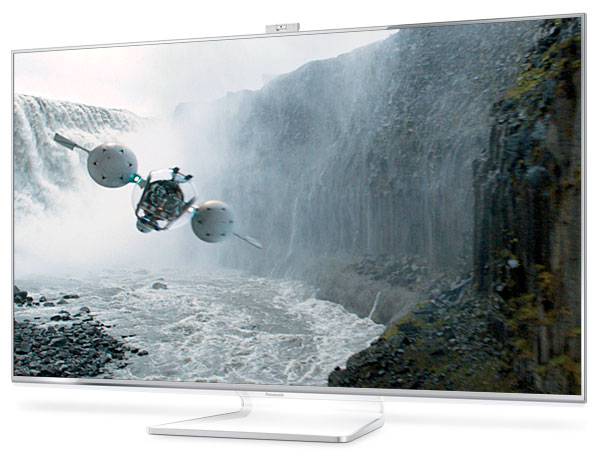 I did note slight picture noise in areas of fine detail in wide shots from the party scenes, along with the occasional stairstep effect on objects (such as a cup in a close-up shot of Nick pouring tea for his cousin Daisy)—artifacts that you can often see on 1080p-rez TV screens that use an FPR coating for passive 3D display. These artifacts generally don't show up at a typical viewing distance of 9 to 10 feet, but they definitely were visible when I sat closer to 8 feet from the Panasonic.
Conclusion
Panasonic's TC-L55WT60 LCD HDTV surprised me on several fronts. Video performance was better than expected coming from a company that has devoted much of its past engineering efforts to plasma. And the My Home Screen interface represents a giant leap—for Panasonic and for Smart TV GUIs in general. Last, there's Panasonic's awesome TV Remote 2 app.
The main area where the L55WT60 comes up short against the competition is its local dimming, which lacks the level of fine control you see from the best edge-lit LCD models on the market. Compared with top entries from Sony and Samsung, the Panasonic is pricey, too: For about $600 less, you can get Sony's excellent KDL-55W900A or the 55-inch version of the Samsung UN60F8000 that we reviewed in the December issue of S&V. As far as I know, neither of those sets offers face recognition, but maybe having your TV recognize you is something you can live without!