Vizio M602i-B3 LCD/LED HDTV Test Bench
Full-On/Full-Off Contrast Ratio: 37,260:1
Pre-calibration measurements were made in the Calibrated Dark preset at the default settings. Post-calibration measurements were made with the same preset active. With the M602i-B3's Active LED Zones switched on, its black level measured 0.001 foot-lamberts and peak white 37.26 ft-L for a contrast ratio of 37,260:1. With Smart Dimming off, black level measured 0.010 ft-L and peak white 42.84 ft-L for a contrast ratio of 4,284:1.
BEFORE Calibration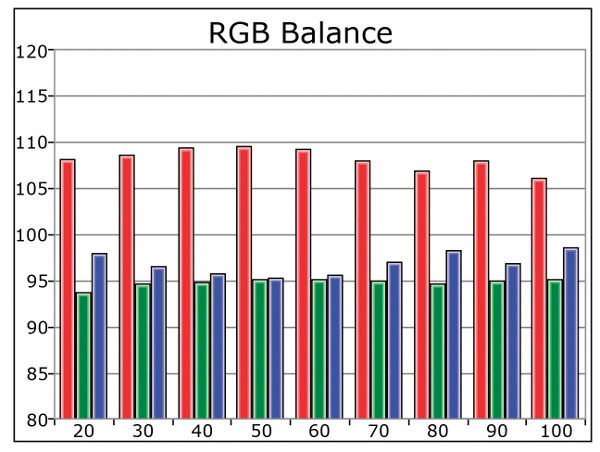 AFTER Calibration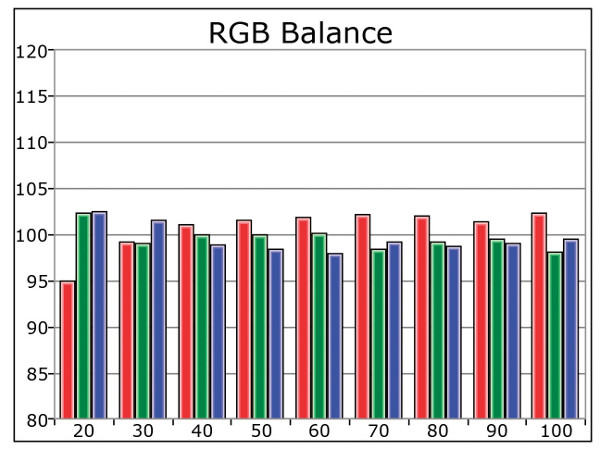 The average Delta E of the Vizio's pre-cal gray scale averaged out to 7.5; calibration resulted in a much-improved 2.3 average, with a high of 4.6 at 20% brightness. (Delta E is a figure of merit that indicates how closely a display adheres to the Rec. 709 HD color standard. Experts generally agree that levels below 3 are visibly indistinguishable from perfect color tracking.)
The Delta E of the Vizio's color points at the Calibrated Dark mode's default settings averaged a not-so-great 4.2. Calibration improved that to 2.2, with only red showing up as slightly undersaturated.
With Active LED Zones turned on, gamma in the Calibrated Dark mode measured 1.6, hitting 1.5 at 80% and 2.2 at 100%. While the M602i-B3's gamma can be said to be far from accurate, the visual effect was to give the picture a subjectively brighter look without detracting from its excellent black-level performance. (Vizio doesn't provide any gamma presets or adjustments on the M602i-B3.)
I saw no screen uniformity issues with the M602i-B3 with Active LED Zones engaged. All full-field gray test patterns looked evenly illuminated when viewed straight on. Off-axis performance was about average, with contrast and color starting to fade when viewing about 20° off from center-screen.
The Vizio passed all of our standard- and high-def video-processing tests.—AG