Unforgiven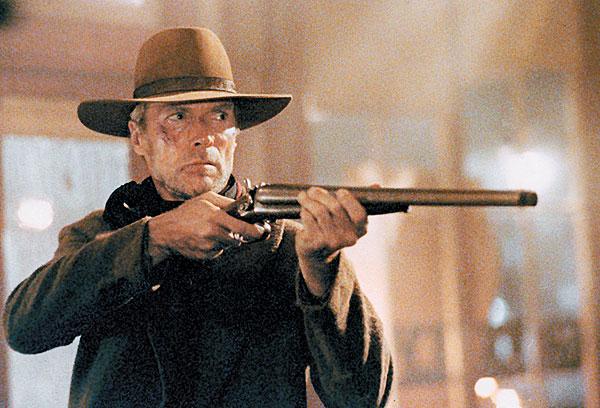 This new 4K transfer of Unforgiven, encoded in HEVC 2160p with HDR10 and framed at 2.40:1, looks brilliant given its vintage. It's always been a gritty-looking film, so that grain is retained and is crisper here. The wide color gamut and HDR effect are well applied. The HDR's been mastered to a maximum luminance of 4,000 nits (though no current consumer display can remotely approach that) and minimum of 0.005 nits. I had the chance to compare the HDR10 on the disc to the Dolby Vision via the included UltraViolet copy on Vudu, and the Dolby Vision version had more nuanced shadow detail and more natural pop in the highlights. Colors were equally vibrant, but the Dolby edges out color on the disc in darker scenes where the disc crushes a bit. One of the best scenes to illustrate this comes when Munny and Ned first set out and are camping by an open fire, then again when they are together with The Schofield Kid sitting around a campfire.
Unforgiven gets a DTS-HD Master Audio 5.1 track that is subtle but works for this slow-burning Western. Scenes with a rainstorm or gunplay bring the surround channels to life, and a scene on the railroad wakes up the subwoofer, but mostly it's a quiet mix, front-heavy and dialogue-driven.
There isn't anything new included with this UHD version of Unforgiven. The on-disc extras consist of SD port-overs of four nearly half-hour-long making-of documentaries. One special treat is the classic episode "Duel at Sundown" from the TV series Maverick, featuring a dashing young Eastwood. A Blu-ray and the aforementioned UltraViolet Digital Copy round out the package.
Blu-Ray
Studio: Warner, 1992
Aspect Ratio: 2.40:1
Audio Format: DTS-HD Master Audio 5.1
Length: 132 mins.
MPAA Rating: R
Director: Clint Eastwood
Starring: Clint Eastwood, Gene Hackman, Morgan Freeman
Unforgiven marked another turning point for Clint Eastwood and the Western genre. The deconstructed Western stars Eastwood as aged outlaw Bill Munny, who, after years of living a reformed life, is dragged back into his old ways. His wife has passed, and his pig farm is struggling, so an offer to avenge a brutalized prostitute is too much to pass up. He enlists his old running mate, Ned (Morgan Freeman), and they set off with the young "Schofield Kid" to collect the bounty. But in the town of Big Whisky, they run into a hard-as-nails sheriff (Gene Hackman) who decides to make an example of one of them, which causes Munny to—as my U.K. relatives would say—throw a wobbler. The film blurs the lines between good and bad, helped to bring the Western back into the mainstream lexicon for the '90s, and won several Oscars, including Best Picture, Best Director (Eastwood), and Best Supporting Actor (Hackman).