Two Ways to Digital
Hands on with Walmart's Vudu In-Home Disc to Digital Service and Disney's Digital Copy+
Walmart's Vudu To Go app (Digital Vudu Revisited), a follow-up to the Disc to Digital service launched last year that lets you unlock digital copies of DVD and Blu-ray movies you buy or purchase digital rights to discs you already own, is now up and running (in beta form as of this writing). Unlike the original service, which required you to bring discs to Walmart (UltraViolet: Building a Movie Library in the Cloud,), the app lets you convert discs from a Mac or Windows-based PC in your home and store them in the cloud so they can be accessed for streaming or downloading on multiple devices.
The process is straightforward. Go to vudu.com and download the Vudu To Go app, click on the Disc to Digital tab, insert the disc you want to convert, click Add Disc, choose SD or HD, and proceed to checkout. When you launch the app, your personal UltraViolet library of digital movies comes up, assuming you've already started a digital collection. (UltraViolet, or UV, is the digital rights clearing house supported by Warner, Paramount, Sony, Fox, and Universal and keeps track of your purchases.)
For my test, I popped the DVD version of Happy Feet into my Dell PC, followed the steps outlined above, and the movie appeared in my library, ready to watch or download. Vudu was offering a $2 "convert your first disc on us" credit, which was automatically applied when I selected the SD conversion option. Next I inserted a several-year-old DVD copy of Lawrence of Arabia , hoping to purchase an HD copy of the classic. I was prompted to enter the movie's title to verify that it was eligible for conversion (it was) but received this message when I clicked Add Disc: "There was a problem while verifying this disc." A Vudu rep noted that the program was still in beta and they were working out some bugs.
Moving on, I grabbed a DVD copy of Elf and selected the HD upgrade option. I was prompted to insert another disc or proceed to checkout, so I dug deep into my library and grabbed Finding Graceland, the wonderfully quirky 1999 movie starring Harvey Keitel as an eccentric drifter who thinks he is Elvis Presley, but learned that the movie "is not eligible for Disc to Digital conversion." Same story with the 2006 remake of The Pink Panther.
I proceeded to checkout and added my credit card information. Payment details were displayed but, oddly, there was no confirmation or Next button, so I navigated my way to the My Vudu tab on the homepage to see if Elf was in my library. It wasn't, so I went back to the Disc to Digital page, reinserted the disc, and was prompted to enter the movie title to verify its availability. A curious message appeared onscreen: "We are in the process of manually verifying your disc. We will contact you as soon as the verification is complete. For instant conversion, you may take this disc to your nearest Walmart store." Huh?
I hit the Continue button anyway and confirmed the purchase ($5.35 with tax). The movie appeared in my library, but when I went to play (or download) it in HD on my PC, another message appeared: "Oops! This movie won't play on your display due to copyright restrictions. It can be played only if both your output and display support HDCP" (High-bandwidth Digital Content Protection). Great…and I just paid $5 (an SD digital copy costs $2). You'd think there would be a way to verify HDCP compatibility before making a purchase. It turned out that my ATI Radeon X1300 Pro video card is not HDCP-compliant, so I grabbed my iPad but the only option offered was Play SD. The Vudu rep informed me that "we do not yet support HD on iPads." Learn from my mistake—if you want to watch in HD, make sure the devices you plan to use support HDCP.
Bottom line: Using the Vudu To Go app is a hit-or-miss proposition since not all titles from the supporting studios are eligible for digital conversion. Also, don't be surprised if you encounter a few bugs, especially while the service is in beta.
Disney's Digital Copy+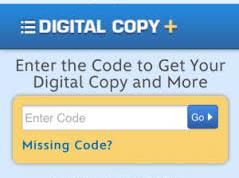 Speaking of hit or miss, Disney is the only major Hollywood studio that does not support the UltraViolet/Disc to Digital initiative, which means you can't convert Disney titles you own (or those of its affiliates Pixar, Marvel, Touchstone, and DreamWorks) on vudu.com. Instead, you have to use Disney's Digital Copy+ service, which was launched in June with the DVD/Blu-ray release of Oz the Great and Powerful. (The service replaces the previous Digital Copy process, which required you to insert a disc into your PC to unlock the digital version.)
Here's how it works: You go to DigitalCopyPlus.com and enter the code printed on a flyer inside the disc package. In my case, I entered the 11-digit code for Oz the Great and Powerful and was asked to select a provider: iTunes, Amazon Instant Video, or Vudu. I chose Vudu and was informed that the movie would be added to my account (I was already signed in). I hit continue and was given two choices: Go to Movie or Go to MY Vudu. I selected the later and, sure enough, an Oz thumbnail had been added to my library. A Confirm Redemption screen appeared, asking me to click Yes to confirm that I received the Digital Copy. I was given the option to Watch HD (stream) or Download HD, which, of course, I couldn't do on my non-HDCP-compliant PC. I was however, able to watch the movie in SD on the PC or my iPad. At least in this case, I didn't have to pay for the Digital Copy since it was included in the price of the disc.
For my second Digital Copy test, I repeated the process with an Apollo 18 Blu-ray Disc I picked up at Best Buy. Turns out the code for this disc can be redeemed only on iTunes—it's apparently an earlier version of the system that does not support Amazon Instant Video and Vudu. No big deal, I thought, until I noticed some fine print on the back of the box of this 2011 release that said the Digital Copy "expires December 31, 2012." (!) I tried anyway, hoping that maybe the period had been extended, but when I logged into iTunes and entered the authorization code, I was greeted with, "Code is no longer valid."
Pay Attention
The Disc to Digital and Digital Copy+ digital conversion systems provide convenient options for securing digital copies of beloved discs, but you have to pay close attention to what you're buying and whether you'll be able to stream or download high-def versions to the PC, tablet and/or smartphone you plan use. All of which raises the question: How long before it's all digital, all the time?